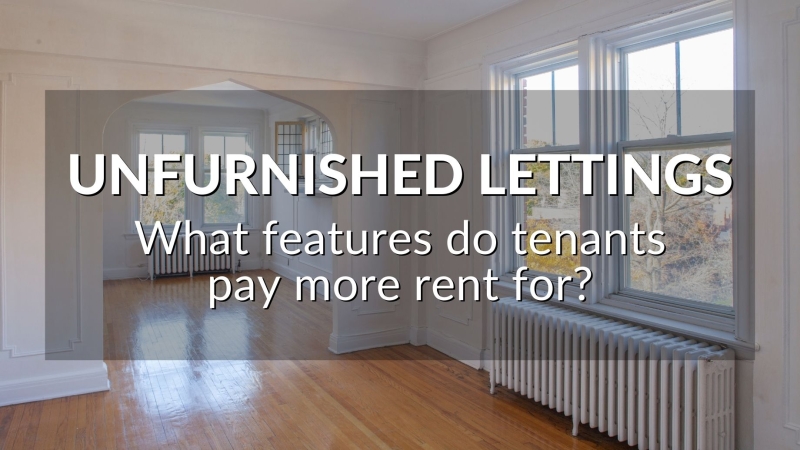 UNFURNISHED LETTINGS: WHAT FEATURES DO TENANTS PAY MORE RENT FOR?
The average age of a first-time buyer has risen to 32, and tenancies are lasting longer than ever. Not all national trends apply to lettings in Burgess Hill, but this one absolutely does.
With renting no longer seen as a temporary measure, tenants are looking for a sense of permanence combined with more comfort. This means surrounding themselves with their own belongings in a well-presented and well-equipped home.
While most people want to live with their own furniture, the term 'unfurnished' doesn't mean entirely bare. There are certain fittings that everybody expects, and others that some tenants will pay extra rent for. 
Longer lets at higher rents are every landlord's dream, so this week's blog is all about answering the following questions: 
What are the advantages of unfurnished lettings?
What makes the perfect unfurnished home?
Which kitchen appliances are essential, and which are optional?
Which bathroom fittings attract a higher rent?
Do energy-saving measures and luxury touches affect demand and income?
In short, all you need to know about what tenants pay more rent for so you can optimise the profitability and popularity of your buy-to-let.
THE BENEFITS OF UNFURNISHED LETTINGS
There are plenty of reasons why unfurnished homes are better for landlords and tenants alike. Take a look at our ten top benefits: which ones would make the biggest difference to you?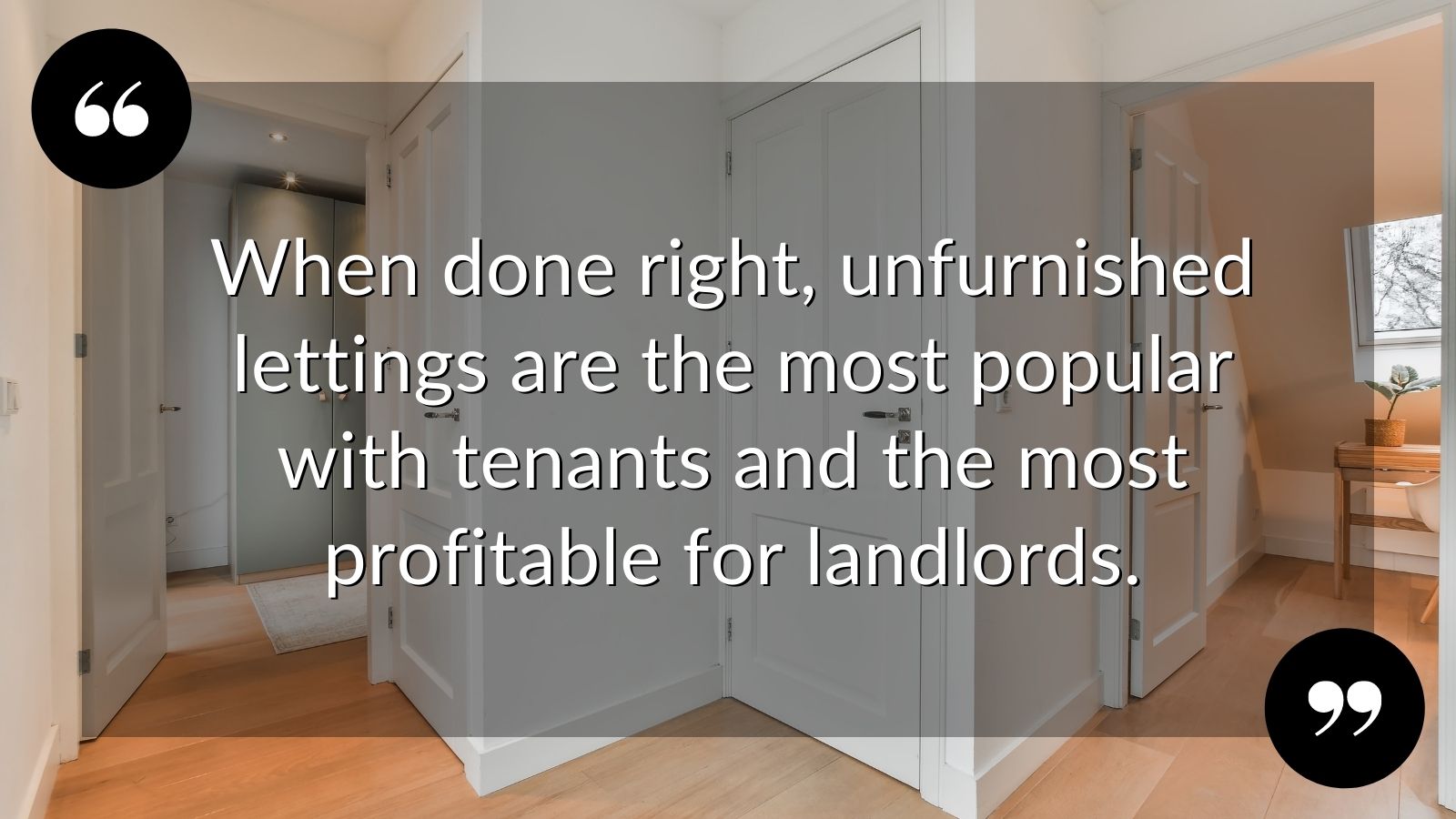 Spare yourself the time and expense of buying, repairing or replacing items of furniture
Use the savings to invest in upgrades to your property that improve its sale and rental value.
Forget the need to keep up with changing safety standards around fabrics and textiles.
Avoid trying to appeal to changing tastes and fashions.
Remove the hassle of storing any furniture your tenants don't want.
Say goodbye to checking for broken crockery, missing cutlery or worn-out towels and bedding.
Make your tenants feel more at home surrounded by their own things.
Reduce tenancy changeovers and vacant days because moving home with furniture is expensive and time-consuming
Pay less for inventories and landlord contents insurance.
Find it easier to decorate, renovate and repair between tenancies.
A truly successful unfurnished letting is a home that tenants compete for and never want to leave. How do you do that? Keep on reading!
THE PERFECT BLANK CANVAS
To get the highest rent, think about creating a stylish, durable and neutral backdrop. One that's ready to move into with minimal fuss and that works with anyone's furniture and style.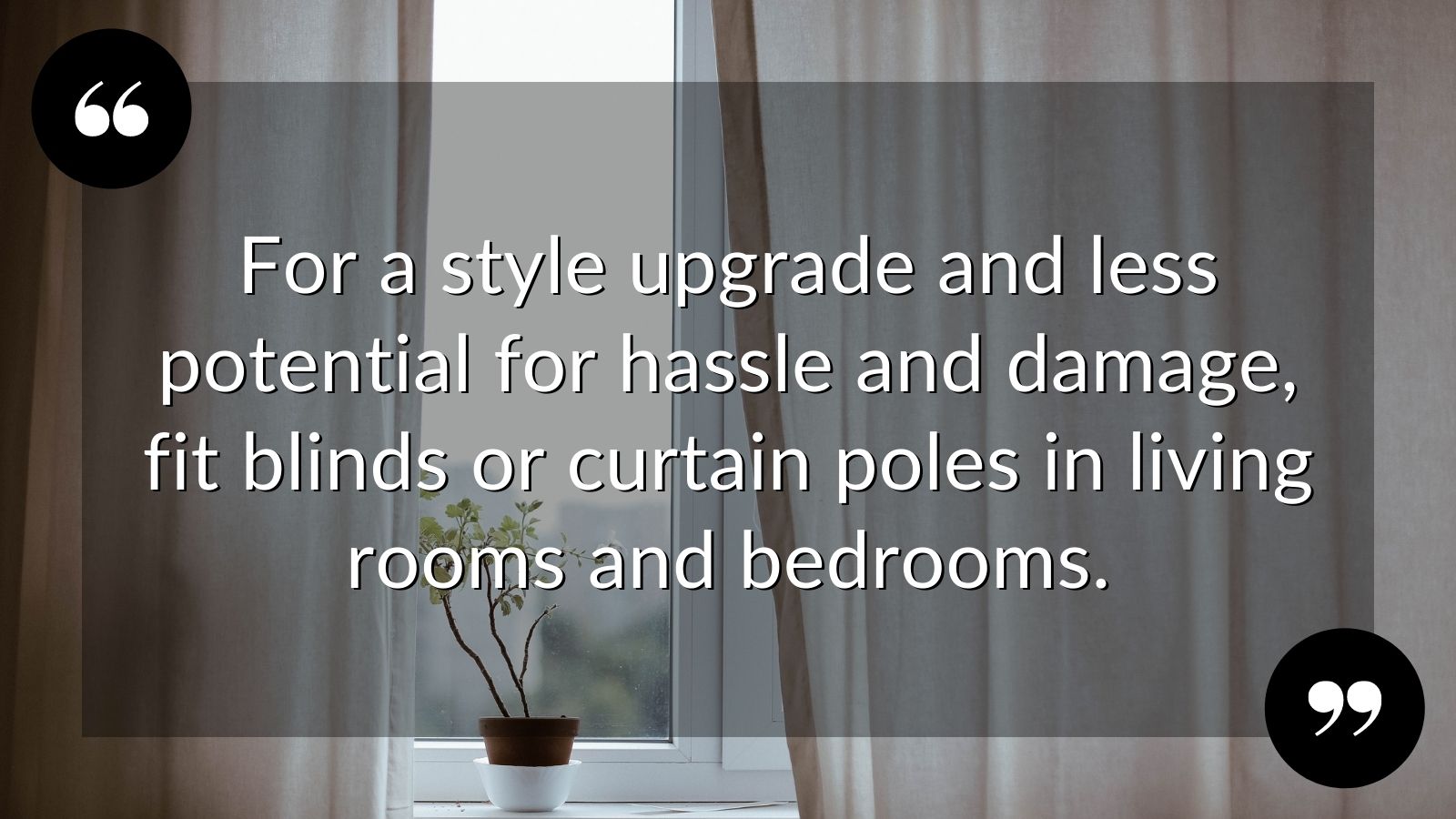 Fresh paintwork – use a high-quality washable emulsion on your walls so your property stays smart without the need for complete redecoration.
Carpets or wood flooring? Hardwood engineered floors make a property look more expensive than carpet. They reflect the light, are easier to clean and are more durable. Oak is a safe, stylish and popular choice. Tenants are happy personalise a space.
Although they look better than bare bulbs, you don't need to supply lampshades. But there should certainly be a working lightbulb in each fitting; preferably low-energy with a warm white light.
Remove the need for tenants to drill into your walls. Landlords are generally expected to provide window treatments because they are attached to a property and seen as essential. Timber blinds look great in most homes and are a complete style solution that helps empty rooms look more finished. If you'd rather avoid buying the treatments themselves, at least fit sturdy curtain poles (rather than cheap tracks that are susceptible to breakage).
Avoid creaky and wobbly handles. Make sure they're securely fitted, working properly and look great on cupboards and doors. These are often opened on viewings and create an impression about the quality and feel of a home.
WHAT DO TENANTS WANT IN A KITCHEN?
Good quality kitchens and appliances can help you achieve a noticeable uplift in rental income. They last longer, are more efficient, cost less to run, require fewer repairs and attract discerning tenants, whether they're Bake Off wannabes or not.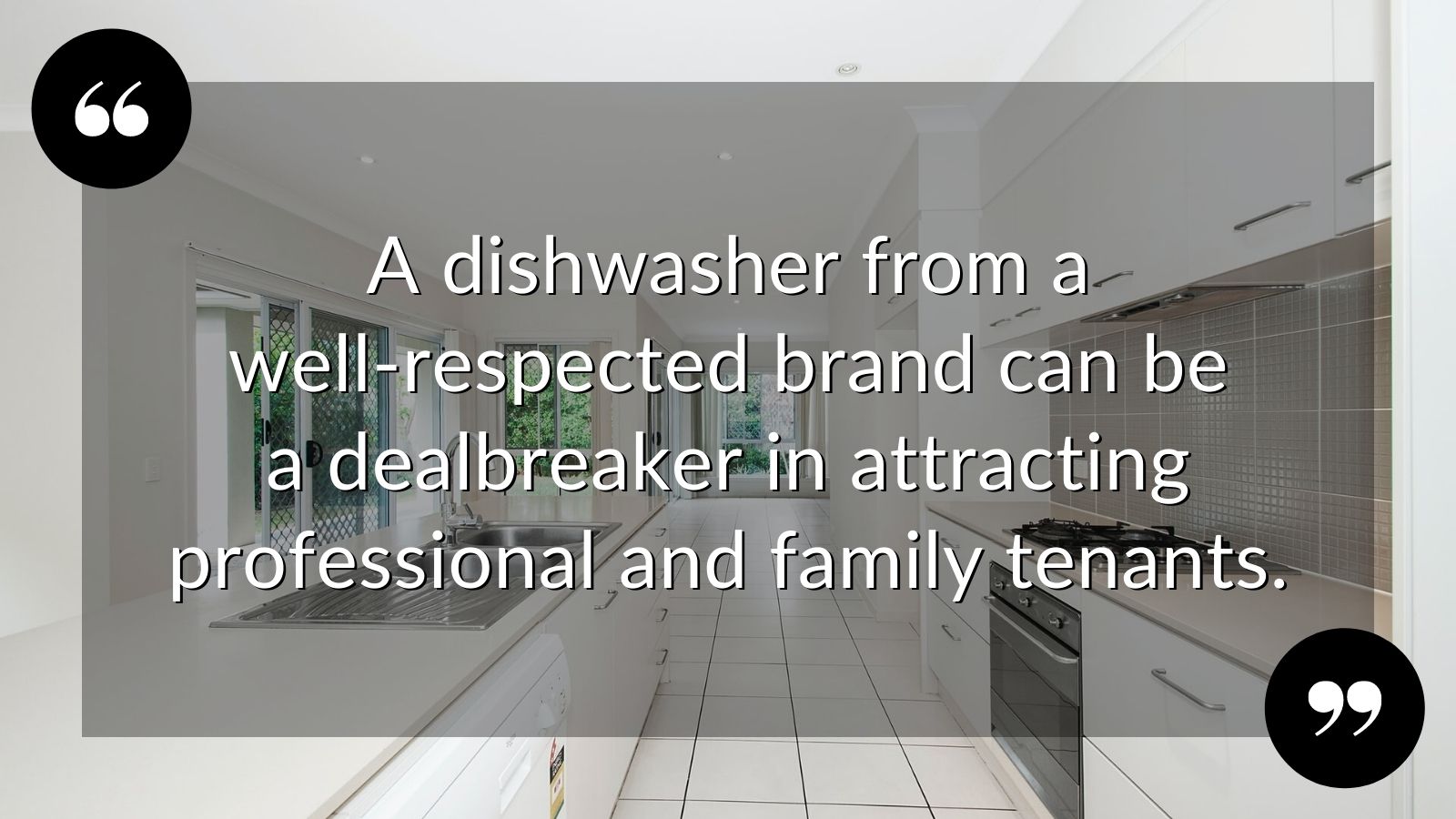 Install enough cupboards and shelves to comfortably store your tenant's food, crockery and pans.
Fit high-quality work surfaces for preparing food. In larger spaces, a breakfast bar can add that sociable and sleek chef's-kitchen quality.
Include a stainless steel or black fan oven, fast hob (gas, halogen or induction) and extractor hood.
Supply an efficient fridge/freezer and a washing machine with at least a 7kg load size.
For families and professional tenants, a dishwasher can be a real dealbreaker. A well-designed half size model is fine in homes with no more than two people, otherwise go full-size.
Lay durable and contemporary tiles, vinyl and linoleum that don't swell like wood can.

 
Don't worry about small appliances like kettles, toasters, microwaves and coffee makers:  tenants don't expect them.
BOOST YOUR BUY-TO-LET'S BATHROOM
Never underestimate the power of a magnificent morning routine! Give your tenants a great start to the day with our essential checklist to a blissful bathroom.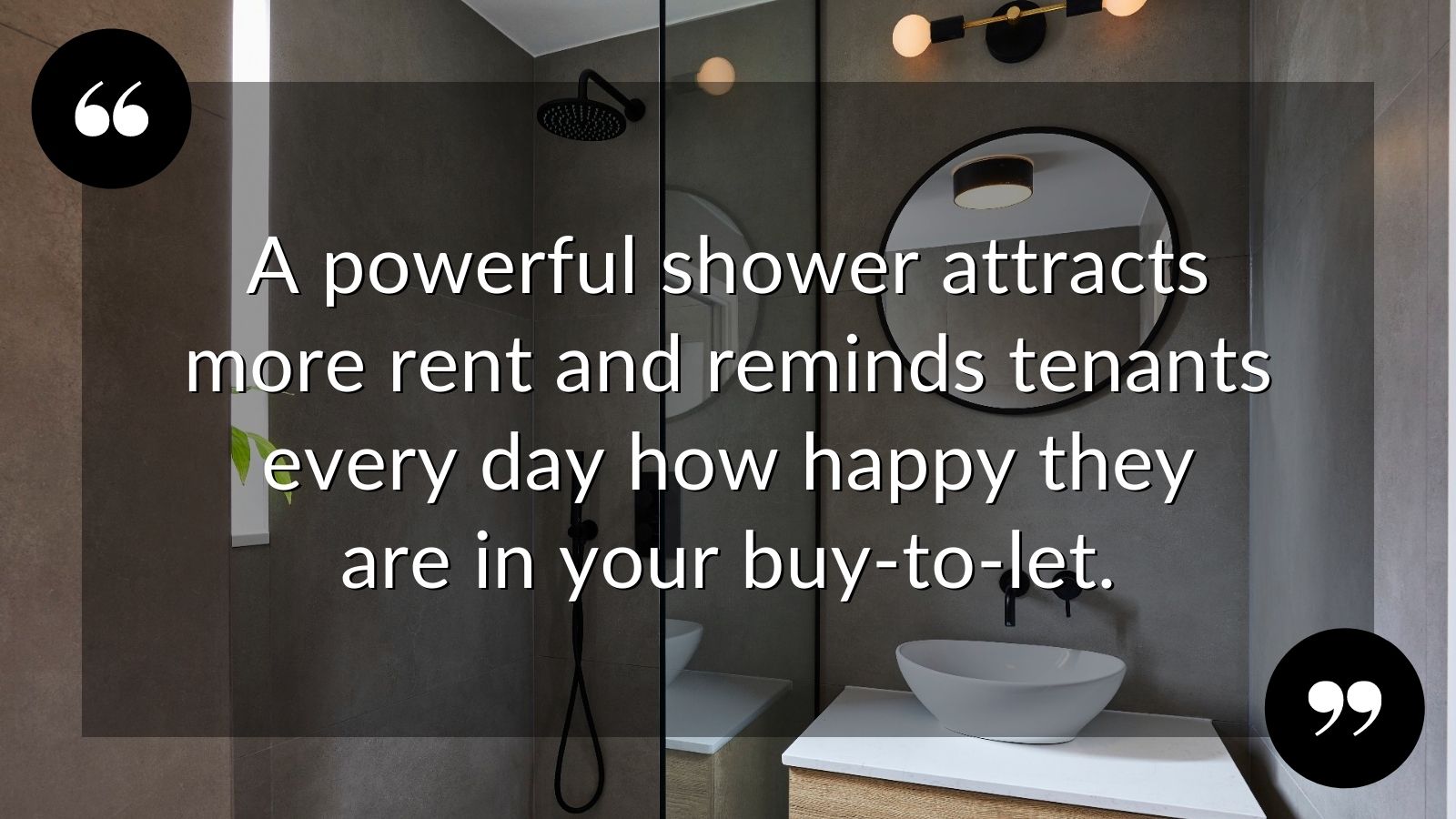 Choose high-quality taps for the bath and basin in a low-maintenance metal finish like chrome or brushed steel.

 
Provide a decent-quality loo seat that's fitted correctly – you'd be amazed how many tenants look for this from traumatic previous experiences!
Install a powerful, thermostatically controlled shower for an everyday reminder to your tenants of how happy they are to live at your buy-to-let.
Does your shower enclosure or bath have a screen? If not,

 

install a good quality rail as an inexpensive and thoughtful gesture. While tenants are happy to add their own sense of style with a shower curtain, the lack of a rail looks cheap.
As well as tiled floors and splashbacks, fully tiled walls look really smart and stay looking great. As a minimum, tile up to ceiling height around the shower or you'll be forever dealing with peeling paint. Keep an eye on the grouting and sealant to keep it tidy and effective against water damage to the floor or ceiling below.
Fit a bathroom cabinet & mirror above the basin to keep everyday essentials like toothpaste, lotions, potions and creams out of sight, under control and free of dust. Go for the biggest size the space can take.
Ensure effective ventilation. Even in bathrooms with windows, an extractor fan ensures moisture doesn't turn into condensation and mould. Check the decibel level: you're looking for a subtle hum rather than a disturbing grind.
Include a caddy or shelf for shower

 

products. This looks so much better than piles of bottles on the floor or around the bath that are annoying and messy.
It's all about having a sleek, showroom style that's easy to maintain for an enjoyable experience every time.
ECO EXTRAS & LITTLE LUXURIES
Stand out from the competition with eco-solutions and touches of opulence at your buy-to-let.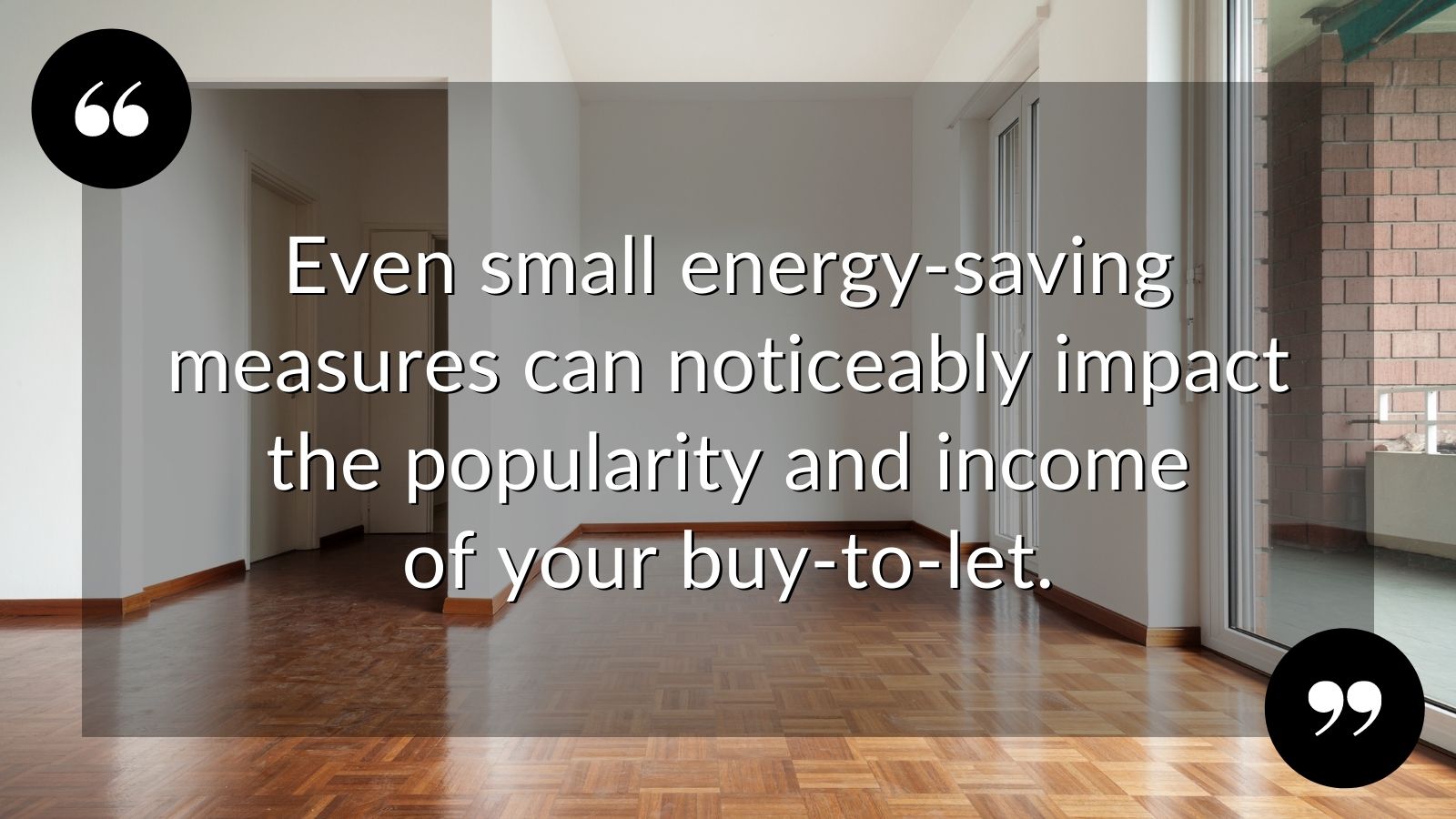 Energy-saving measures are a hot topic that's here to stay, while extra comfort and convenience are the aspirational qualities that attract affluent tenants.
Try these examples for inspiration, then talk to us about the most appropriate options for your rental property.
Brushed steel or powder-coated metal power sockets and light switches
Wired-in multi-room audio speakers
Smart thermostats and designer heated towel rails
Mood lighting under kitchen wall units and behind bathroom mirrors
Water-saving flow restrictors on taps, shower and loo
Solar-powered outdoor lighting to the garden or balcony
Integrated slide-out bin in the kitchen with compartments to separate recycling and rubbish.
What's your next step?
Do you want to turn your buy-to-let into a market-leading rental home? We love showing landlords in Burgess Hill how to increase their income and improve their business.
Call us on 01444 254 400 or email us at bh@hunters-group.co.uk for a chat about the local rental market and how we can help you grow.