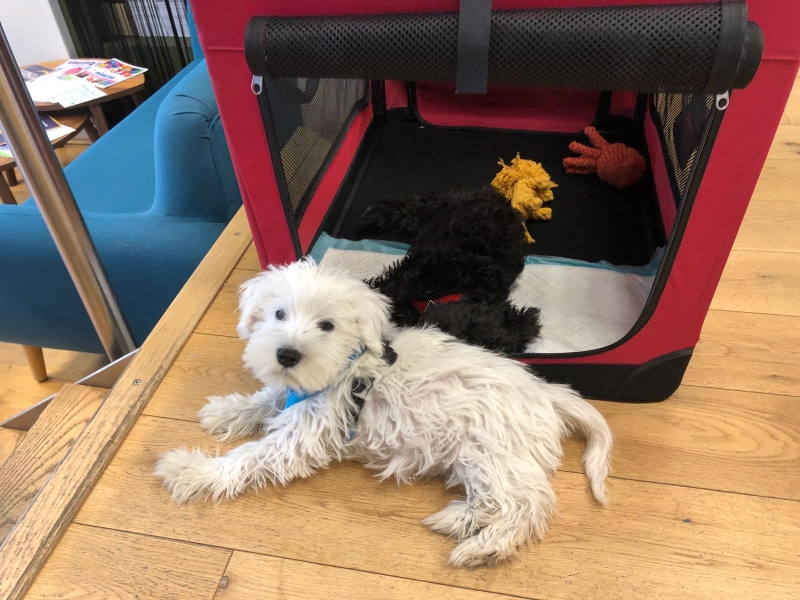 Tips for selling with pets
You'll know that we at Hunters are pet lovers, as our furry friends, Spike and Poppy, are often working hard in our branch, but when it comes to selling your home, not all potential buyers feel like we do.
As pet owners ourselves we know it's hard to imagine not having them around, but when you're trying to sell your property we have some special advice to ensure you get the most for your home and attract the right buyers.
Why may buyers be put off by?
Some people are nervous around pets, and this isn't a good start if you're trying to sell them your home. Others may have a fear of certain animals, particularly dogs and cats who could be wandering around during the viewing. As you'll know, everyone loves their own pets, so even if your buyers are pet owners themselves they may not be used to the habits of yours, which could take their focus away from the viewing.
What can you do to help?
We're not expecting you to remove your pet altogether, but perhaps consider clearing away their clutter to leave a neutral space that potential buyers can envisage as their own. Decluttering and depersonalising a property is always good advice, so continue this so that your pet's toys, bed and food are all stored away, just for the viewings.
If you have a friend or family member who can take them away from the house during each viewing, this will leave you with an empty property so you can really show off your home. Or perhaps you could keep your pet in another room or in the garden while we show your buyers around.
Unfortunately, it's not just the pet themselves that could put off potential buyers, their distinctive smell is often left behind even if they're not around. You may have become immune to your pet's odours, but potential buyers will not be. As they walk through the door first impressions count, and this includes what they can smell. To avoid this you should ensure your carpets, flooring and furniture is thoroughly cleaned and use odour-removing sprays throughout your home. If your pet has its own bed, give this a good clean before a viewing.
Your house may now be ready for viewings, but what about your garden? If your pet has left you any presents be sure to dispose of them prior to any buyers taking a look around your outdoor areas.
The UK is a nation of animal lovers, and properties that are suitable for pets can be very desirable; however, not all potential buyers will feel the same. To present your property at its best you should consider taking on our advice before each viewing. For more tips on how to give your home a competitive edge, take a look at our blog.
If you have a property to sell you can arrange a free, no-obligation valuation with a member of our team by calling 01444 254400 or visiting us online at https://www.hunters-group.co.uk/.