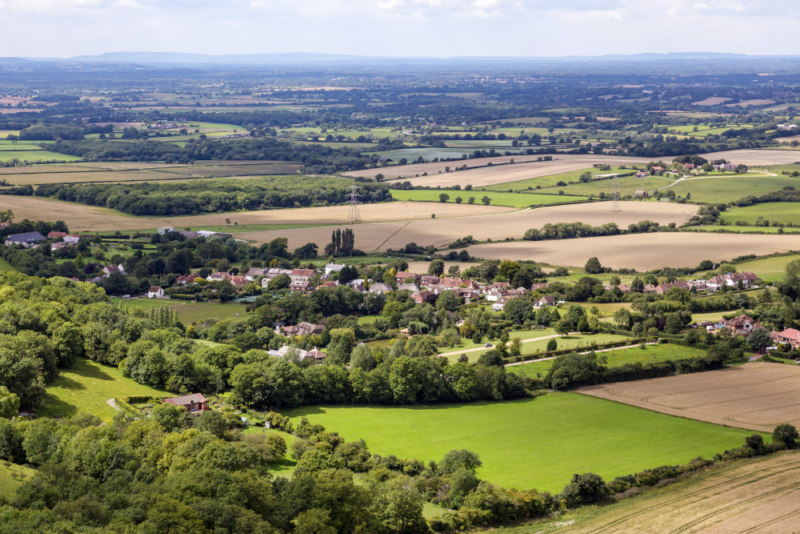 THE CELEBRITY CONNECTION – WHO'S FROM MID SUSSEX?
At Hunters, we often get asked whether there are any celebrity connections to Haywards Heath or Burgess Hill or if anyone famous lives in the local area. Mid Sussex is a beautiful part of the country, strategically positioned between Brighton and London, with excellent road and rail links and Gatwick Airport just up the road. We have lush countryside all around us and are the most affluent district in Sussex. Who wouldn't want to live here?
Haywards Heath may give the appearance of a quiet Sussex town, perhaps best known for the railway station that lies at the heart of the town's rapid development since the arrival of the London to Brighton railway in 1841. But look beneath the surface and there are famous faces aplenty.
Did you know that Richard Osman, one of the most recognisable faces on TV as quiz show host for Pointless and Richard Osman's House of Games, spent his formative years in Haywards Heath and attended Warden Park School in Cuckfield? What's more, his elder brother, Mat Osman, was the bassist in the band Suede who became famous during the height of Britpop in the Nineties.
And staying with Suede, singer and frontman Brett Anderson, was born in Lindfield and attended Oathall Comprehensive School in Haywards Heath and Haywards Heath Sixth Form College. There, he met Mat Osman, eventually forming Suede in 1989 and seeing their careers take off.
Another famous face in Mid Sussex is Ian Hislop, best known for the long-running TV comedy quiz show Have I Got News For You. He was head boy at Ardingly College in the 1970s before heading off to Oxford University and becoming editor of Private Eye. And still with the media, Eddie Shah, businessman and founder of the (now defunct) Today newspaper also went to Oathall School.
In sport, the Haywards Heath Harriers Athletics Club's most famous 'old boy' is Daley Thompson CBE who triumphed at the Olympic Games in 1980 and 1984, winning decathlon gold medals and breaking the world record four times.
Further south in Hurstpierpoint, former Match of the Day presenter and all-round football legend Jimmy Hill OBE was a long-time resident in the village until his death in 2015. Another well-known football commentator, Jonathan Pearce, lives down the road with his family, and can often be seen out and about in Hassocks. A few houses along is the home of YouTube power couple Zoe Suggs (Zoella) and Alfie Deyes.
Speaking of Hassocks, did you know that this sleepy little village at the foot of the South Downs was home to one of the hottest music venues in the mid-1960s? The Ultra Club at The Downs Hotel in Keymer (long since demolished) hosted some of the biggest names in popular music at the time including David Bowie, The Who, Lulu, The Small Faces and The Hollies. Absolutely true!
One of the biggest names to come out of Burgess Hill is Holly Willoughby, best known as morning TV presenter alongside Philip Schofield. She was actually born in Brighton but educated at Burgess Hill School for Girls.
Get in touch
At Hunters, we have 20+ years' experience in the local property market, specialising in property sales and lettings in Haywards Heath, Burgess Hill and the surrounding villages. If you're thinking of moving to Mid Sussex and you are looking for a home to rent or a property to buy, please don't hesitate to contact our capable team.