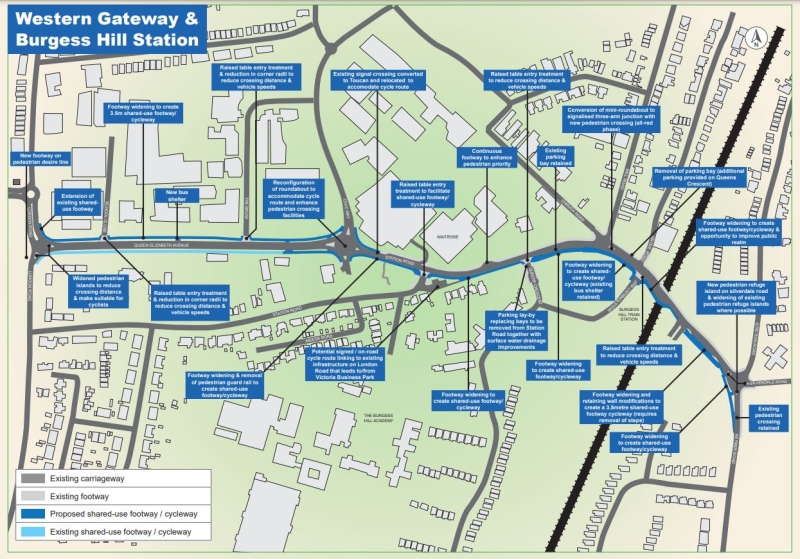 Sustainable town improvements in Burgess Hill
You may have noticed that construction works for the Western Gateway and Stations Improvements Scheme in Burgess Hill are now in full swing. The £4.7 million scheme is designed to support the local economy and improve active and sustainable travel options through Burgess Hill town centre and Wivelsfield Station.
As respected land and residential sales professionals with 20+ years' experience in the Mid Sussex property market and the Number 1 letting agents in Burgess Hill, Hunters are very much part of the local community. Our offices are located right in the town centre and we fully support all the investment that's going into our local economy. While nobody likes the inevitable disruption the works are going to be causing over the next 40 weeks or so, we think the end result will be well worth the temporary inconvenience.
What's happening?
The current scheme is one of several new projects that form part of the Mid Sussex Growth Deal and Burgess Hill Place and Connectivity Programme – initiatives that are being delivered through West Sussex County Council, Mid Sussex District Council, Burgess Hill Town Council and the Coast to Capital Local Enterprise Partnership in an effort to develop safe, direct and attractive walking and cycling routes and high-quality public spaces.
The scheme also forms part of improving the overall infrastructure in and around Burgess Hill, which includes A2300 improvements, Green Circle and town-wide links. All of which feeds into the wider regeneration of Burgess Hill town centre and supporting the development of new homes and commercial space.
Where are the works happening?
The Western Gateway and Stations schemes are affecting the area from the B2036 London Road to the B2133 Keymer Road and include Queen Elizabeth Avenue, Station Road and the Keymer Road roundabout. An overview map of the scheme is available to view here.
The current works are taking place in Station Road and around Mill Road and Grove Road and is due to take around 9-12 months to complete.
The Wivelsfield Station scheme extends from Junction Road / Leylands Road roundabout to the signalled pedestrian crossing on the western side of the railway underpass. An overview map can be viewed here.
How will they benefit the community?
The improvements being made through the Western Gateway and Stations scheme which also link to the wider cycling and walking network facilitated by the Place and Connectivity Programme, will enable travellers to choose modes of transport other than cars for commuting and short distance journeys. The key benefits are an improvement in road congestion, journey times and road safety.
Forming part of the Burgess Hill Strategic Growth Programme, there are further wins envisaged for the local community:
• Access improvements in and around the town centre, ensuring residential and commercial development is connected to key facilities, particularly for pedestrians and cyclists
• Creation of sustainable travel routes (walking, cycling, public transport) that are safe, direct and attractive to use
• Quality improvements for public transport interchange facilities for Burgess Hill Station and Wivelsfield Station
• Capacity improvements and junction alterations to accommodate expected levels of development and traffic volume changes, especially on Queen Elizabeth Ave and Station Road
• Overall encouragement of changing travel patterns for local journeys and better access to new homes, jobs and key destinations in Burgess Hill through the provision of enhanced pedestrian and cycle infrastructure links.
Get in touch
At Hunters Group, we specialise in property sales and lettings, property management and land & new homes in Burgess Hill, Haywards Heath and across Mid Sussex. If you're thinking of moving to the local area and are looking for a property to buy or a place to rent, or you are interested in a free market appraisal and valuation for selling your home, please feel free to get in touch.