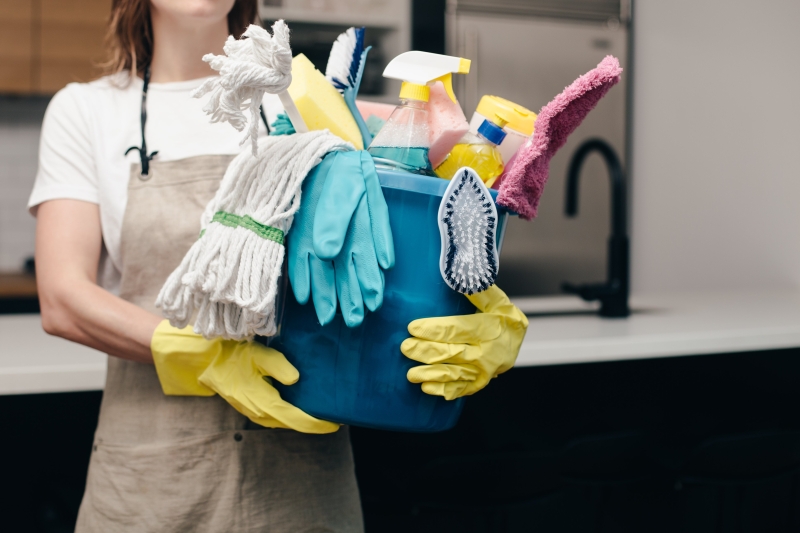 Spring clean your way to a sale
Finally, spring has arrived! We're no longer leaving work in the dark and we can actually turn the heating off without the kids moaning! We know that you'll be spending much of April eating chocolate eggs and entertaining the kids but don't forget about the other seasonal tradition, a Spring Clean!
Thanks to the likes of Mrs Hinch and Lynsey Crombie, cleaning has become popular, with these Instagram influencers boasting over two million followers. Whether you're preparing your home for sale or are just giving it a good clean, here are our top spring cleaning tips.
Faultlessly forgotten
Starting outside, when was the last time you cleaned your doormats? It's their job to trap dirt as you enter your home so they will need a good clean. Depending on their material, you can brush them down, use a hose or vacuum. Before we head inside, take a closer look at your windows – you might have been putting them off as they're tricky to access. Instead of risking streaks or injury, enquire about a local window cleaner and focus your efforts inside.
Spring into action
Which room do you start with first? According to the experts, there's no right or wrong order, but it's a good idea to make a plan of attack before you start. In our previous post, How Netflix can help get your home ready for sale we shared advice from professional tidier Marie Kondo, who suggests that you focus on tidying by category rather than by room. If you follow this recommendation before you begin to clean it really helps – by putting away your clothes, paperwork, toys etc. throughout the whole house you'll then have a tidy space to clean.
Spotless spaces
Your kitchen and bathroom are obviously the areas that require the most time. It's easy to clean your surfaces but don't avoid the microwave and oven – we know you really want to! A simple trick to remove smells and clean your microwave is to place sliced lemon in a bowl with one cup of water, turn on high for several minutes then leave to cool for about fifteen minutes.
Your oven may be a little harder, especially if you've avoided it since last spring! Before you go out and buy a branded oven cleaner you can try making your own natural product: mix baking soda with water to form a paste and spread throughout your oven, leave overnight then wipe away the following day.
Fridgingly good
Before you leave the kitchen, how does your fridge look? Or, more importantly, how does it smell? Removing all of the food and wiping down the whole fridge, including shelves and bins, will get rid of any bacteria, but to remove unwanted smells you can leave an empty container of baking soda inside the fridge, which should work for up to three months.
Bring sparkle back
You can get your bathroom's sparkle back, and it can be done without a lorry load of bleach. Natural cleaning solutions made from vinegar and water can make your bathroom shine. If you've been following Mrs Hinch (@mrshinchhome) on Instagram you may have seen her popular toilet hack – she recommends a limescale removing product that costs just £2! Next time you're shopping look out for Bloo Foam Aroma Ocean Mist Fragranced powder, it might change the way you clean your loo.
Orderly organised
Before we let you go we're going to make you attack one last place… the junk drawer! Every home has one with random keys, batteries and take-away menus. You may want to continue to ignore this useless drawer – there's always something stopping you from throwing away that cable, and maybe one day you will actually need the drachma from your holiday to Kos in 1999. Try your best to be honest with yourself about what you really need and at least attempt to organise the drawers so that everything has its place. Now, next time you need a battery or fancy a takeaway, you know where to go.
We hope we have inspired you to give your home a spring clean. If you're putting your property on the market, give our team a call on 01444 254400 to book a free valuation.