Sports Clubs in Burgess Hill
Burgess Hill is blessed with an extensive leisure centre, namely The Triangle. There are also many sports clubs in the area, and due to its location on the edge of the beautiful South Downs National Park, there are also plenty of trails for walking, cycling and horse riding. Here's our round up of the sports clubs on offer in Burgess Hill.
The Triangle Leisure Centre
The Triangle sports and leisure complex has recently seen a multi-million pound investment in new facilities. On offer are a wide range of sports, leisure and recreational facilities, including:
– Aztec fun pool with rapids and flumes
– Outdoor leisure pool set in landscaped Mediterranean style patio
– 25m, 8 lane competition pool
– Health club and fitness suite with a modern gym and sauna/steam room.
– 12 badminton courts
– 4 squash courts
– 4 outdoor tennis courts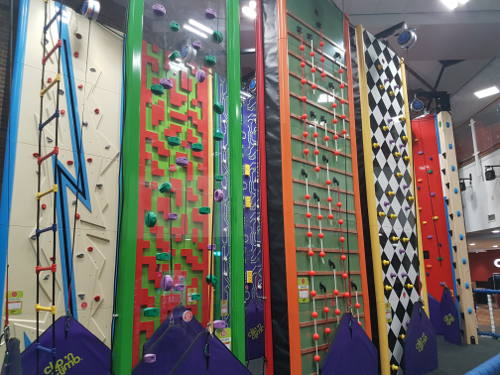 – A brand new 'clip and climb' climbing wall facility
– The Arena event hall with seating for 1,500 people
– Conference facilities
– Supervised creche
– Antics Soft Play children's facility
– Bar and café
– Sports shop
Location: Triangle Way, Burgess Hill, RH15 8WA
Tel: 01444 876000
---
The following clubs also use the leisure centre:
– NOMADS Badminton Club
– Mid Sussex Martlets Badminton Club
– Burgess Hill Junior Badminton Club
– Shorinji-ryu Renshinkan Karate Do England
– Reiwaryu Ryushikan Karate Do Remnei
– Tae Kown Do
– Rarebreed Combat
– Pyramids Gymnastics Club
– Burgess Hill Ladies Hockey Club
– Mid Sussex Hockey Club
– St Francis Hockey Club
– Mid Sussex Netball Club
– Lindfield Tennis Club
– Pole Fitness
See here for contact details for all of the above clubs. If you have any difficulty getting in touch with individual clubs, speak to the leisure centre directly and they should be able to help.
---
Walking
As you would expect with Burgess Hill being located on the edge of the South Downs National Park, there are lots of beautiful walking trails in the area.
For information about walks in the area, check out these resources:
There's also a walking club, Sussex Pathfinders. They organise half day, and full day walking groups at weekends all year round, all over Sussex. There's an £8 annual membership fee, but newcomers are welcome to try out a walk for free.
Meet up is another useful resource for walking groups.
---
Cycling
Being so close to the South Downs, there are lots of places to cycle (though it can be quite hilly). Find out more about places to cycle here.
For the serious rider, The Sussex Nomads Cycling Club runs from nearby Ditchling (3.6 miles away). Adult membership is £20 per year. New members of all abilities always welcome. Social rides are organised on Sundays, usually in four groups of different abilities. Rides tend to be 1.5 to 2 hours in duration. There's also an annual charity bike ride, which takes place in June each year. Find out more here.
---
Burgess Hill Golf Centre
Golf centre offering a 9-hole Par 3 Championship course, a floodlit driving range and putting and chipping areas. There's also a bar, restaurant and a golf shop. Everyone is welcome from children and complete beginners to professional golfers. No booking or membership fees required.
Location: Cuckfield Road, Burgess Hill, RH15 8RE
Tel: 01444 258585
---
Burgess Hill Bowls Club
The Burgess Hill Bowls Club has over 150 members. The club has 6 rinks and a licensed clubhouse. The season runs from late April to mid September. The club runs beginners nights and open days, so you don't have to be an experienced player. Annual membership fees range from £10 for juniors, to £16 for non-playing members and £80 for players.
Location: West Hill Drive (off Royal George Road), Burgess Hill, RH15 9PP
Tel: 01444 870533
---
Tennis
There are tennis courts (and a tennis club) at the Triangle Leisure Centre (see contact details above).
There are 3 outdoor courts at St John's Park. Courts can be booked here.  St John's Park, Park Road, Burgess Hill, RH15 8HG. Parking is free.
---
Horseriding
There are livery and riding stables in nearby villages, Hurstpierpoint and Pyecombe.
Kents Farm Livery Yard, Kents Farm, Malthouse Lane, Hurstpierpoint, BN6 9JZ (livery only).
Three Greys Riding School, Rockrose Farm, Clayton Hill, Pyecombe, BN45 7FF