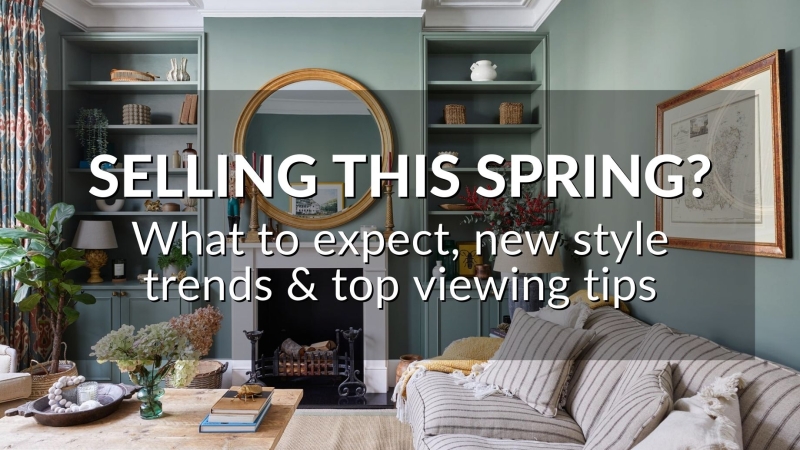 SELLING THIS SPRING? WHAT TO EXPECT, NEW STYLE TRENDS AND TOP VIEWING TIPS
As the spring 2022 property market begins, Nationwide Building Society has reported a 14% year-on-year price increase for March, up again from the 12% already reported in February.
Spring is famously the busiest season for buying and selling, and not just because our thoughts turn to spending more time outside in summer. Now is when families start planning their move for the next school year, an immovable and non-negotiable deadline that brings more homes to the market.
Zoopla has already seen a slight increase in the number of properties for sale, up 3.5% in the four weeks to 20th March. That's a welcome relief for buyers who've been waiting in the wings through winter's supply shortage, but what does it mean for sellers?
While more availability does equal more competition, it spells good news for finding your next home (as long as you're ready when it hits the market). So to give you the upper hand in selling your home and finding your next one, this week's blog includes essential spring viewing tips and the latest design trends to stand out as the tallest daffodil in the bunch.
WHAT'S THE MARKET DOING?
"The imbalance between high buyer demand compared to low available property supply is the greatest we have ever seen for the start of a spring market." Those are the words of Rightmove director Tim Bannister.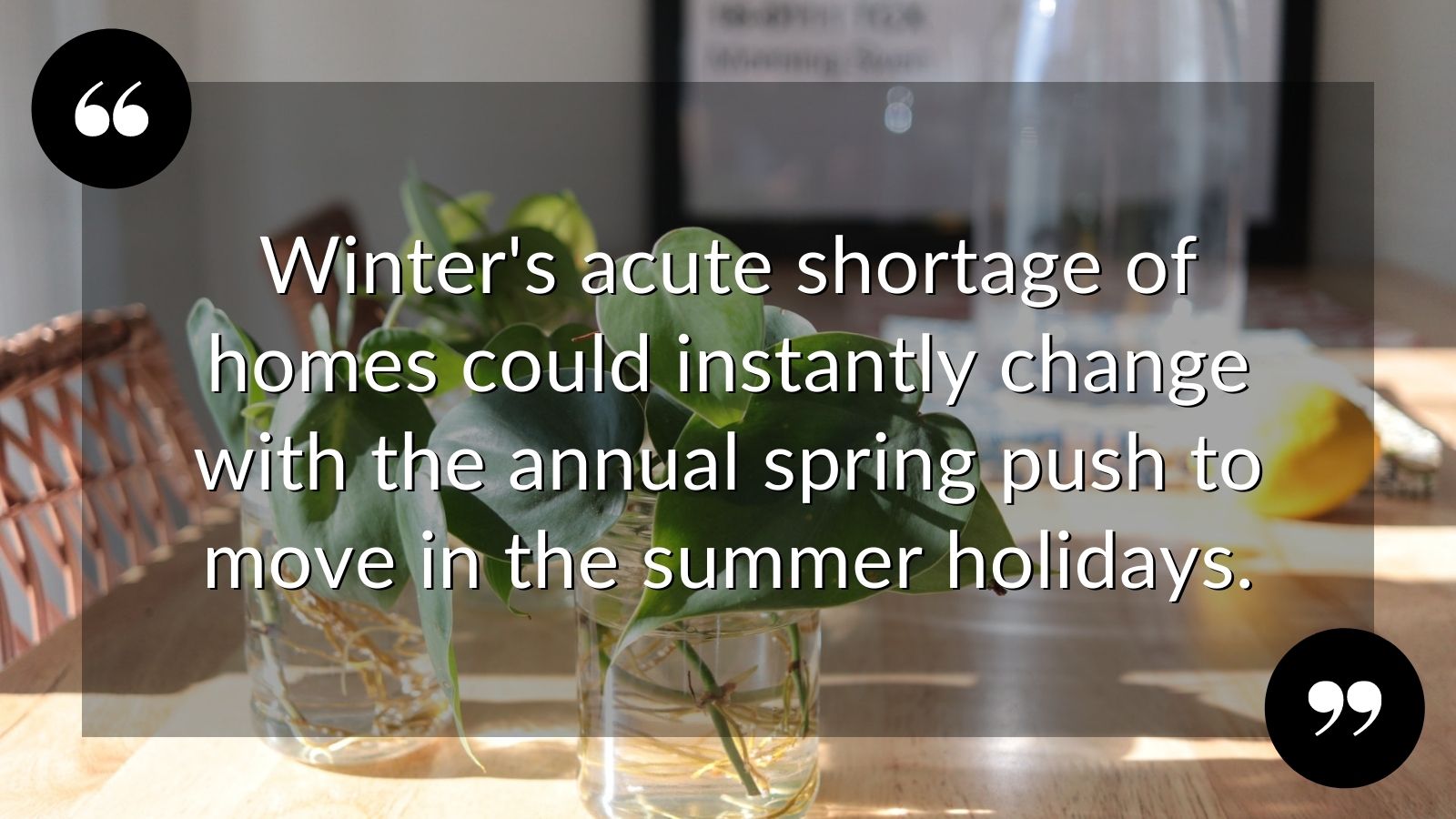 Although very few homes are on the market (at least, officially), it isn't because nobody wants to move. The fear of not finding somewhere to go has made sellers hold off, keeping portals like Rightmove short on listings.
However, behind the scenes, sales are still happening. Estate agents have been piecing chains together from a small selection of hand-picked buyers and introducing them to off-market homes. In fact, 1 in 10 sales in the UK have been off-market this year. 
So how do you get to know about these secret properties? Well, to be at the top of the list, you need to be ready to go. That means either having no property to sell, or having a sale already agreed on your current home.
Accepting an offer today doesn't mean moving out tomorrow. But without a buyer in place, you'll miss out on the homes that never make it to the market.
SPRING VIEWING PREP
Now that the clocks have gone forward, more viewings happen in the daylight, which means buyers often make their decision on their initial visit. This makes it essential to get things right the first time around, and our seasonal viewing tips will ensure your home is filled with the joys of spring.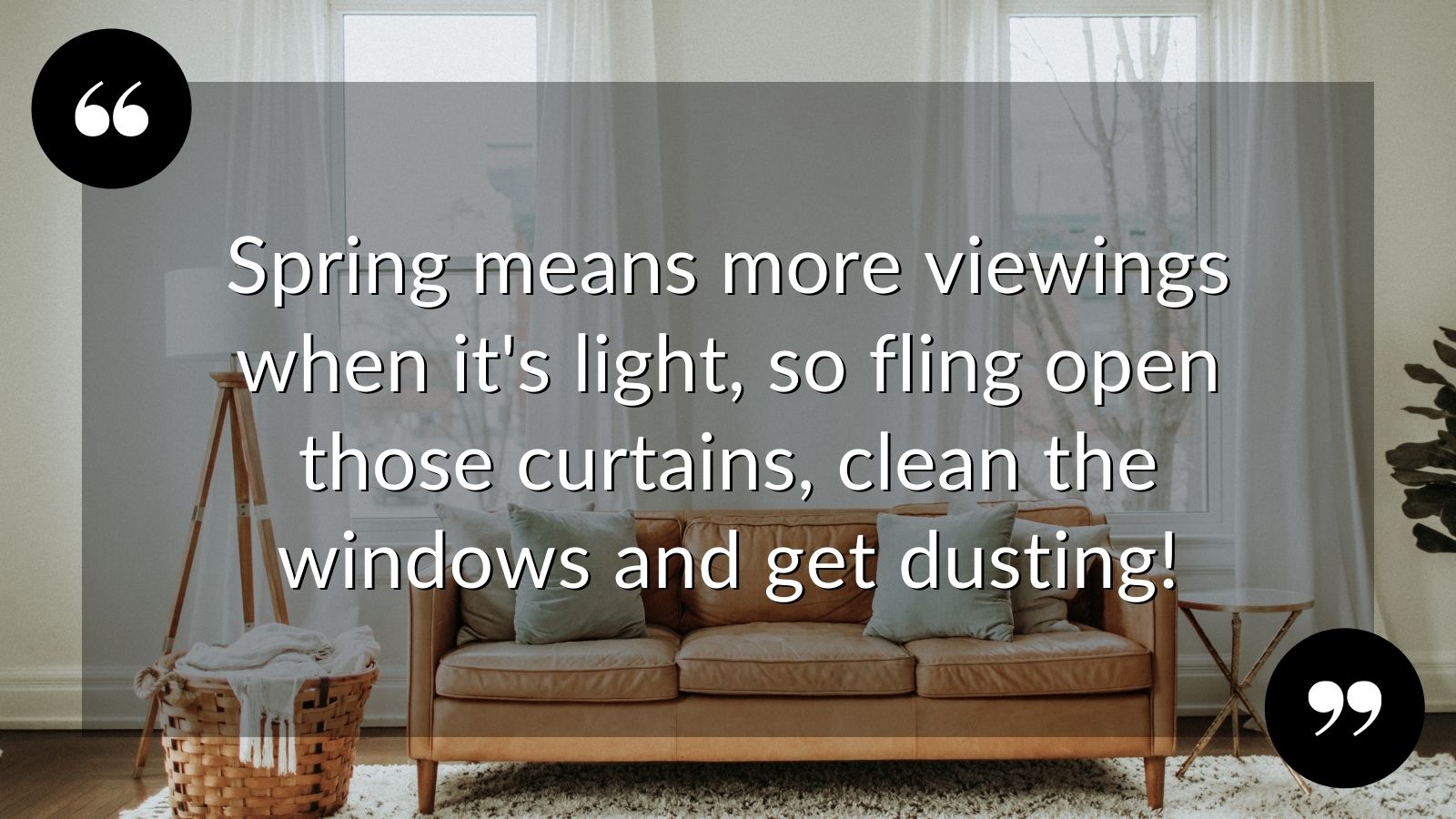 Clear the decks
Google searches for decluttering went up by 700% at the end of 2021, so perhaps you're already ahead. Getting rid of clutter isn't about stripping away personality; think of it as treasuring the things you love, displaying them with purpose, and organising your everyday essentials – all in a way that allows your home to shine.
Live in the light
With brighter and sunnier days, every detail of your home is thrown into sharp relief. Make the most of it by opening and dusting blinds, pulling curtains back, polishing windows, mirrors and surfaces, and keeping internal doors open to lighten every corner.
Make perfect scents
Fresh air is your friend, so keep a couple of windows slightly and securely ajar to remove any reminders of last night's takeaway. Then add a zing of spring with a single vase of seasonal blooms and let their natural fragrance permeate your home.
Think all-weather welcomes
Spring blue skies are lovely, but there are no guarantees with the British weather. Give your viewers somewhere to wipe their feet, hang their jackets, drop an umbrella and leave their shoes if it's tipping it down.
SPRING 2022 DESIGN TRENDS
A love of texture and pattern continues, adding layers through natural palettes and materials. Rather than having a complete makeover, you could change the look of your home in an afternoon with tactile fabrics and accessories.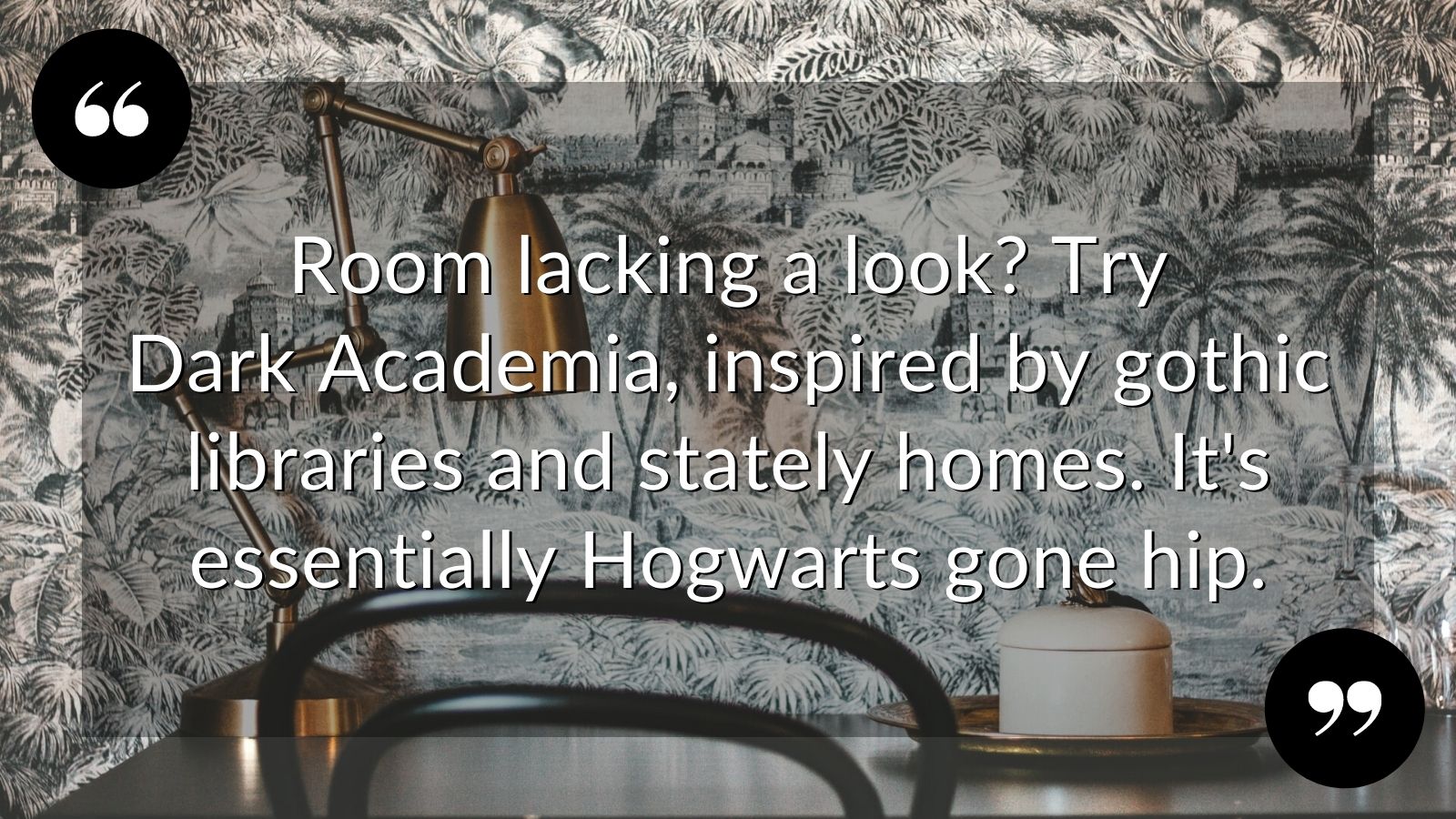 Colour
This spring is about going green with shades like sage, olive, eucalyptus and mint. Think calming, fresh and natural, from a leafy feature wall to your chosen pick of accessories or fabrics.
Style
Got a room that's lacking a look? Try Dark Academia, inspired by gothic libraries and stately homes. Think Hogwarts gone hip with a bookish, Oxbridge style: bookshelves of old photo frames, candlesticks, classic toys and leather cases, paired with elegant William Morris prints.
You can even cheat and buy Hogwarts library wallpaper!
Statements
Florals are spring 2022's big style statement, whether modern, oversized or classic. From a wallpaper backdrop for prints and art to patterned cushions, bedding, curtains and rugs.
BRING THE OUTSIDE IN
If there's a buzzphrase for spring 2022, it's biophilic design. Taken from the Latin word biophilia, which means a love of nature, it's all about creating calming and visual connections between the inside of your home and the natural world.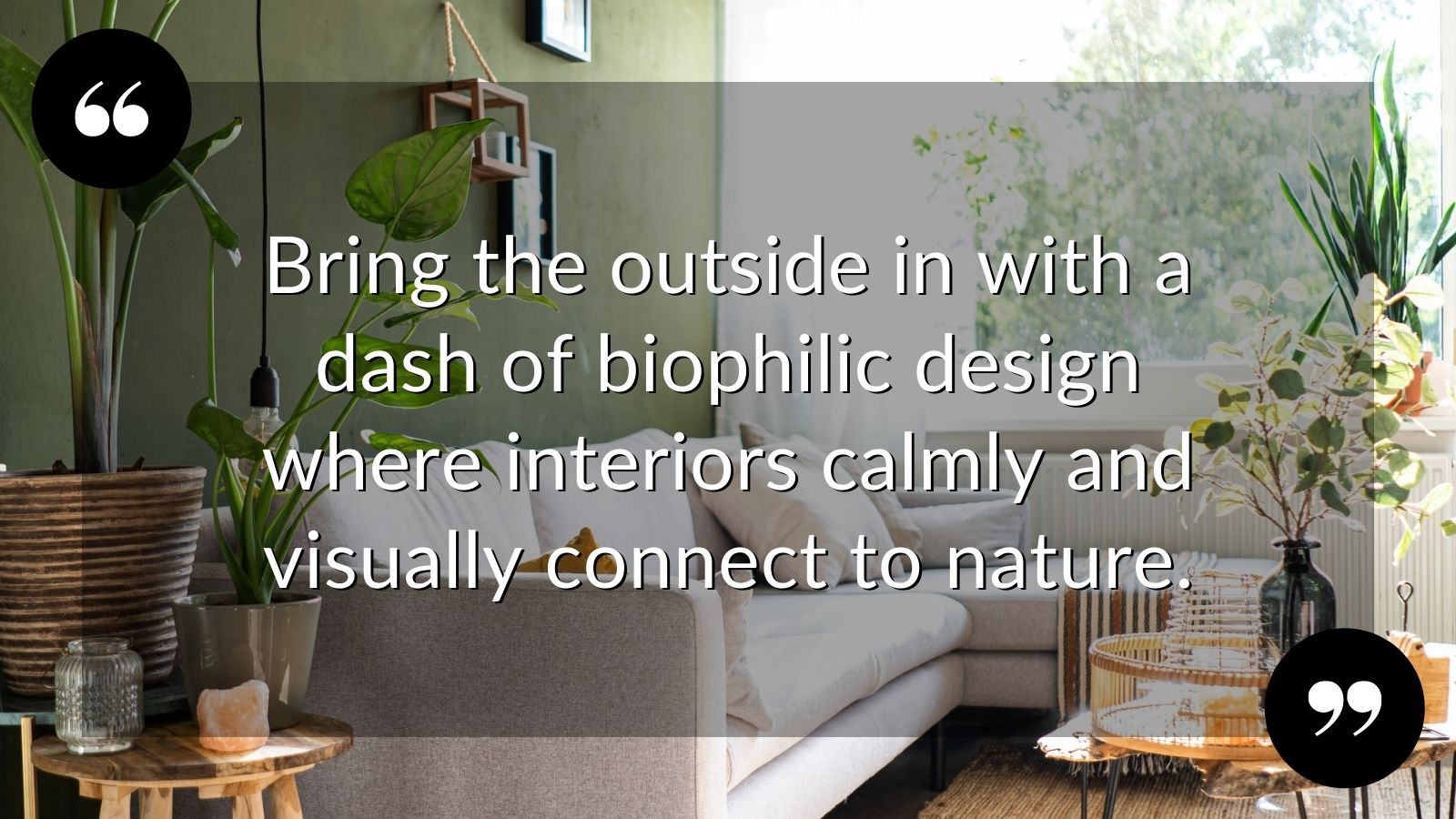 –  Houseplants look beautiful, clean the air and promote wellbeing. There's always a place to put one: big pots on the floor, little ones on shelves, or even suspended from hooks.
–  Boxes on window ledges are about more than just kerb appeal. They're a miniature garden at the end of a room that captivates viewers as they look towards the outside.
–  Not naturally green-fingered? Fake it with a fluted glass vase of long-stemmed artificial eucalyptus leaves from stores like Next or John Lewis.
–  Give any wall a moment of nature by hanging framed botanical charts or pictures of oversized palm leaves and verdant landscapes. 
–  Add luscious foliage or floral motifs with cushions, a throw, or a new lampshade.
–  Everyone loves the charms of parks, gardens and forests. We're wired for nature, so tune right in.
TAKE THE INSIDE OUT
The lines between indoor and outdoor spaces are even more blurred for spring 2022, but with a new twist. Gardens and balconies are more valued than ever, and the move is towards bringing the inside out for the sense of a cosy room in nature. Even without alfresco dining temperatures every day, you can show your viewers the lifestyle they can look forward to.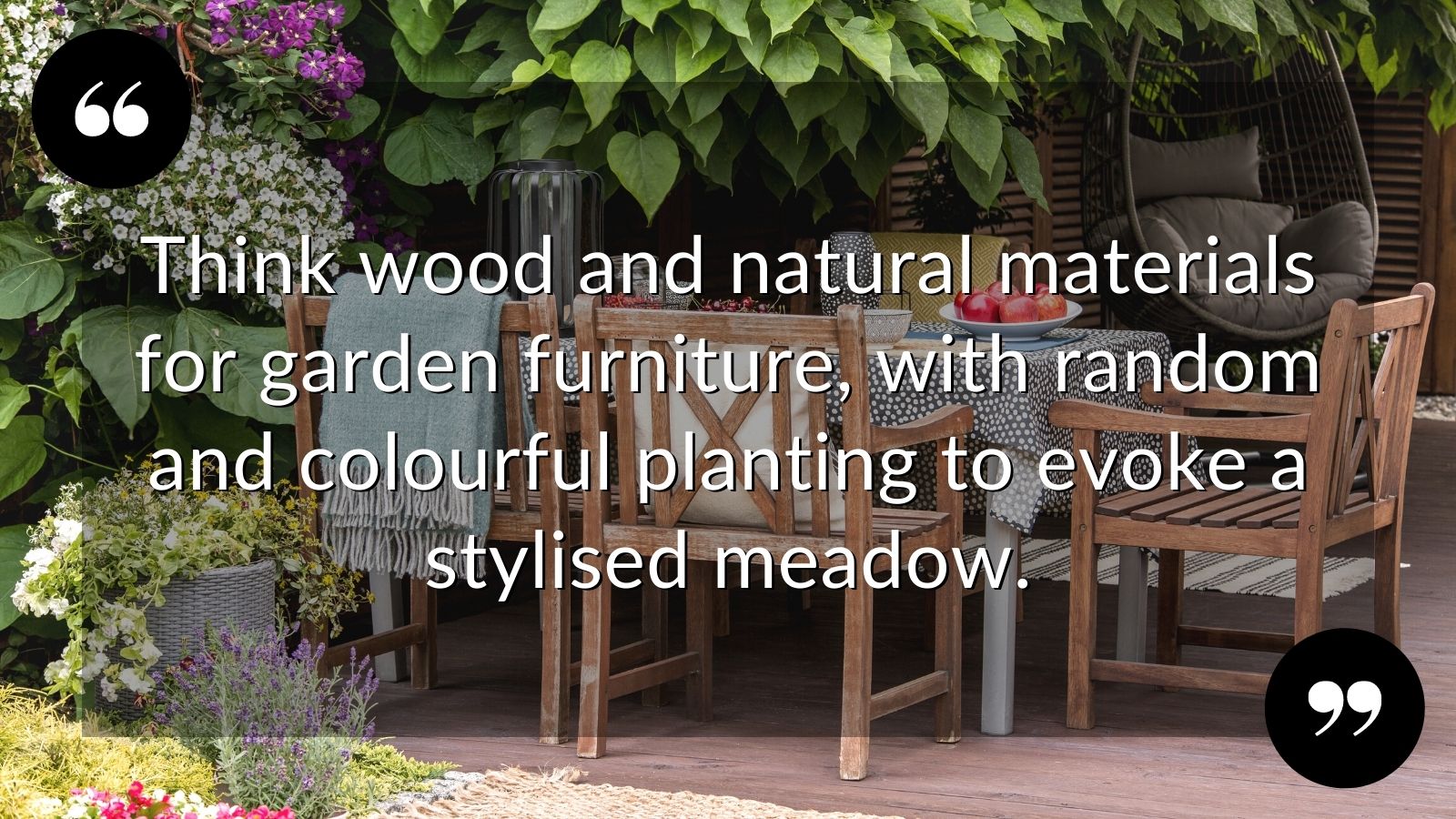 –  Wood and natural materials continue the theme from indoors, so dust off, set up and style your outdoor furniture to extend your living space outside.
–  Create the feeling of a room without walls with outdoor-friendly textiles, including cushions, tablecloths, garden rugs and canopies.
–  Take the chill off spring evenings with a tabletop firepit and warm woolly blankets for snuggly gatherings.
–  Evoke the feeling of a stylised meadow through colourful and random planting, focusing on pollinators. Lavender, perovskia and verbena are all low-maintenance, and bees simply love them. 
–  Add a slice of interior design to plain exterior walls with freestanding or wall mounted shelves for plants, lamps and accessories.
What's your next step?
Would you like to sell your home soon, but you're concerned about finding your next one? Perhaps you're wondering whether it's better to keep holding off or get the ball rolling? Whatever you're feeling right now, let's have a chat.
Call us on 01444 254 400 or email us at bh@hunters-group.co.uk to tell us all about your plans. We're here to put you in the best position to move quickly when your dream home comes up for sale, even if it never hits the market.