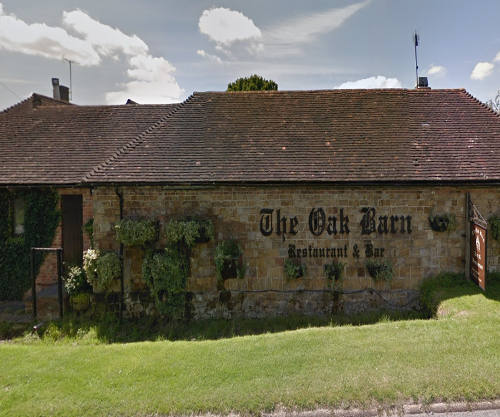 Restaurants in Burgess Hill
Burgess Hill has a surprisingly good offering when it comes to eating out. There's a wide range of cuisines and establishments, from pubs and wine-bars serving food, to formal restaurants, curry houses and low-key cafés. Here are our top picks for dining out:
Great pubs
The Oak Barn Bar & Restaurant
Charming pub and restaurant set in a lovingly restored 250-year-old barn with wagon wheel chandeliers and an inglenook fireplace. Wide choice of food from steaks, fish dishes, burgers and salads, as well as lighter bites, a daily chef's menu, and a good selection of desserts, plus a traditional roast on Sundays. Sandwiches and Jacket potatoes are an option (except on Friday and Saturday evenings). There's also a children's menu. There's an allergen menu, and some dishes suitable for vegetarians.
Location: Cuckfield Road, Burgess Hill, RH15 8RE
Tel: 01444 258222 for reservations.
---
Woolpack
Traditional country pub set in a farmhouse built in 1621 with an open fire and pub games, including billiards. The restaurant is in the adjoining barn. Good wine list and a choice of 6 draft cask ales. They offer a lunch and evening menu of standard pub fare, plus daily blackboard specials and roasts on Sundays. There are vegetarian options, and lots of the vegetables on the menu are grown in their own kitchen garden. They can cater for special dietary requirements.
Location: West Street, Burgess Hill, RH15 8TS
Tel: 01444 245178
---
Burgess Hill Inn
Gastro-style pub with a cosy atmosphere. Lunch and evening meals available 7 days a week. Good menu with some nice twists on the classics, such as slow roasted pork belly with black pudding and truffled black cabbage. Reasonable kids' menu, bar snacks and a choice of burgers.
Location: Keymer Road, Burgess Hill, RH15 0AD
Tel: 01444 233955
---
Chain restaurants/pubs
The Acorn Beefeater
Pub-style chain serving a huge selection of burgers and grilled meats, as well as favourites such as fajitas, for lunch and dinner. Also, open for all-you-can-eat breakfast. Open-plan seating. Can get busy at peak times.
Location: Charles Avenue, Burgess Hill, RH15 9TQ
Tel: 01444 237724
---
The Six Gold Martlets, J D Wetherspoons
Set next to the main shopping centre, this family-friendly chain pub offers basic pub fare from steaks, ribs and burgers with chips to pub-style curry. Good value food and bar drinks. Fascinating picture collection of Burgess Hill's history. Venue can get busy at peak times.
Location: 49–51 Church Walk, Burgess Hill, RH15 9BQ
Tel: 01444 231250
---
Thai
Lemongrass
Local chain, authentic Thai restaurant in modern surroundings. Relaxed atmosphere. Wide menu choice of traditional Thai dishes including, chicken, lamb, duck, seafood, noodles, rice and vegetarian options. They have a good selection of wines, exotic fruit juices, Asian beers and sake. Open 7 days a week for lunch and dinner. Booking recommended.
Location: Station Road, Burgess Hill, RH15 9DS
Tel: 01444 871410
---
Italian
Buon Appetito
Popular small chain Italian restaurant run by an Italian family from the Campania region of Italy. Delicious authentic pizzas and fresh pasta dishes. Open 7 days a week for lunch and dinner.
Location: London Road, Burgess Hill, RH15 8LH
Tel: 01444 246889
---
Ask Italian
Light and airy chain Italian restaurant open for lunch and dinner 7 days a week. Good choice of pizzas and pasta dishes, mains and salads, as well as some delicious and indulgent desserts. Wide selection on the kids' and allergen menu. Plenty of vegan, vegetarian and non-gluten options. Good selection of wines and beers. There's even a gluten-free beer on the menu.
Location: Station Road, Burgess Hill, RH15 9DE
Tel: 01444 683712
---
Indian
India Garden
Burgess Hill's original Indian restaurant claims to be the best curry house in the area. This family-run restaurant has a friendly relaxed atmosphere and serves authentic Indian cuisine. Extensive menu including all the usual favourites. Open 7 days a week for lunch and evening meals.
Location: Lower Church Road, Burgess Hill, RH15 9AA
Tel: 01444 246501 or 01444 246141