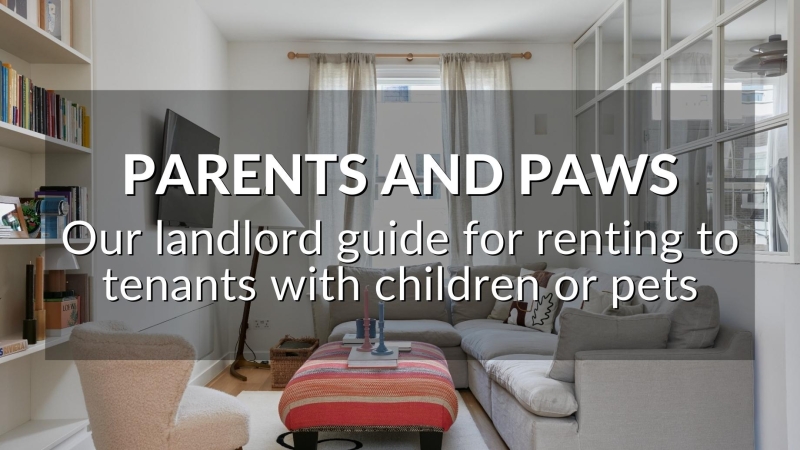 PARENTS AND PAWS: OUR LANDLORD GUIDE FOR RENTING TO TENANTS WITH CHILDREN OR PETS
"Never work with children or animals" has been a showbiz saying since the 1930s, but many landlords also live by the same advice.
Landlord are three times more likely than agents to refuse tenants with children or pets, but they're less likely than agents to deduct the cost of repairs from the security deposit. Do they want to dodge conflict, or could their tenancy agreements be insufficient to claim?
Interestingly, multiple surveys of landlords have revealed how properly vetted families and pet owners are equally as good as – if not better than – any other tenants, and they come with the added incentive to stay longer to avoid disrupting their children or furry friends.
With that in mind, and in light of the Government's proposals to remove blanket bans on families and pets, this week's blog has all you need to minimise the risk and maximise the benefits of this growing and stable market.
UNDERSTANDING THE MARKET FOR TENANTS WITH CHILDREN AND PETS
Various studies contain valuable facts and figures about family tenants and pet owners. We've pulled together some of the most useful points here: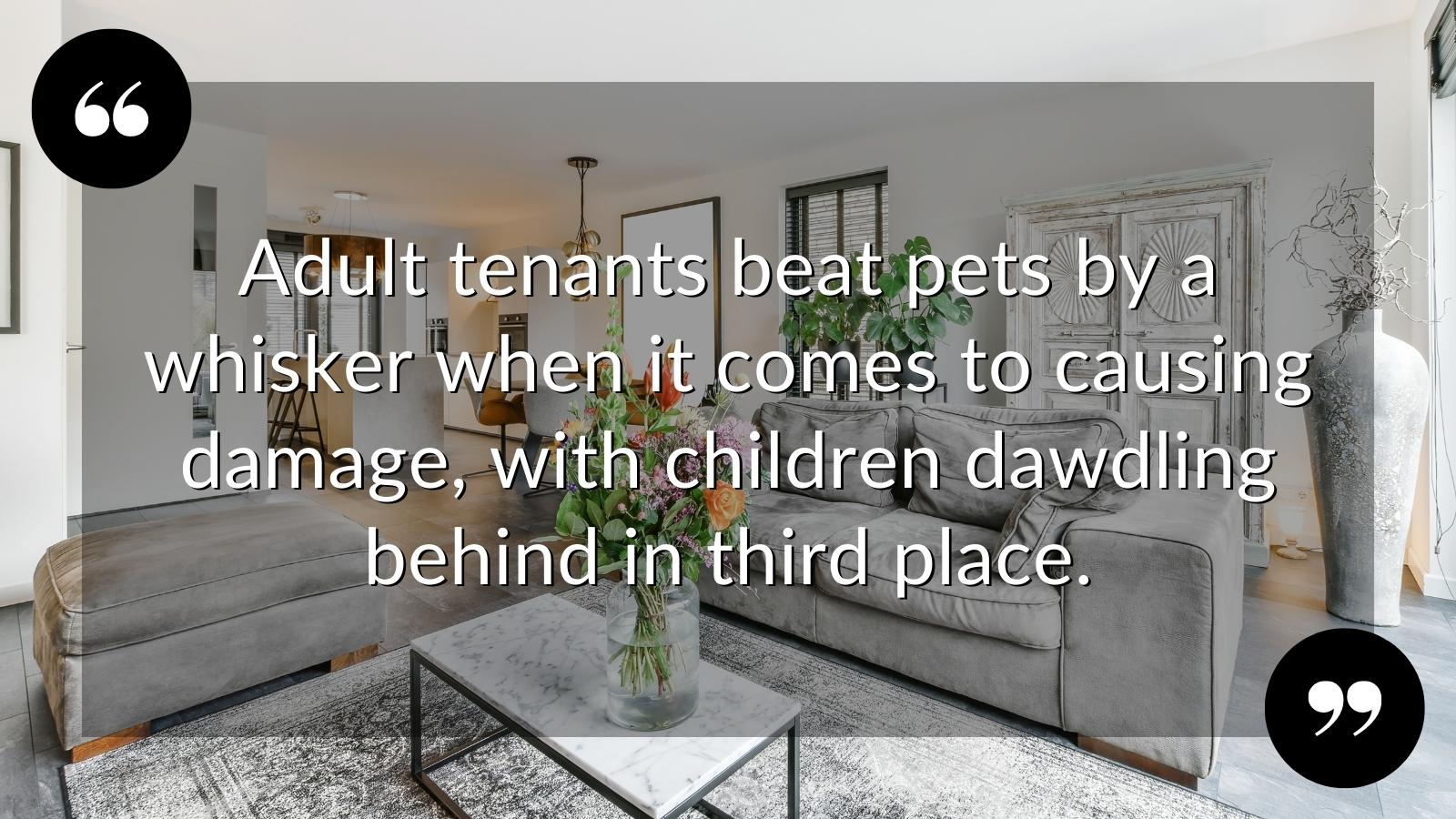 – 50% of the UK's population owns a pet, yet only 7% of landlords advertise their homes as pet friendly
–  In 2017-18, 35% of households in the private rented sector included dependent children
–  50% of new babies in 2019 were born into rented accommodation
–  In a survey of 537 landlords, adults beat pets by a whisker for causing damage (85% to 84%), with children dawdling behind in third place on 54%
–  A third of millennials are predicted to remain as tenants for their whole lives
–  Parents with children tend to be older, have better-paid, steadier jobs, and want a long-term home for their family
–  Research by the National Landlords Association suggests homes rented to families are less time-consuming to manage.
As well as busting a few myths around tenants with children or pets, it's crystal clear that this part of the rental market is here to stay and only getting bigger.
PLANNING FOR FAMILY TENANTS
While the makeup of every household is different, modern family life has some fairly universal requirements. By meeting them, your buy-to-let will take them all in its stride: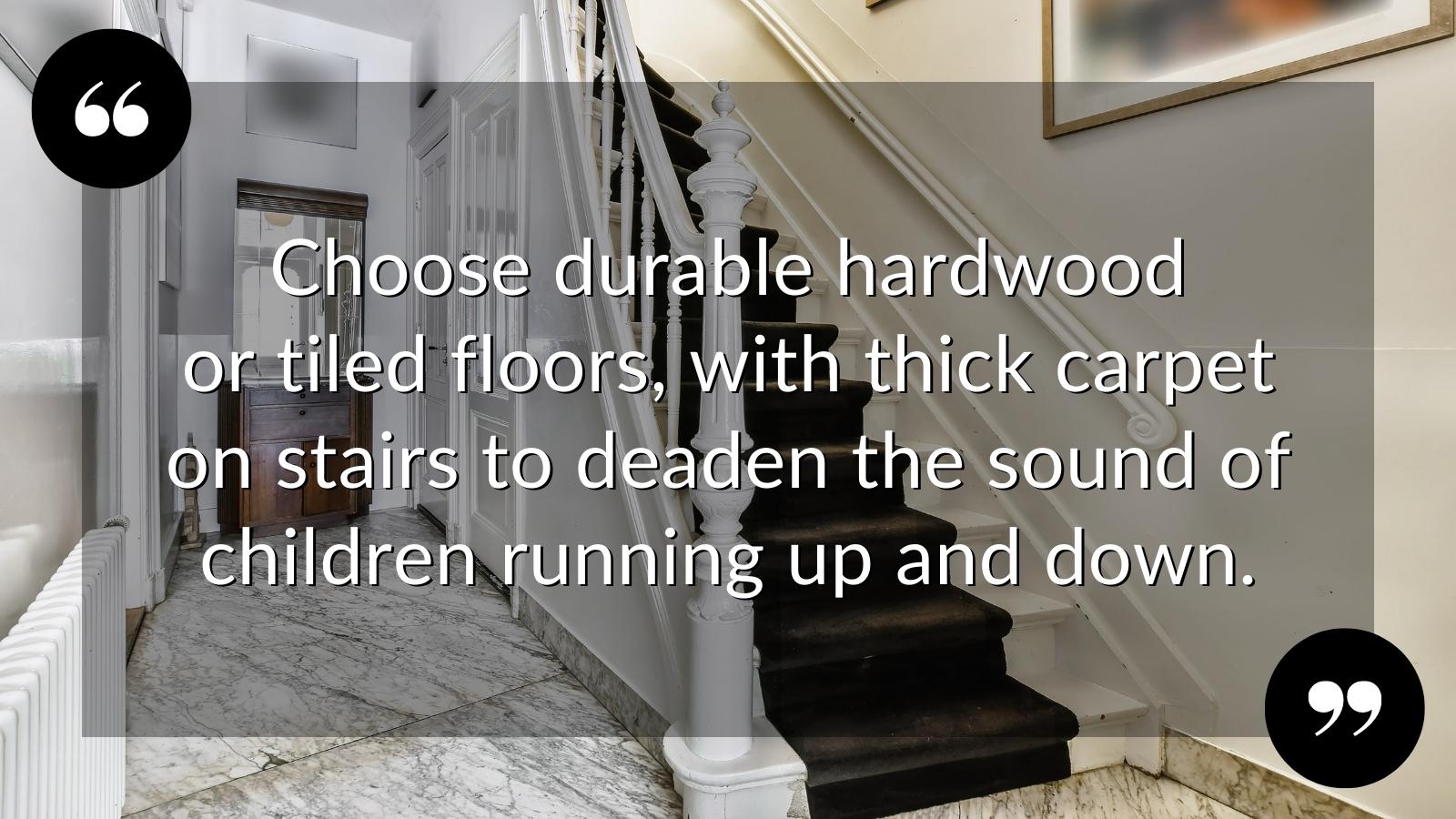 –  Easy parking for one, and ideally two, cars (either on or off-street)
–  Full-size dishwasher and fridge/freezer; large capacity washing machine; powerful oven, hob and extractor
–  Lawned gardens with sturdy fencing
–  Washable paint and durable fittings – handles, locks, doorknobs, taps, toilet seats, switches and sockets
–  Hardwood floors to living areas and bedrooms, and tiles for bathrooms and kitchens to withstand little accidents
–  For stairs, choose a thick carpet and underlay to deaden the sound of children running up and down
Storage space, and lots of it!
As a final point, allowing families to decorate their children's rooms gives them a real sense of having a long-term home. So it's worth being open to suggestion, and to include any permissions and terms in the tenancy agreement.
CHILD SAFETY MEASURES
If your buy-to-let is designed for families, check that stair banisters are no more than 10cm apart, and that upstairs windows have restrictors to prevent young children from falling out.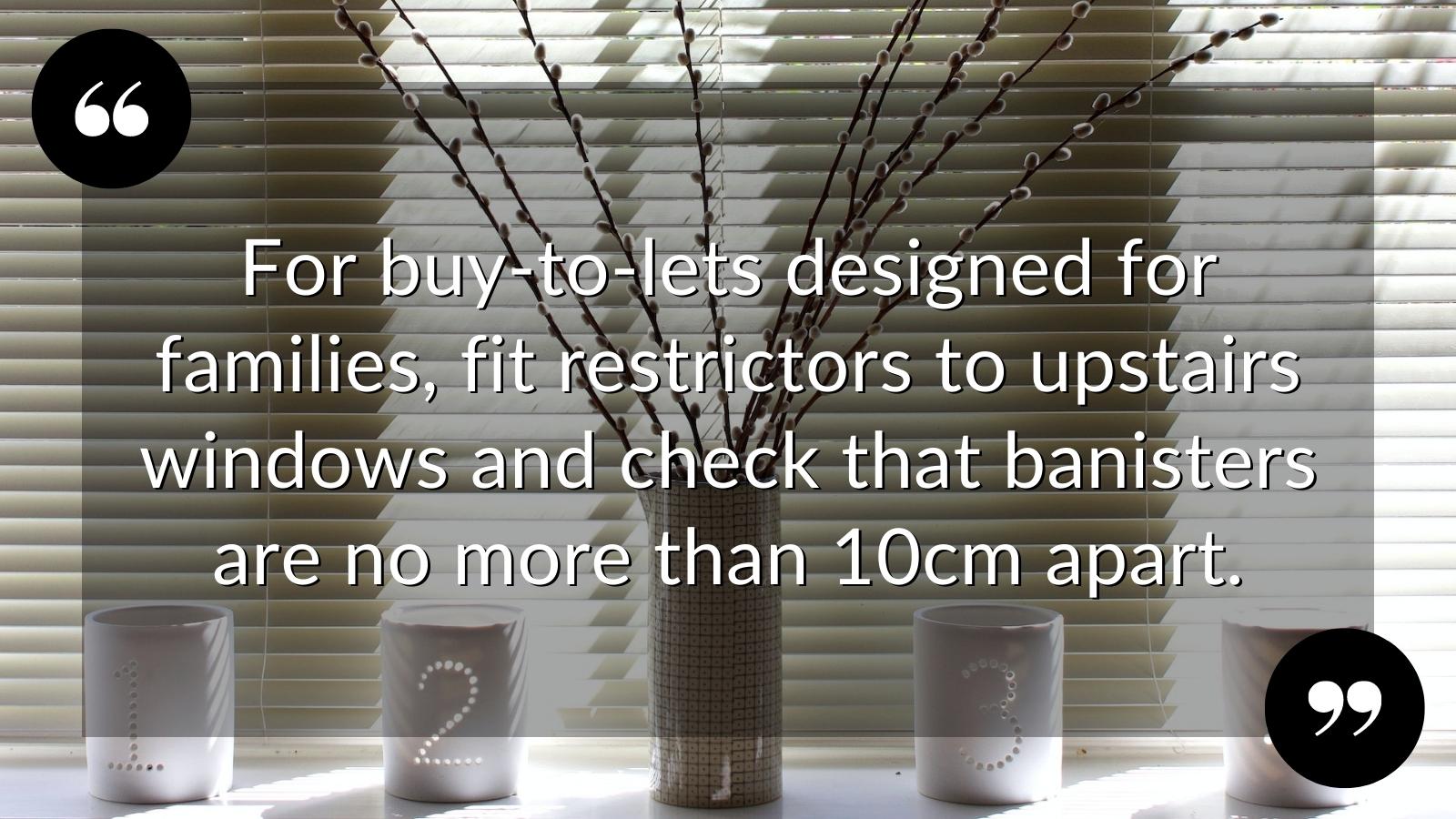 Your tenants may also wish to install additional child safety measures of their own, so arm yourself with a few options that combine peace of mind for parents with a reduced risk of damage to your property.
–  Protective wall pads for use with baby gates to rooms or at the top and bottom of the stairs
–  Drill-free child-proof catches on low kitchen cupboards
–  Cleats to wrap any cords for blinds or curtains to prevent children or pets from getting tangled up in them.
By offering some simple and clever tips, you'll show your tenants that you not only care about their safety but also want to safeguard their security deposit – a great start to the relationship!
PETS WITHOUT PEEVES
Many landlords are pet owners, so why would they refuse tenants with pets?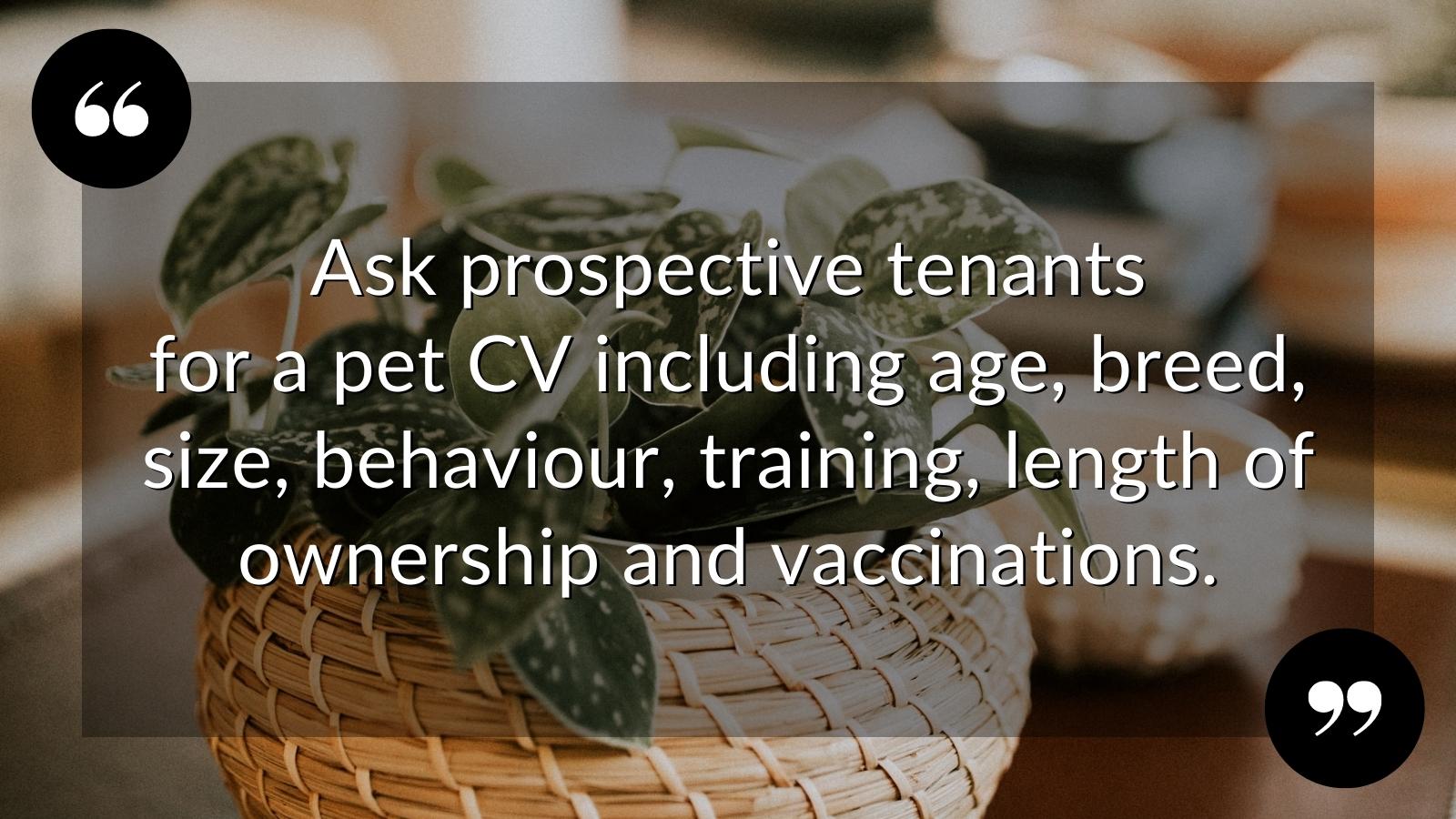 It's a classic case of a few rotten apples spoiling the whole barrel, either through extreme scare stories in the press or a landlord's unfortunate personal experience. While the security deposit will usually cover the cost of repairs, it doesn't remove the work and disruption involved, which is the real concern for landlords (particularly self-managing ones).
So, what's the answer?
For greater peace of mind, and before accepting a tenant, try this checklist to see whether a pet is a good fit for your buy-to-let:
–  Get a CV for any requested pets, including age, breed, behaviour, training, vaccinations, flea treatments and length of ownership
–  Include a pet question when you write to their previous landlord for a reference
–  Meet the pet in person or by video to see its behaviour
–  Ask how much companionship the pet will have: particularly important for dogs who become distressed when left alone for long periods.
Remember that most pets are not wild animals. They go a long way to making homes happy and are treasured family members for many people – sometimes more so than their relatives!
CHILD AND PET-PROOF PAPERWORK
Regardless of whether tenants are all adults or include children and pets, end-of-tenancy disputes usually arise from a lack of clarity at the beginning. By taking the time to get all the paperwork right from the start, you'll save yourself hassle later on.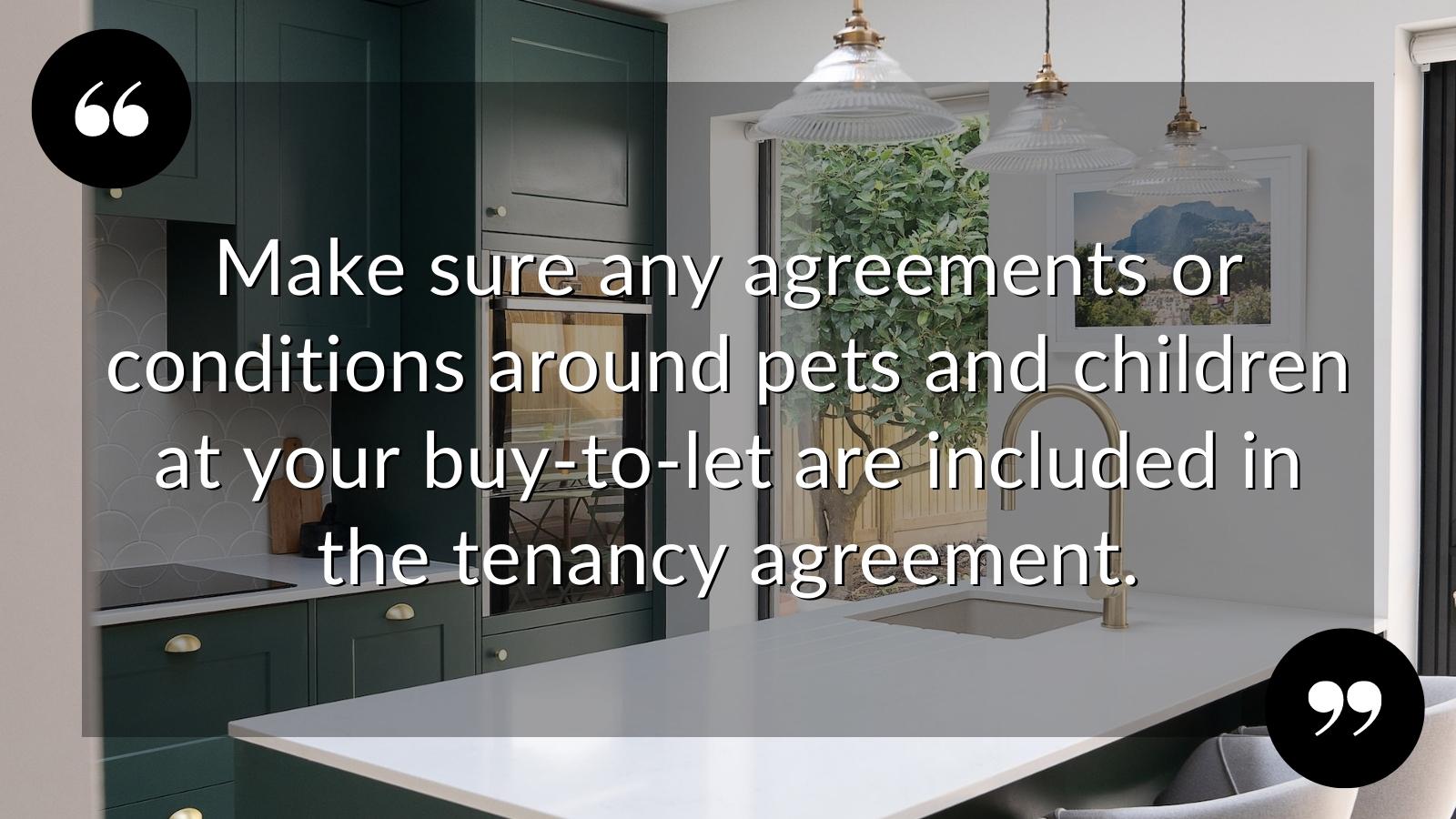 –  Make it clear in the tenancy agreement that your buy-to-let will be returned in its original state with any damage from pets and children repaired and decoration restored (unless your next tenants want to keep it)
–  Include a clause that all pet smells will be eradicated with professional treatment or cleaning
–  Have your tenants sign a comprehensive inventory of your property, including photos of all the fittings, walls, doors and floor coverings.
In the future, depending on whether the Government's existing proposals around tenants with pets become law, you could also be able to require your tenants to take out a pet insurance policy.
What's your next step?
If you're unsure whether your buy-to-let in Burgess Hill is suitable for tenants with children or pets, or you'd like to talk about any aspect of being a landlord, why not get in touch?
Call us on 01444 254 400 or email us at info@hunters-group.co.uk  for a friendly chat and expert advice.