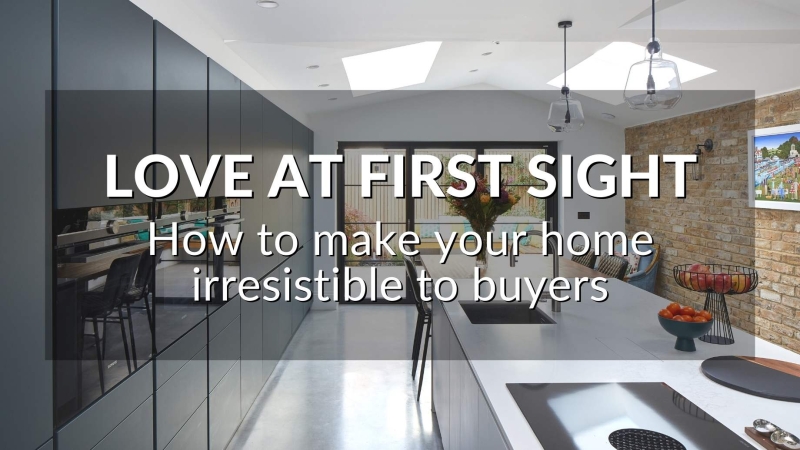 LOVE AT FIRST SIGHT: HOW TO MAKE YOUR HOME IRRESISTIBLE TO BUYERS
Are you planning to move next year?
If you are, you'll probably be thinking about getting ready for viewings and how to help buyers fall in love with your home.
Getting the highest possible price in the shortest period of time is mostly a matter of setting the scene, and the festive break provides the perfect moment to step back for a fresh look at where you live.
Buyers get several introductions to your home. Some will see your online advert; others might call from your for-sale sign. Later on, there are those first few moments when they step inside and how your rooms look and feel on viewings. So contrary to popular belief, you DO get more than one chance to make a great impression.
With that in mind, our blog this week shows you how to make every opportunity count. We follow each step a buyer takes in getting to know your home, so you can hit the market in style for a successful move in 2022.
GIVE THE LOOK OF LOVE
Most buyers see a parade of homes, and when they view one that feels truly valued by its owner, they pick up on that vibe. So before you order that For Sale sign, let's get everything styled, sparkling and spruced to perfection!
Style
Mess is distracting and strangely compelling. It hogs all the attention and makes rooms look small, which could leave your home looking like poor value among the competition.
These simple evening tasks will keep you ready for viewings every day and keep your morning routine clear:
deal with the washing up
put toys away
file letters & leaflets
drop laundry into a basket
take out the rubbish & recycling.
Bonus tip: buyers will recognise and remember your home easier when your rooms look the same in person as they do online. If you're planning on moving or removing furniture, do it before your photos are taken.
Sparkle
Rooms that smell and look clean suggest proud owners, which gives potential buyers more confidence in making an offer. How does your home score on:
shiny windows;
regular vacuuming;
surfaces dusted;
clean worktops, hobs and sinks;
gleaming taps and accessories?
Looking good? Or room for improvement?
Spruce
We've all got odd jobs that never get done, but you'll dazzle your viewers when everything looks sharp.
Take a really good look at your fittings and decoration, then note anything scruffy, unfinished, broken or wobbly. Don't forget to include any outside space like a garden or balcony.
A good estate agent will make helpful recommendations over what to prioritise, so remember to show them your list when you invite them round.
OPTIMISE YOUR ONLINE ADVERT
Nine times out of ten, a potential buyer's first impression of your home will be online, and probably on their phone. So your photos are hugely important – how can you catch someone's eye, and stop them scrolling by?
Getting your photos right is a team effort between you and your agent, so let them know if you have a favourite angle of a particular room.
Whether it's the street view or your wonderful living space, you should always lead with the biggest and best shot: keep the arty close-ups for later in the image gallery.
Use our ten-point photography checklist to ensure your online advert truly stands out from the crowd.
Open curtains fully to expose the windows
Adjust sets of blinds to sit at the same level
Keep worktops, tables and desks free of excess clutter, but keep a few well-chosen accessories – empty can look cold
Plump couches and arrange cushions
Laundry in baskets; clothes in wardrobes; towels and robes on hooks
Clear away any unglamorous kitchen or bathroom products
Make beds with pillows stacked, and bedding turned down
Show as much floor as possible: get books and magazines on shelves; put toys in crates; remove any rugs that shrink rooms
Hide phone chargers and trailing cables
Vacuum and dust before your photos are taken, and regularly afterwards
Taking care of these little details makes a massive difference in turning an average photo into an arresting one.
FINESSE YOUR KERB APPEAL
Despite accommodation and location being the biggest drivers for a move, the outside appearance, or kerb-appeal, of your home has a substantial impact on buyers.
Remember that someone could be:
calling us after seeing a For Sale sign
driving by to check if the location and exterior live up to the photos
arriving for a viewing
taking one last look after they've viewed.
It's really important to make the most of these moments. However someone experiences the outside of your home, one thing's for sure: they'll linger. And that means scrutiny.
External repairs can feel like a lot of work and expense to buyers, but most are pretty simple and worth attending to before putting your home up for sale. Check for flaking paintwork on timber or render and slipped roof tiles or slates, jet-wash any moss from the front path and remove anything that shouldn't be in the front garden.
For a cheerful welcome, a freshly painted front door is one of the quickest improvements you can make, but don't forget to polish your knocker!
As a finishing touch, seasonal flowers billowing from pots, baskets, or boxes create a real sense of arrival.
MAKE YOUR VIEWERS WELCOME
As soon as they cross the threshold, your viewers get their first in-person experience of the inside of your home.
Hallways can be tricky with coats and shoes in often narrow spaces, so keep things practical, simple and welcoming.
Thin out jackets and coats to what you need this season, then leave a couple of spare hooks for viewers
Eliminate piles of shoes by putting them in boxes or lining them up in a rack
If you store your bike in the hall, hang it on the wall or find another spot for viewings
Mirrors can reflect light and add depth, while pictures provide joy and warmth
Avoid bare bulbs, and choose a lampshade or fitting that complements your décor
Have a doormat to keep your floors clean and your viewers guilt-free
If your front door opens straight into your living space, keep the area inside the door clear to avoid people walking straight into obstacles and feeling your home is too small.
TAKE IN THE AIR
Smell is the sense most associated with memory, and the aroma of your home will go a long way to creating an impression and being remembered.
Among smells to avoid are:
shoes
cigarettes
curry
fish
More important than anything is that the air feels fresh. You can encourage natural airflow by keeping all the interior doors open during the day, while a window locked slightly ajar will ensure a trickle of fresh air.
Although baking fresh bread and roasting coffee beans are wonderfully aromatic, you may find them a bit much to add to your morning routine. Far less work and effortlessly effective, a single vase of freshly cut flowers (from the florist, not the petrol station!) will fill your home with their seasonal fragrance.
If flowers aren't your thing, you'll find plenty of naturally scented alternatives at retailers from John Lewis to Jo Malone, including reed diffusers and candles to provide a soothing and scented background.
Final words
People form multiple first impressions when viewing your home. When each one works in harmony with the next, it takes a browser one step closer to becoming a buyer.
If you're looking to sell your property in Burgess Hill, we'd love to help you get everything right. Give us a call on 01444 254 400 or drop us a line at bh@hunters-group.co.uk or a chat about your plans.