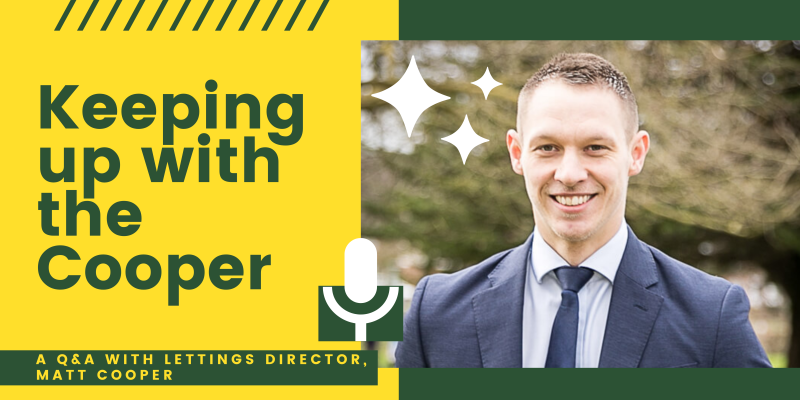 Keeping up with the Cooper – a Q&A with Lettings Director, Matt Cooper
As a result of the fantastic Team GB success at the Tokyo Olympics, Hunters Estate Agents located in Burgess Hill (Mid Sussex), have decided to produce another exclusive Q&A blog with Lettings Director, Matt Cooper, who has also witnessed outstanding, consistent performance.
As mentioned in last month's blog with Sales Director Chris Rowe, the Lettings team have ranked 1st place across multiple areas on Rightmove. This includes, Available Stock, New Instructions, Let Agreed and Property Viewings. This is excellent news, reinforcing our decision to expand and grow as a business. Our multidisciplinary approach is different to competitors as we can provide a variation of services under one roof. For instance, Hunters Estate Agents achieved a 21.1% market share on let agreed at the market across Mid Sussex. The nearest competition has 15.8%!
Hi Matt, how are you?
Matt: I am very well, thank you Lauren, how are you?
Lauren: I am okay thank you Matt. Thank you for your time today to do this Q&A. So, let's get cracking! Please could you provide us with an overview of your job role and your experience at Hunters?
Matt: So, I am Lettings Director, and essentially what that means is I oversee everything on the rental and the lettings side of the business. I will take properties on, I am meeting clients and talking to them daily, and our clients can be anyone from local, to very much international. In fact, I have more international clients than ever before. I can be speaking to clients In Australia, certainly in the mornings, (when they are going to bed!) or later in the afternoon could be America (where they are just waking up!) and we are winding down.
It is an exciting role as you are talking to client's day in day out about their property, about what is happening, how the market is evolving, what is going on with their tenancy and their renewal. We have an invested interest in making sure things are moving forward and proceeding smoothly. Ultimately, we are looking after our client's biggest asset. There is a lot of responsibility to make sure things go right. For instance, if the client wishes to live in the property again, or want to return to the UK, we must be ready and alert. Communication is key.
Thank you very much Matt. This sums up the department perfectly.
Lauren: It is interesting that you have been at Hunters for quite some time. What has kept you in the business for so long? What are the benefits of working at Hunters?
Matt: Well, I have been here for ten years! One of the primary reasons is in fact, Jon. I have never had a boss like Jon. I came here ten years ago after working for a corporate agency, who very much took the approach that all staff are replaceable. Personal development is hugely important to me, and it felt like there was little reward or room for growth. I didn't want to be just another number in the system. I wouldn't dream of treating my clients like that. I always want to work with people and not for someone. Jon and the Hunters business is completely different. Everyone has a voice – it might not always be right – but everyone has a voice and is heard.
I started my time at Hunters doing Property Management and Maintenance, and I worked my way up to being Director of Lettings, a part owner of an Inventory company and also a part owner of Land and New Homes. It really has shown me that, if you put the hard work in, the rewards are there. Hunters do give rewards. It is a fantastic company to work for.
I genuinely believe our clients are delighted that we are the ones looking after or selling their properties…or even managing their block! We are very approachable and always do our best. I want to invest my time and energy into this company as it is just growing and growing.
That is so lovely Matt, you are certainly a dedicated and passionate individual.
Lauren: What would you say the Lettings market is like now?
Matt: It is very similar to Sales. It is extremely buoyant.
Essentially, the demand is outweighing the supply big time. A lot of this has come down to Covid-19 over the last 18 months – so we have had an influx of people coming out of the capital because they don't want to be there. People are changing the way they operate on a work base style and essentially, they are coming this way as they can still commute to London – it only takes 40 minutes or so! Instead of doing the commute 5 days a week, they might only be doing it once a week. For what you get in London or Brighton (which is a second London these days in terms of space!) you can get a very different property in Burgess Hill. We have witnessed an abundance of people coming out of the capital looking for places in Burgess Hill, Haywards Heath and Hassocks.
There are some fantastic landlords out there. It isn't always about the money they are making; as many are willing to invest it back into the property and if things go wrong, they fix them quickly.
It certainly is a buoyant market.
Lauren: In terms of the Lettings department at Hunters, are there any opportunities currently?
Matt: Yes, so we are actively trying to recruit someone to take more of a Senior Negotiator role and more involvement with the day-to-day running of the company.
My role is to oversee everything and to ensure things are moving in the right direction. As we are growing as a business, I am finding it harder and harder to fulfil that role day-in day-out, and my clients and tenants are a priority.
We are actively looking for a new person to come on board, who is going to be able to go out and meet new tenants, new clients, but take a more active role in the day-to-day management of the office as well. This should open new opportunities for the company, with myself focusing on other parts of the business as well. We are accepting CVs via the following email address: bh@hunters-group.co.uk
Lovely, thank you for your time.
Matt: A pleasure! Don't forget, if you would like to get in touch with Hunters Estate Agents, then please don't hesitate to contact us on any of the following:
T: +44 1444 254 400
W: hunters-group.co.uk
E: lettings@hunters-group.co.uk
Why not sell your property?
Click here: https://www.hunters-group.co.uk/services/sell-your-property/
New start?
A new beginning awaits: https://www.hunters-group.co.uk/properties-for-sale/
Alternatively…
If you have any pressing questions about investing in property in Mid Sussex as a landlord, we specialise in advising on the best properties for consistent rental yields, based on our vast experience in the local property market. For more information, please call us on 01444 254400 or email lettings@hunters-group.co.uk.