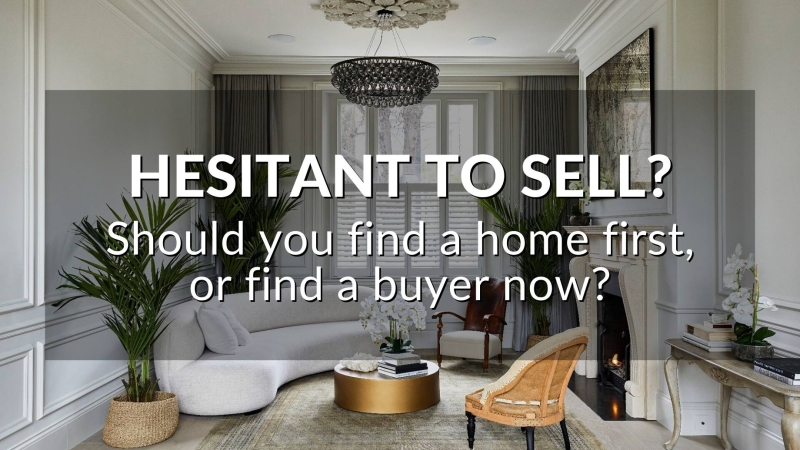 HESITANT TO SELL? SHOULD YOU FIND A HOME FIRST, OR FIND A BUYER NOW?
Sellers aren't selling; buyers can't buy; nobody can move. The property market is stuck!
People have been achieving extraordinary prices for their homes, with the Government's official figures showing a national increase in property values around 20% between January 2020 and December 2021. With life-changing sums just waiting to be had, you'd think homeowners would be jumping at the chance to sell.
In fact, it's quite the opposite. Consultancy firm TwentyCi says there were just 350,980 properties for sale across the entire UK at the beginning of 2022, the lowest figure since the company began gathering data in 2008.
Even with turbo-charged demand and the possibility of selling for more than they'd ever dreamed of, homeowners are keeping their properties off the market because they can't see anything to buy.
If this strikes a chord, perhaps you share the same question with the many people telling us they want to sell but have some doubts: should you wait until your dream home hits the market or seize the day to get an incredible price in case the moment passes?
There's a lot riding on reaching a decision, so in our blog this week, we explore all the options in making the right move for you.
PUTTING TIME ON YOUR SIDE
First things first: it's good to remember that accepting an offer today doesn't mean moving tomorrow. Agreeing a sale is simply the first step in strengthening your buying position for when you fall in love with a home.
The conveyancing process can often take three months from agreeing a sale to completion, and this is where our slightly antiquated home-buying system becomes your friend. It gives you time to breathe while the market loosens up.
Right now, and across all price ranges, estate agents have vast numbers of buyers registered, and many are chain-free. Some are buying for the first time; others have sold and are ready to move as soon as a property comes up for sale.
Given that your perfect home could hit the market without warning, and to have the same bargaining power and chances as other competing buyers, your home really needs to be under offer first.
ASKING ESTATE AGENTS FOR HELP
If you're not comfortable or ready for a constant parade of viewers and eager buyers, there are other ways of making your home available.
Estate agents are your partner in a successful move, and when you're open about your plans and concerns, we can help in many ways. Our lesser-known talents include:
finding you a buyer who'll wait for you to find a home
marketing your home quietly to local sellers who haven't yet sold
recommending you as a buyer to agents where you're looking to move
As well as helping you with your sale, estate agents can oil the wheels of your purchase. Even when no homes seem to be available, we can:
tell you about homes we've seen that aren't yet for sale
send letters to the streets you want to live in
help you identify additional locations to widen your search
So put us to good use! Not sure how we can help? Let's have a chat to find out.
TAKING CONTROL OF YOUR MOVE
When you haven't set your heart on another home, you can set the agenda over the terms of your sale and filter out the buyers who are happy to work to your schedule.
Having a sale agreed on your existing property gives you:
certainty of being able to move and that your home is saleable
confirmation of your buying power for your next home
more credibility when registering with estate agents
access to off-market homes
a level footing to compete with other buyers
the ability to offer on the home of your dreams
Of course, nobody knows for sure, but house prices are expected to rise much slower in 2022, with well-respected sources including Savills, Rightmove and the Royal Institute for Chartered Surveyors forecasting a modest increase of 3.5 – 5%. As more homes become available, growth usually flattens.
If you're unsure about the exact value of your home after two years of exceptional price increases, why not get in touch for an up-to-date appraisal.
GETTING AHEAD OF SPRING BUYERS
As sure as night follows day, more homes come onto the market every spring after the quieter winter months.
Spring is just six weeks from now, and there are already signs of sellers getting prepared. When more homes do hit the market, it's the buyers in the strongest position who'll get first choice. If your home isn't even for sale, you'll miss out on all those new listings.
Of all the things to avoid when moving, rushing your home onto the market and needing to find a buyer quickly is top of the charts. It's an unwelcome level of stress and strain in an already uncertain process, with unanswered questions like:
Will you get an offer soon?
How long will it take to negotiate a price?
Will you still be able to move at the right speed?
With the current supply shortage, you'll thank yourself for being ready and waiting when the home of your dreams comes up for sale.
PRIORITISING YOUR PRIORITIES
What's most important to you about your move? If you can untangle the emotional, financial and practical considerations, the answer usually appears.
Not everyone is looking for a bigger or more expensive property, and plenty of other moves come from:
empty nesters downsizing
retiring to the coast, country or city
looking for a change of scene
switching from a house to a bungalow
giving up an old home for a modern one
selling two homes and moving in together
living near elderly relatives
moving to a cheaper location
The really big question to ask is this: do you absolutely need to synchronise your sale and purchase? Sometimes one can hold up the other, and breaking the deadlock requires a different train of thought.
Would you be able to move quicker on your next home if you already lived in the neighbourhood and had nothing to sell? As a local chain-free buyer, you'll be top of the list for estate agents to call.
What's your next step?
There's nothing to lose by picking up the phone and having a chat about your plans. We've experienced shortages of homes before and have helped many clients with the same concerns as you to get their timing right and make a successful move.
Would you like to know more about the property market in Burgess Hill and the current demand for homes like yours? Call us on 01444 254 400 or send us a message at bh@hunters-group.co.uk  to get all your questions answered.