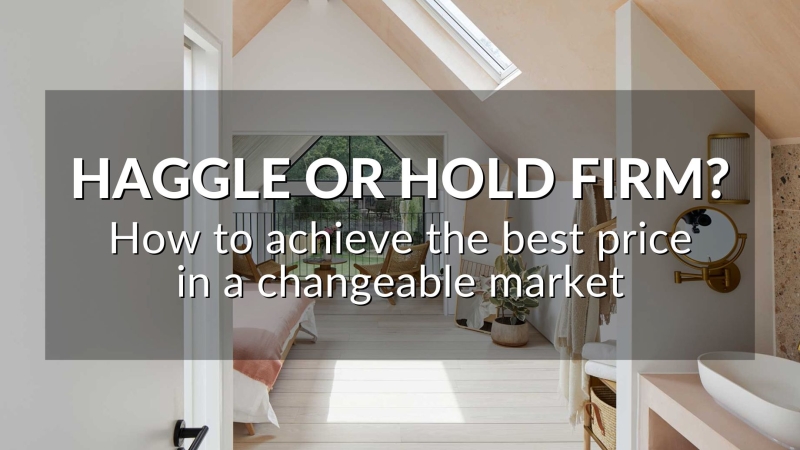 HAGGLE OR HOLD FIRM? HOW TO ACHIEVE THE BEST PRICE IN A CHANGEABLE MARKET
The property market is a funny old world.
One minute estate agents are running out of homes; the next, you're told the market is running out of steam. What are you supposed to believe?
According to Rightmove, prices are up year-on-year by 8.2% but down month-on-month by 1.3% (prices usually fall in August, and this year's drop mirrors the average of 1.3% over the last decade.)
Meanwhile, research by TwentyEA shows that around 26,000 new sales were agreed in the UK every week last month, about the same as the year's average weekly total. In short, the market is up, down and unchanged, all at the same time!
So, has everything gone from boom to backwards overnight? Or is there more to the story than arresting headlines?
One unfortunate response to a shortage of homes is overvaluing by some estate agents to expand their property register.
Eventually, these tactics unravel as homeowners question why they haven't sold. The result is a flood of reduced asking prices and a trail of digital footprints on the property portals, leaving buyers with a reduced sense of urgency.
But just as overly ambitious valuing doesn't mean the market has hit those heights, reducing inflated prices doesn't mean it's collapsed. Nonetheless, your selling strategy should always reflect the mood of the moment, and this week's blog has all you need to achieve the highest price and get moving soon.
TEST YOUR AGENT'S SKILLS
The best agent is the one who gets you the highest price, not the one with the lowest fee.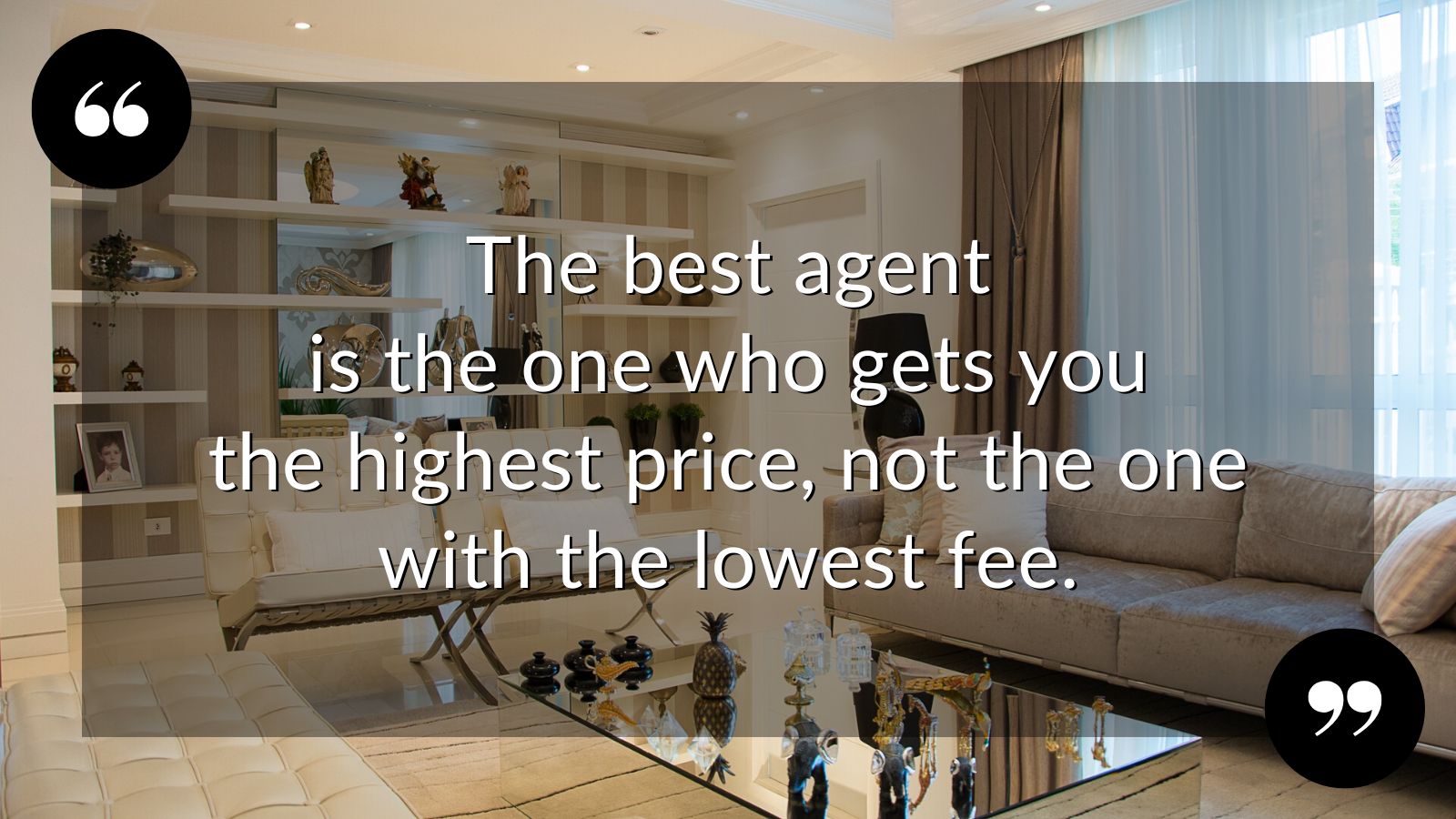 There's a difference between simply passing on an offer and negotiating a higher price. You need to be sure your agent will work hard on your behalf, so use these tips to see proof of the results they achieve for their clients and how they negotiate for themselves.
–  When they present their agency, are you filled with confidence or left with doubts?
–  Do they show conviction in their strategy and service, and stand firm by their fees?
–  What percentage of asking price did they achieve on their most recent sales?
–  How do they get buyers to increase their offer rather than walk away?
As a final point, remember that negotiating is as much about listening as talking. So when you sit down with agents in your home, notice how much they ask about you, or whether the conversation is all about them.
SET A PRICE THAT EXCITES
Asking prices are a fine art, and getting yours right from the start means you'll spend less time on the market. Regardless of whether conditions are crazy or calm, your price should always ignite the interest of as many buyers as possible to create a competitive air.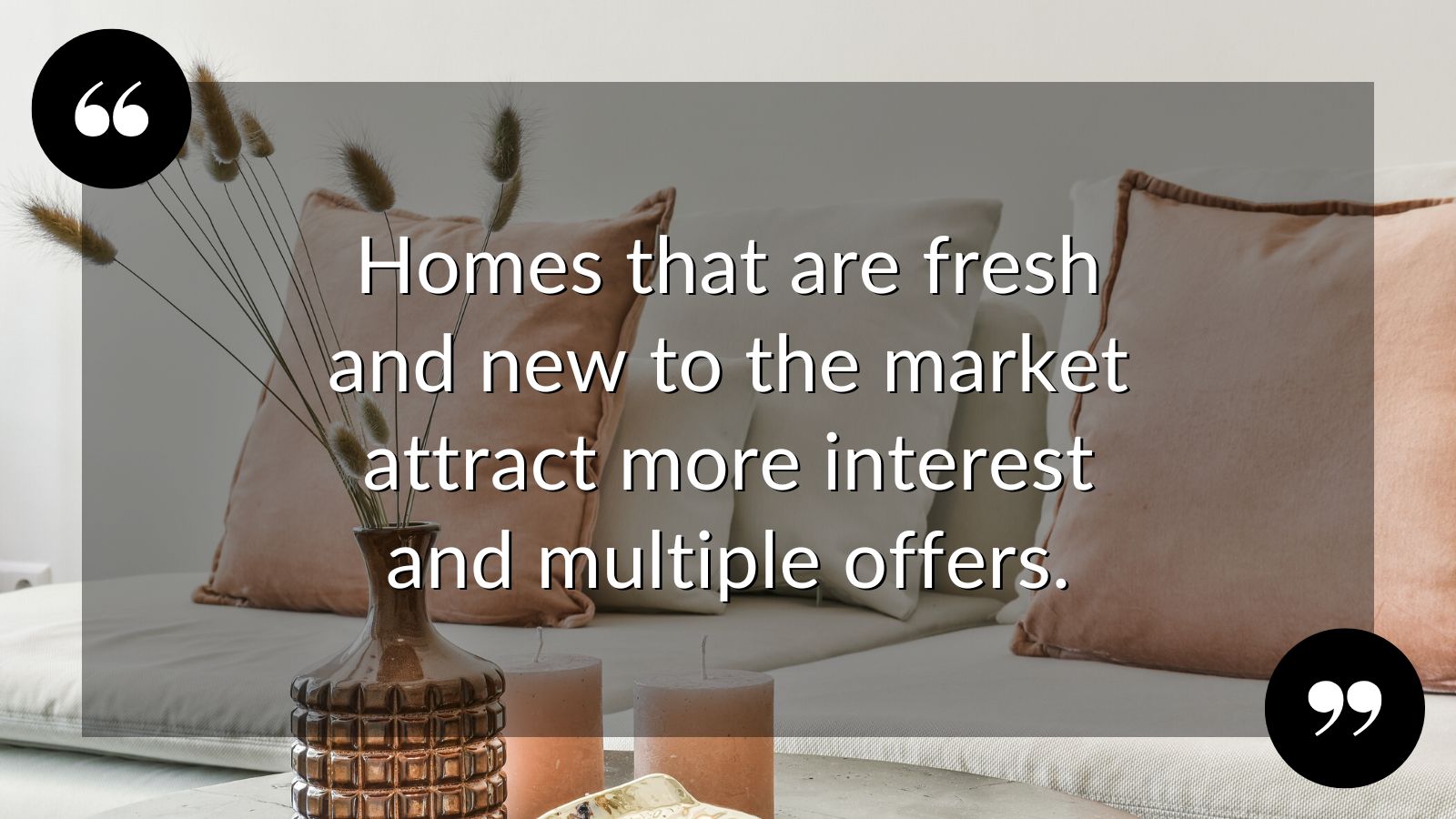 –  Look at the evidence of recent nearby sales so you can see which agent's advice makes sense, and which doesn't.
–  Talk to agents about similar homes to yours that haven't sold, and ask why they're still for sale.
–  Use the price bands of the property portals to your advantage – can you hit the market where two overlap?
–  Avoid your price ending in 950 as you could miss your entire target audience (for example, £399,950 is invisible to anyone searching between £400,000 and £425,000).
Remember: homes that are fresh and new to the market attract more interest and multiple offers. Asking prices that are too high generally produce the opposite effect.
MAKE YOUR HOME IRRESISTIBLE
One of the most effective ways to make buyers fall hopelessly in love with your home is to remove the potential for nit-picking or doubts. That starts with your online advert and goes all the way through to viewings.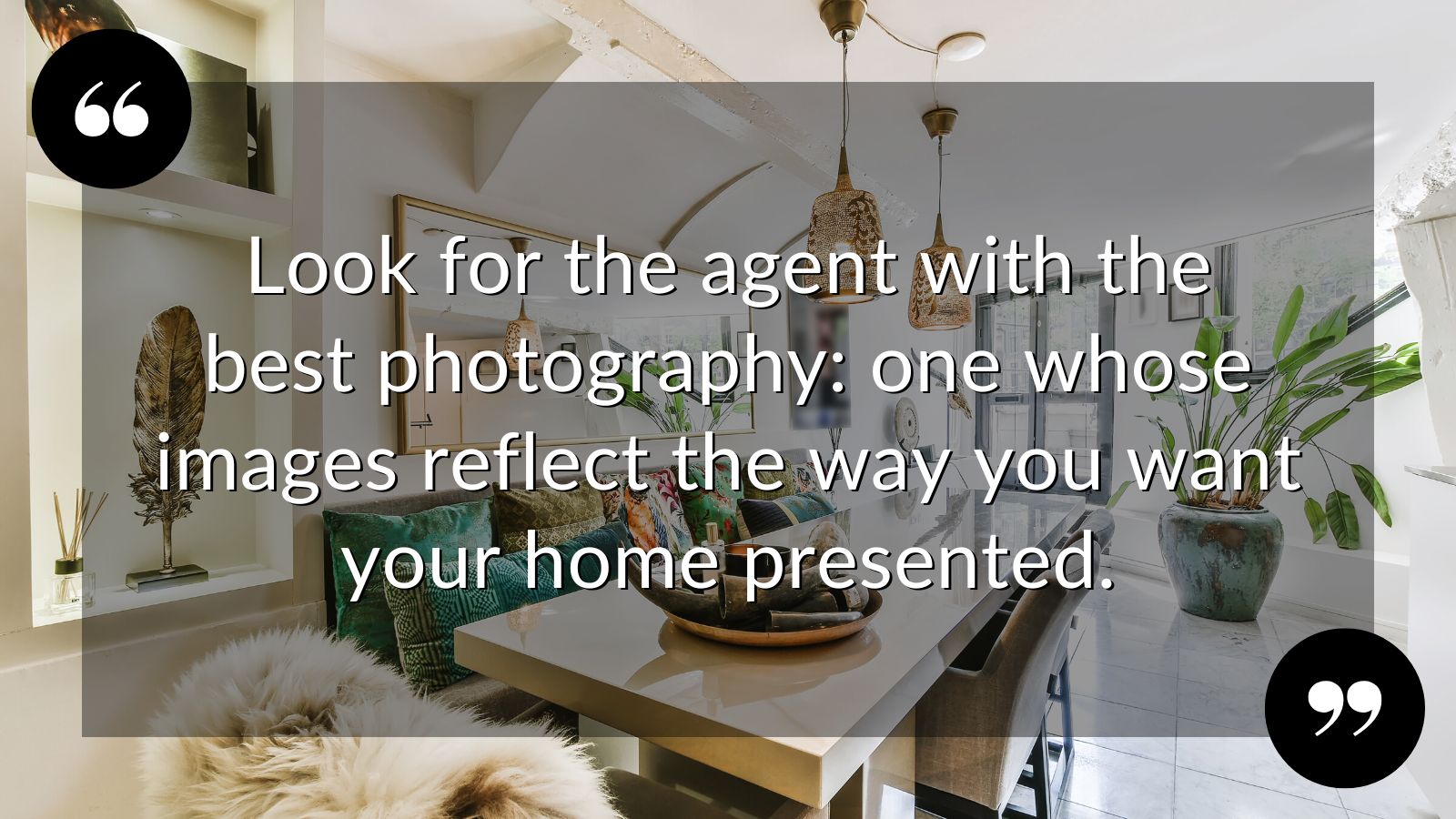 –  Fix any imperfections for a flawless appearance (ask a straight-talking friend to poke around for water stains, tired paintwork, ageing fittings, or scruffy gardens).
–  Look for the agent with the best photography: the one whose images reflect the way you want your home presented.
–  Ask every agent you speak to for tips on improving the presentation of your rooms, then make a shopping list.
It's all about showing off your home in its best light and at every turn, so your viewers' only thoughts are about when they can move in.
KNOW YOUR FACTS & FIGURES
Buyers generally offer a maximum of three times on a property before they walk away, so your agent needs to encourage their first bid to be as high as possible to improve the chances of agreeing a sale.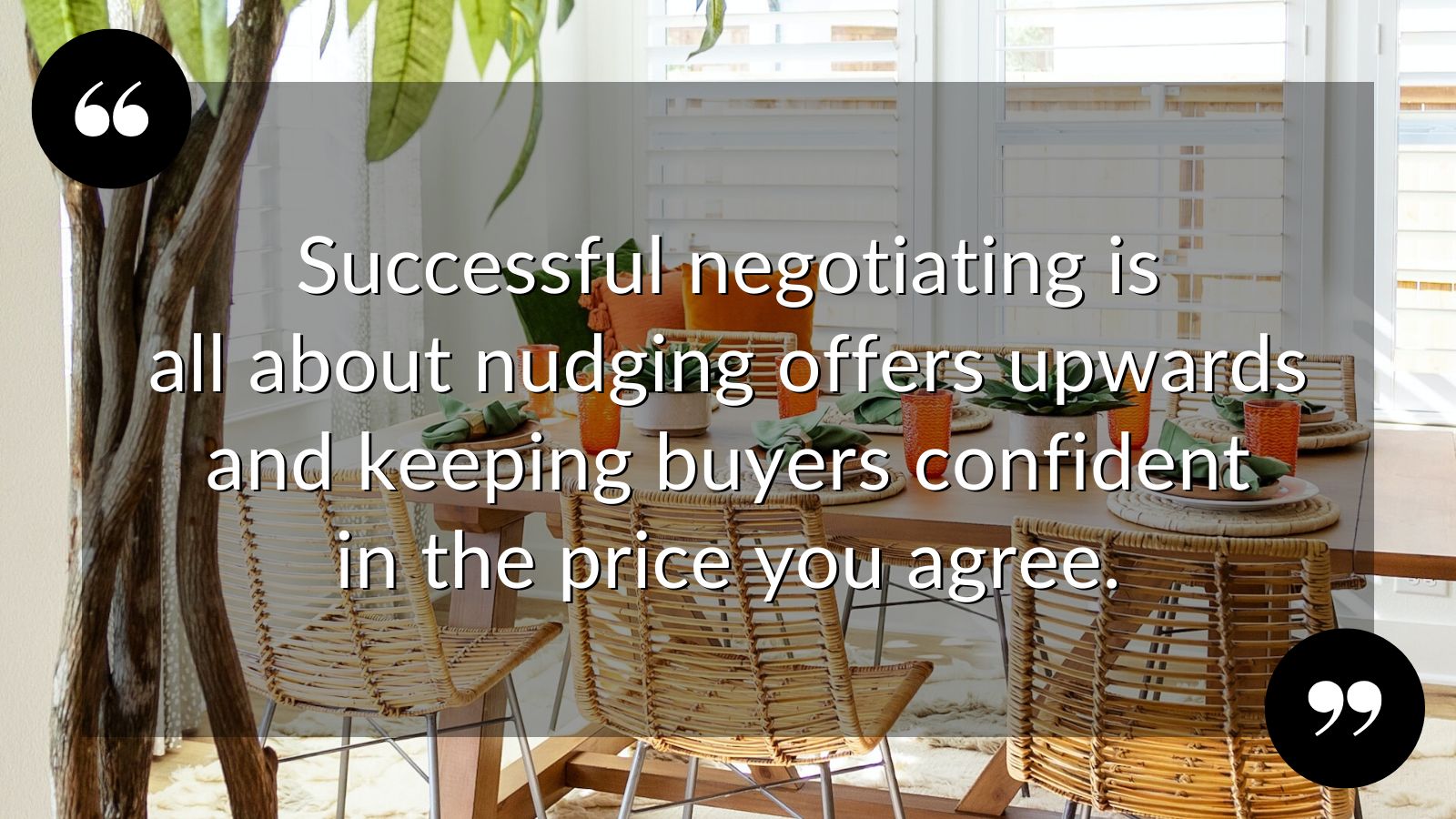 Successful negotiating is all about nudging offers upwards and keeping buyers confident. As part of that process, a good agent will:
–  show buyers similar homes they have sold that justify the price you are asking for yours
–  run through any properties your buyers have seen through other agents to extol the benefits of your home above those
–  talk about how much other interest you have, including enquiries, viewings and offers.
Very often, buyers just need reassurance over the price they are paying. It's your agent's job to ensure that nobody feels invalidated, whatever price they start at, and to keep negotiations progressing. Open dialogue, solid evidence and a respectful manner can be just the ticket to getting an offer that seals the deal.
GO FOR THE HEART
People aren't buying a property; they're buying a home. They're getting that third bedroom they so desperately need for their growing family, or the sociable dining kitchen they always dreamed of, or the street that gets their children into the right school.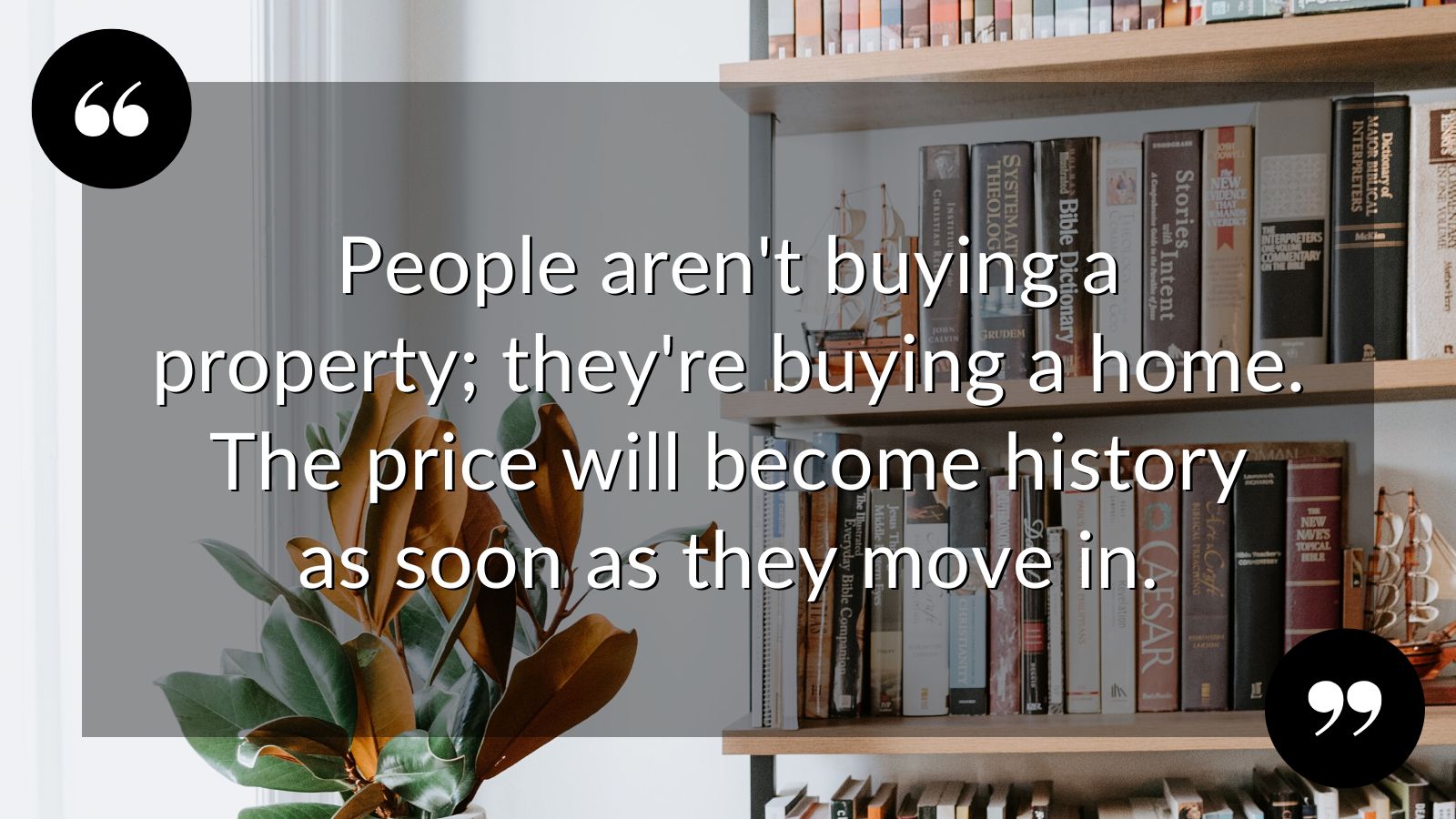 So, as well as talking numbers when negotiating an offer, your agent should widen the conversation to include emotional touchpoints like:
–  that initial tingling feeling your buyers got when they first walked around that they didn't get elsewhere
–  the way your home matches the lifestyle they're hoping for, from entertaining to working from home to family time and more
–  how the location makes their lives easier, whether it's commuting, school runs, social life or the local vibe
–  the potential of your home for them to add their own personal stamp and grow into over time
–  the little things they've mentioned that are unique to your home, like the view from a bedroom, a cosy reading corner, where the sun comes in or your secluded garden.
Ultimately, feelings eclipse finance. The purchase price will become history as soon as your buyers move in, but the joy of living in your home will last for years to come.
What's your next step?
A changing market affects the value and saleability of every home – would you like to know how it affects yours?
Whether your home is already for sale or you're only just thinking of selling, call us on 01444 254 400  or email us at bh@hunters-group.co.uk.  We'd love to show you how we negotiate on your behalf to get you the very best price, to make your move a success.