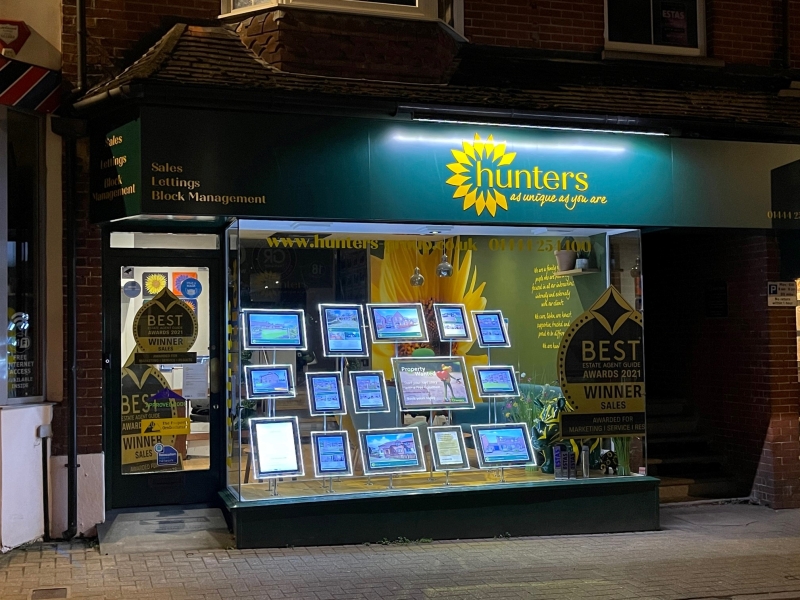 Getting to Know Your Hunters Estate Agents in Mid Sussex
Opening our doors for the first time in 1999, we were fuelled by a genuine passion for the local property market and its customers. Fast forward two decades, and Hunters are now recognised as one of the very best Estate Agents in Burgess Hill and Mid Sussex, having won awards for our customer service over the years with the latest placing us as the Best Estate Agents in the South East.
Helping those looking to embark on their home selling, buying and renting journey. From locals relocating, to clients throughout the UK and even abroad through our Relocation Agent Network, wanting to call the desirable county of Sussex their home.
That's how it all began for us – a property agency built on a strong desire to offer excellent customer relationships and services within our local community.
We are proud to be different, a friendly local property agent who wants to help you move to where you truly want to be—reading between the lines whilst lending a sharp ear to attain the best possible results for our customers. And those principles remain at the heart of Hunters to this day.
We have a unique personal but professional approach
With a Google rating of 4.5 stars out of 5, you know when we say we have your back, we really do. All of our Team are open and honest; they follow things through and keep you in the loop no matter which property service you are using.
And if something happens to go wrong, we'll see that it is fixed, without a fuss.
"Myself and my partner bought a house through Hunters late last year, and they were fantastic. Every step of the way, we were reassured and kept up to date with the situation. We were lucky enough to have sales negotiator Angela Took helping us with the purchase. Angela is very professional, always available to answer any of our questions and is a credit to Hunters. Also, I must mention Jane Hill, who was also fabulous! Thank you so much – we are very happy in our new home!" – Victoria, the delighted buyer.
We love our local community
We know that accurately valuing your property is the crucial first step of your selling or letting journey. Our Team live and breathe local property. Knowing the prices of properties down the road from where we live to local attractions and price influencers.
When we are invited to carry out a property valuation, our pre appointment preparation can take anywhere up to two hours. We save you the hassle of conducting in-depth research about where your property sits in the property market and leave all the facts and figures with you to digest. It's just a standard part of our personalised advice.
If you would like a completely free, no-obligation in-home or video valuation any day soon, you can book here.
Our Team harness tech and contacts when marketing
When marketing your home, you will be able to reach buyers or tenants in every nook and cranny in Sussex. From county corners to town centres.
Our professional photographers take pictures highlighting your property's key selling points, and on-call EPC Assessors will come along to do their part whilst we prepare floor plans and your create stunning details on your home. All this initial marketing preparation is entirely free of charge and takes just a day or two!
From there, we'll market the life out of your home, making use of every type of technology available such as Facebook, Instagram and inform our extensive list of applicants about your property. Additionally, showcasing it online to reach prospective buyers in their 'digital' habitat — viewing your property when and where they wish before arranging an in-person viewing which we lead.
"Can't sing the praises of Chris Rowe & The Sales Team highly enough. They looked after us from the start, and the photos and sales brochure of our home looked amazing.  As soon as the house went on the market, a buyer was found within 5 days." – Jean Lindsay, a happy seller.
We have a dedicated property management team
We understand the challenges surrounding managing a multitude of rental properties. If you are a landlord who would benefit from help with day to day tasks, legal paperwork and so on, you can visit us at our Lettings and Block Management branch in Burgess Hill for straightforward advice and unrivalled property management assistance or call us.
With our "can-do" attitude, you can relax, assured that your investments would be cared for with an extra level of motivation.
"Absolutely fantastic. We let our home through Hunters. It wasn't an easy process – with significant works needing doing, contending with lockdown etc – but Hunters – and Matt especially – went above and beyond. Always positive, always proactive – I felt part of an amazing team, who really knew what they were doing and wouldn't spare any effort to get the right result. Thank you so much Matt and team!" – Laura Chappell, a happy landlord.
What's next for us?
It's been a dynamic and rapidly changing era for estate agency and lettings as a business and we are so pleased to have stayed ahead throughout difficult and taxing times. Our teams' knowledge and expertise have been riding the waves throughout, and we have no aim of stopping our natural evolution within the property market.
We're here to help you make mindful decisions for your future home. Whether you are looking to sell, buy or rent property in Sussex, all you have to do is contact Hunters on 01444 254000 or email bh@hunters-group.co.uk for the support you need.