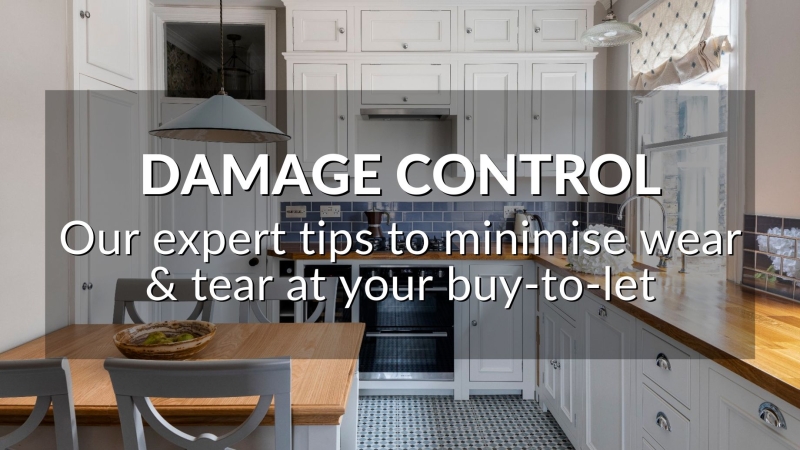 DAMAGE CONTROL: OUR EXPERT TIPS TO MINIMISE THE WEAR & TEAR AT YOUR BUY-TO-LET
The end of a tenancy is often filled with uncertainty. Landlords worry over the state of their property when it's returned, while tenants fret about how much of their security deposit will be refunded.
Fortunately, there are many ways for landlords to design out the potential for damage, reduce the impact of wear and tear and alleviate the nail-biting as the check-out date approaches. 
Three of the most fundamental factors include: 
–  the way the contract and relationship with your tenants are set up from the start
–  the liveability and durability of your buy-to-let when your tenants move in
–  how your tenants and property are managed during the tenancy.
A shared goal of every landlord and tenant should be a home that's easy to live in, easy to love and easy to hand back in good condition. With that in mind, this week's blog has everything you need to help your buy-to-let stay in great shape during a tenancy, and to minimise gaps in your income between lets.
THE DIFFERENCE BETWEEN DAMAGE AND WEAR & TEAR
One of the challenges of lettings is that people have differing opinions over what counts as damage and what's classed as wear and tear. Despite the occasional grey area, they can be broadly defined as follows: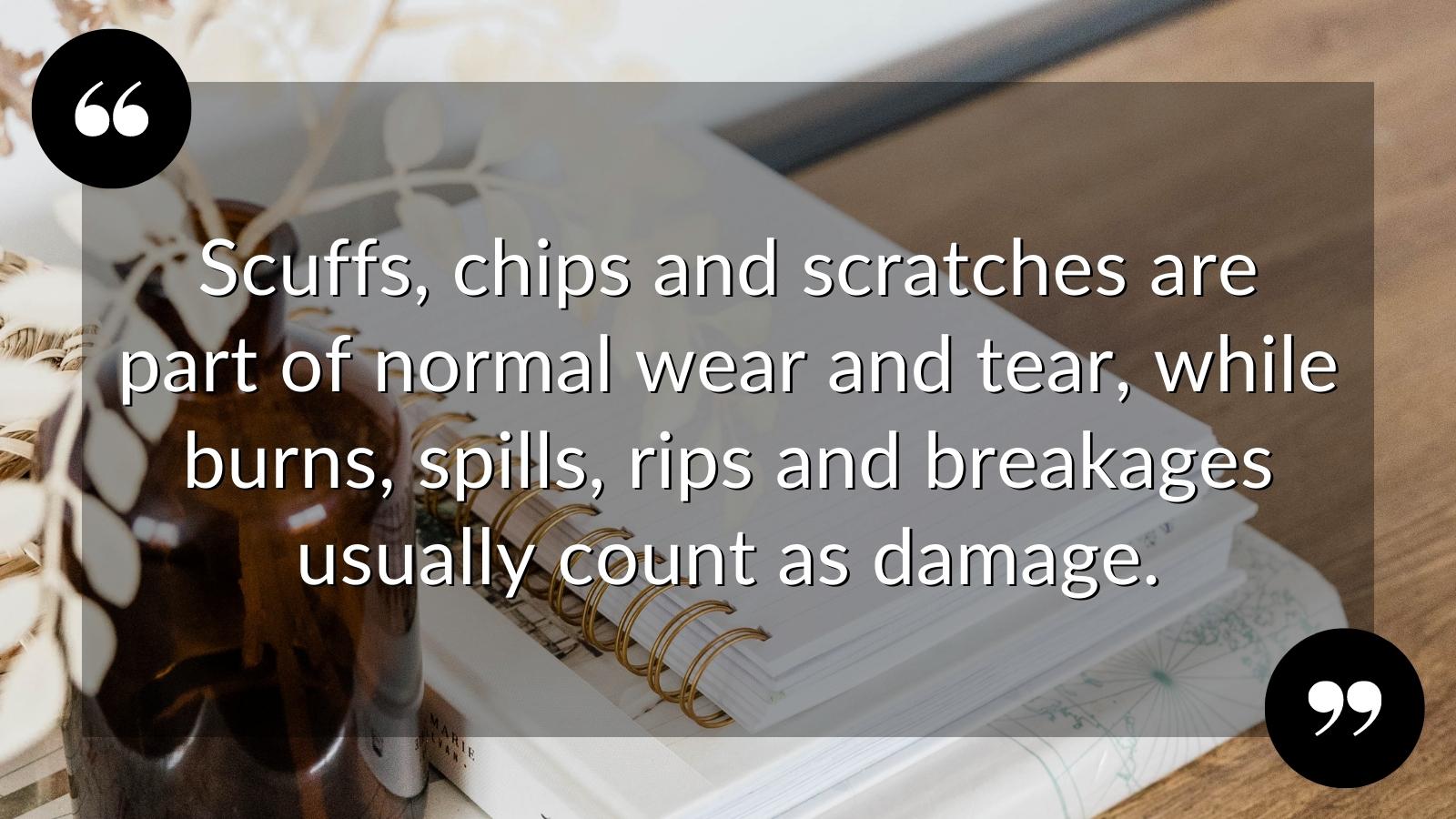 –  Wear and tear are the natural consequence of everyday life that leads to things like frayed carpets; minor scuffs, chips and scratches on walls, woodwork or floors; fading by sunlight; plaster cracks; flaking paint on exterior woodwork; loose handles and locks.
–  Damage results from accidents or negligence by tenants, their pets or visitors, from spilt wine glasses, toppled irons on carpets, and hot pans on worktops to ripped curtains, holes in walls and broken window panes.
From a money perspective, gradual wear and tear is part of the routine maintenance expenses that any landlord should expect. But if a tenant causes damage, even accidentally, the cost is down to them.
SET YOUR TENANCY UP FOR SUCCESS
Every landlord wants their buy-to-let to be well cared for by their tenants. Never underestimate the influence you can have, and so much comes down to starting things off on the right foot, beginning with the initial viewing.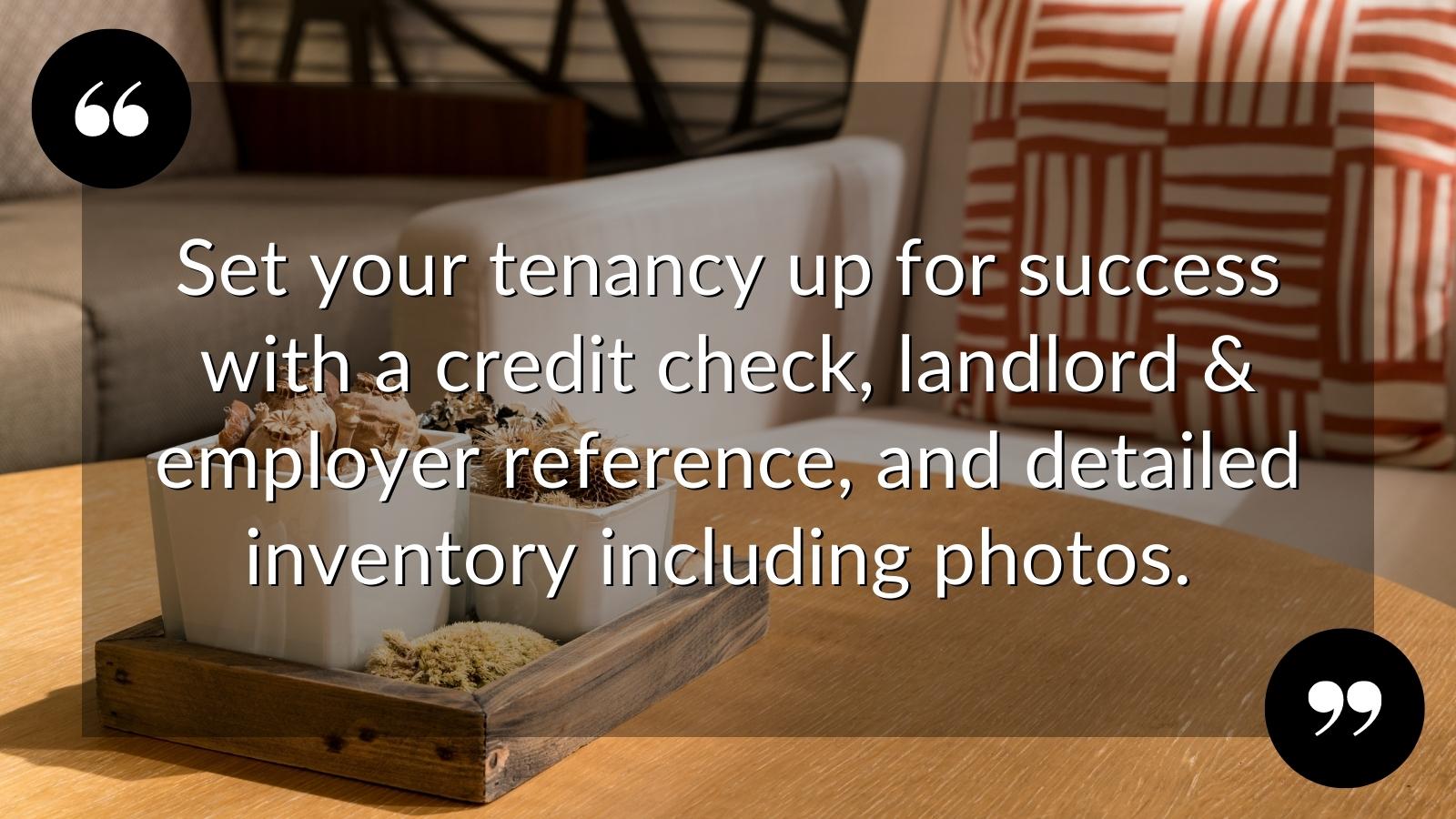 Some of the measures we take include:
–  talking to people about their lives and current home when we're with them on viewings to ensure they're a good match
–  looking for a responsible character, part of which is the gut feeling from doing this for years
–  proper vetting, including a credit check and references from landlords, employers and, if applicable, guarantors (you could also hold a video call with candidates from their homes for a visual insight into how they live)
–  creating a detailed inventory with photographs and getting it signed by the tenant
–  preparing a proper tenancy agreement that's signed by everyone who'll be living at the property
–  protecting the security deposit in a government-approved scheme and in the required timeframe, then letting the tenants know it's done
–  giving tenants a number and name to call for any questions or reporting issues, plus an out-of-hours contact for emergencies.
Successful tenancies come from a combination of protecting your property and selecting the perfect people to live in it. But it's about giving them everything they need to independent and happy from day one, as well as clarifying their responsibilities and your expectations.
DESIGN OUT DAMAGE AND PROBLEMS
Making your rental property more durable will help it shrug off the rigours of daily life, meaning less work for you in replacing worn-out fixtures and fittings. How does your buy-to-let stand up against our checklist?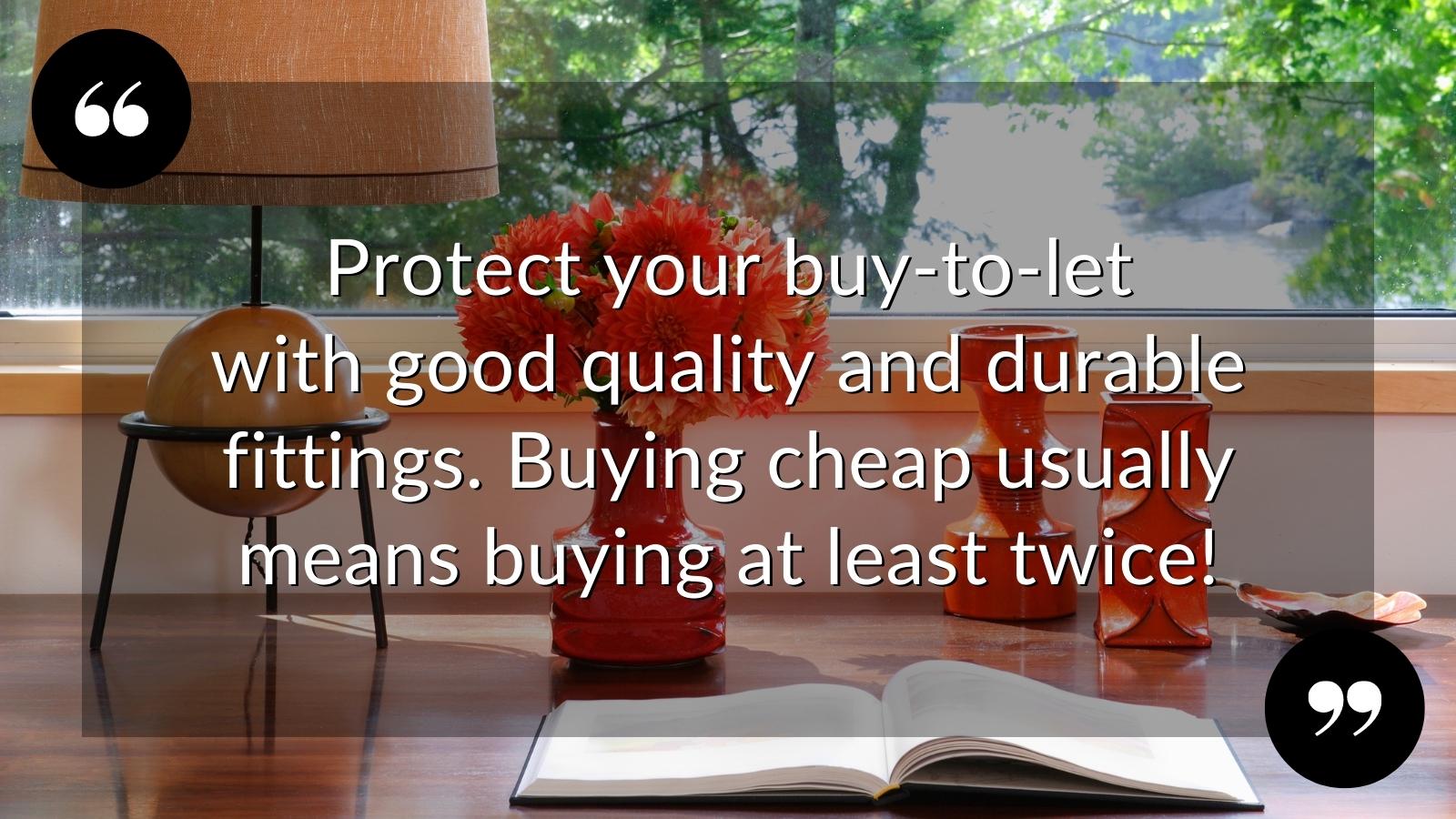 –  Use good quality, washable paint (warm or off-white) for walls and woodwork that can be wiped clean during and between tenancies.
–  Fix loose handles, hinges, hooks and locks; repair leaky taps and shower fittings; rectify ill-fitting doors and windows.
–  Avoid budget carpets as they wear out fast and make homes look unloved. Replace them with engineered or hardwood flooring.
–  Ensure wet areas like kitchens, bathrooms and shower rooms have tiles across the floor and up the walls to stop water leaking through your home or into neighbouring ones.
–  Although timber worktops are lovely, they need looking after. Alternatives like high-quality laminate or composite stone are more resistant to damage and stains.
–  Invest in mid-range appliances from brands like AEG, Bosch, Neff and Siemens. As well as being more energy efficient, user-friendly and longer lasting, they give your buy-to-let a dash of prestige.
Remember that buying cheap generally means buying at least twice, and anything where there's a knack for using it, is a problem waiting to happen!
REMOVE THE NEED FOR DRILLING HOLES
Almost every tenant has things like art, photos and everyday essentials to hang that make their life easier, add their personality to a home, and help them feel truly settled.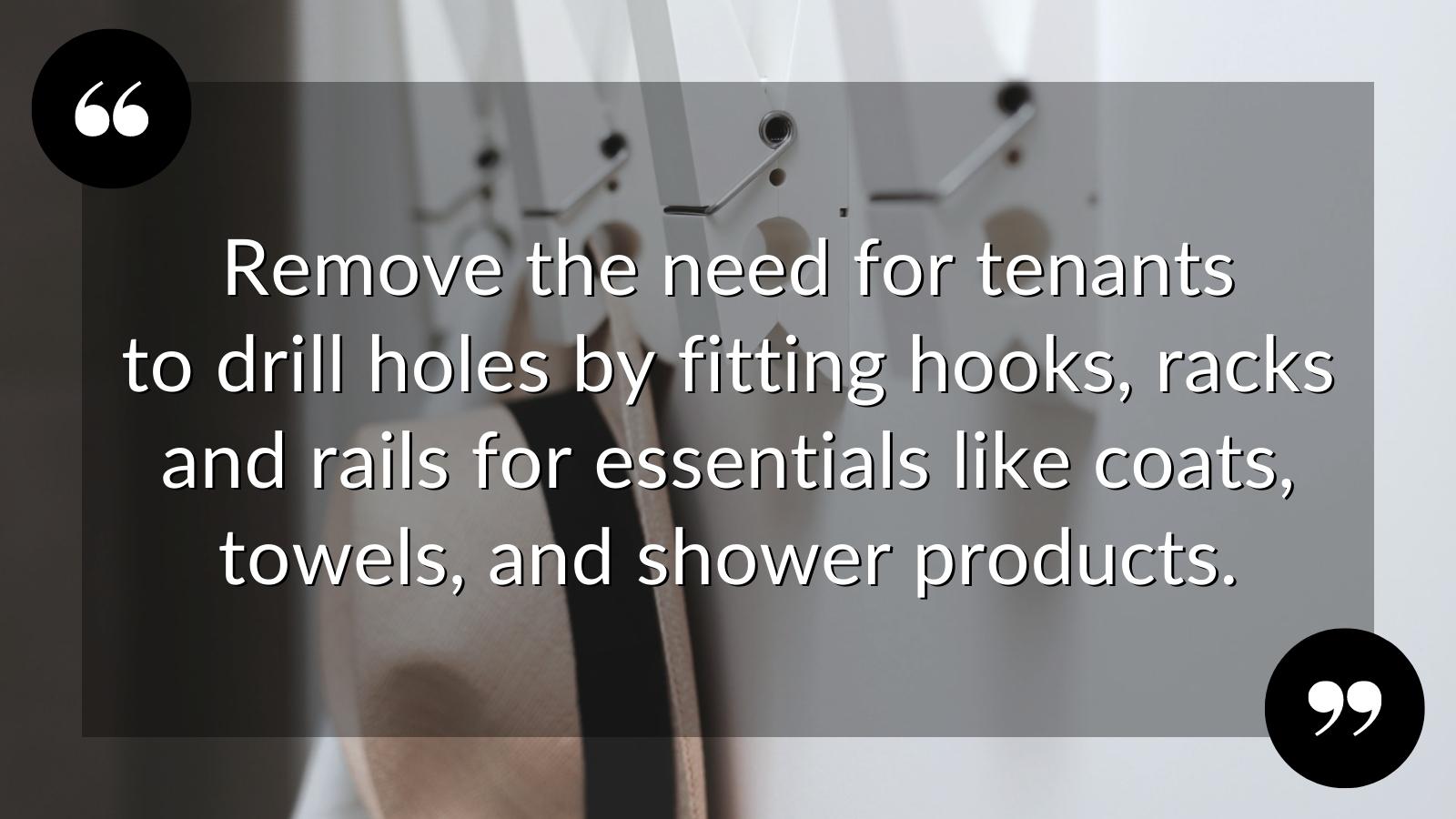 This usually means drilling holes, sometimes more successfully than others. Those holes will need filling when the tenancy ends, meaning new ones being drilled when the next tenant moves in. 
All of this can take its toll on your walls and tiles, but you can minimise the need for it by fitting hooks, racks and rails for:
–  jackets, coats and bags by the front door
–  pictures and mirrors in bedrooms and living rooms
–  tea towels, aprons and oven gloves in the kitchen
–  towels, robes and shower products in bathrooms
For a small cost, you can add an extra touch of style and liveability to your buy-to-let while reducing the potential for damages and making repairs.
MANAGE YOUR PROPERTY WELL
Forgive us for saying it, but the most effective way to manage your rental property is to have a managing agent handling everything for you. We can call on a bank of trusted contractors at any moment, we've dealt with almost every problem you can imagine, and we know the law inside out.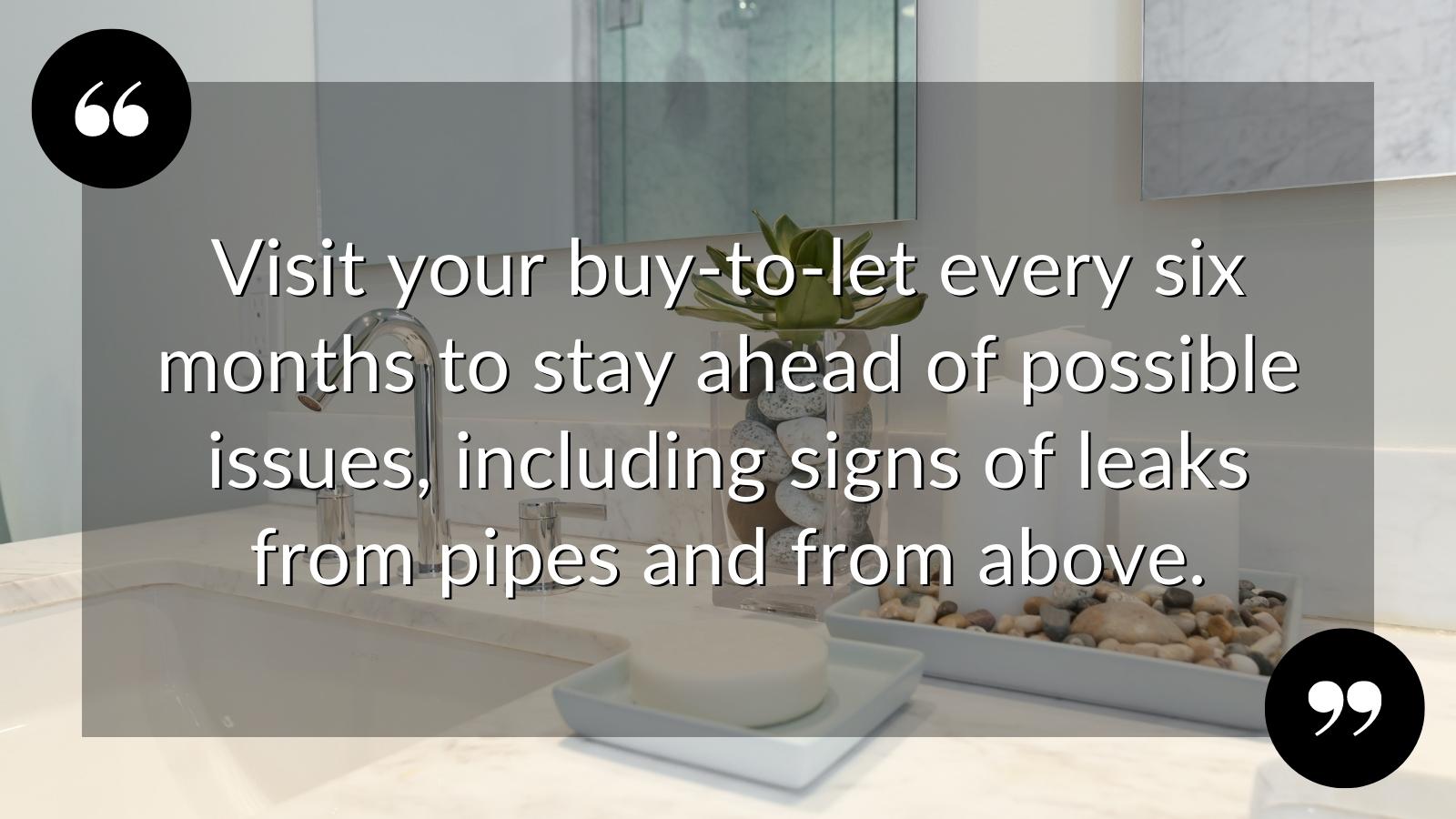 However, if you're unsure of the work that goes into managing a buy-to-let, or you're thinking of handling everything yourself, here's our tried and tested formula of service standards, wise precautions and staying legal.
–  Carry out inspections at least every six months during the tenancy to review its upkeep, spot potential problems and check on your tenant's enjoyment. Take notes to avoid forgetting anything, and remember to look up at ceilings and then under baths, wash basins, toilets and kitchen sinks for any signs of leaks.

–  Check the lettings industry press and government updates to keep abreast of the ever-changing buy-to-let legislation and be ready when changes take effect.
–  Keep certificates for gas, electricity and energy performance up to date, making sure to book the inspections early to avoid any gaps in cover (and breaking the law!)
–  Confirm that the rent has been paid on time each month, and give tenants a nudge where necessary.
–  Respond quickly to any reported problems and keep tenants in the loop over contractor appointments, expected repair times and delays in getting parts.
When you're actively engaged in your buy-to-let, it shows your tenants that you're taking an interest in them and your property. It's a really powerful message to send, and, in our experience, the behaviour is generally reciprocated. 
What's your next step?
Are you a landlord in Burgess Hill? We'd love to show you how we can help you set your rental property up for maximum success and minimum hassle.
If you're thinking about switching managing agents or stepping away from doing everything yourself, call us on 01444 254 400 or email us at info@hunters-group.co.uk – we could be working together soon!