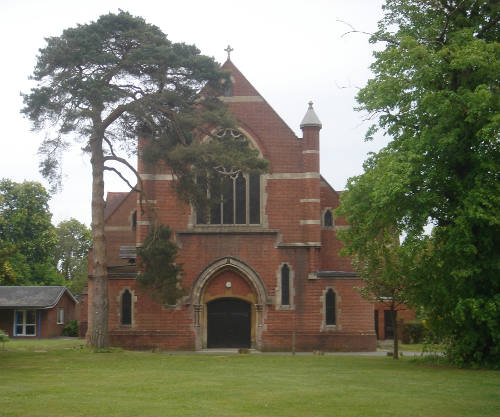 Churches in Burgess Hill
For those wishing to join a church community, Burgess Hill is blessed with a good selection of welcoming churches and places of worship from a range of denominations. Here is a list of the areas churches and faith groups with some information about them, including contact details.
St Andrew's Church (Church of England)
This red-brick church, built in 1903, is home to a vibrant community offering regular Sunday and mid-week worship and communion. The community support 15 different bible groups who meet in each other's homes, some weekly, some fortnightly and some monthly.
There's a baby and toddler group in the adjoining Rider Hall on Monday afternoons, as well as some youth groups supporting worship, teaching and prayer (as well as games) for children age 7-13.  Rainbows, Brownies, Guides, Beavers, Cubs and Scouts groups also meet at different times throughout the week.
Vicar:  Rev Dr Andy Angel.
Location: Cants Lane, Burgess Hill, RH15 0LG.
Telephone: 07495310768
Website: http://www.standrewsbh.org.uk/
---
Burgess Hill Methodist Church
This simple, red-brick church is set on a leafy, tree-lined road. The church is a member of The Central Sussex United Area of the Methodist Church and the United Reform Church, with the boundary running from Eastbourne, Crowborough, Haywards Heath and Newhaven. The United area consists of churches which are Methodist, URC or a combination of both and some which are also linked with the Anglican and Baptist denominations.
The Area's governing body meets bi-annually. There are two Co-Leaders, of which the Rev Irena Byron of this Methodist denomination is one of them.
Minister: Rev Irena Byron, Tel 0144 215652
Location: Gloucester Road, Burgess Hill, RH15 8QD
Telephone: 01444 416170 (area office, hours Mon – Thurs, 12.30pm – 3pm)
Website:
www.csua.org.uk/burgesshillmethodistchurch.htm
---
St Edward The Confessor (Church of England)
The Church of St. Edward the Confessor, Burgess Hill (Diocese of Chichester) is a modern church situated on the corner of West Street and Royal George Road. St Edward's has Anglo Catholic roots alongside a Renewed Charismatic heritage. This is reflected in their worship, which has an Evangelical/Charismatic flavour alongside its Anglo Catholic tradition. This is a very welcoming church, which has a mixed congregation from all sorts of traditions and backgrounds.
As well as a morning Sunday service, the church also runs morning mass on Tuesdays, Wednesdays and Thursdays, plus evening mass on Fridays. The church holds a Sunday evening 'Prayer and Praise' on the first Sunday of every month.
There's a children's activity group on a Sunday morning 10am – 11.30am for 3-11 year olds. The church also runs the community Mustard Seed Café (see website for limited opening times). Weekly home groups also operate on various days at the Mustard Seed Café or in parishioners' homes. The church has an adjoining hall used for various events.
Vicar: Rev Denis Bradshaw
Location: Royal George Road, Burgess Hill, RH15 8TD
Telephone: 01444 241300
Website: http://www.stedwardsburgess.co.uk/
---
Gateway Baptist Church
The Gateway Baptist Church has been part of the fabric of Burgess Hill since 1873. Services run each Sunday at 10.30am and 6.30pm. There are two Sunday school groups, one for 3-11 year olds and one for 11-16 year olds. There are also home groups for adults operating throughout the week.
A parent and toddlers group 'Son Beams' operates on Wednesday mornings 10am – 11.45am, and there's a pre-school group during term times Mondays – Fridays 9.15am – 12.15pm.
Pastor: Paul Jackson
Location: Station Road, Burgess Hill, RH15 9EQ
Telephone: 01444 233050
Website: http://www.gatewaybaptist.org.uk/
---
St John the Evangelist (Church of England)
Set in the heart of Burgess Hill town centre between the park and the shops, this beautiful, traditional church prides itself on being a community of ordinary people. St John's is an inclusive church within the Diocese of Chichester and is part of the Anglican family of churches. It is the oldest Parish Church in Burgess Hill, open since 1863.
Services run on Sundays (morning and evening), Tuesday and Wednesday mornings and Friday evenings. There is also evening prayer every day from Tuesday through to Saturday. The church is open as much as possible during the day for anyone seeking a space for quiet reflection and prayer. Children's church groups also run on a Sunday.
The Spire café is open Tues, Weds, Thurs and Sat 10am – 1.30pm. A parent and toddler group meets in the café on Thursday afternoon 2pm – 3.30pm and Friday 10am – 11.30am (term time only).
Vicar: Fr Kevin O'Brien, Tel: 01444 232582
The Reverend Deacon: Deacon Stephen MacCarthy, Tel: 01444 248520
Location: Lower Church Road, Burgess Hill, RH15 9AA
Website: http://www.stjohnsbh.org.uk/
---
The King's Church
The King's Church is part of a global family of churches known as Newfrontiers. The church meets at The King's Centre King's Church offers informal and relaxed Sunday meetings from 9.30am to 11.30 am. Everyone is welcome. Sunday worship involves a talk rooted in the Bible, but relevant to every day life, and songs declaring the greatness of God are contemporary. Children's activities also take place every Sunday.
Many courses are run here, including the Alpha course. There are life groups meeting at various locations in Burgess Hill for friendship, coffee, worship and prayer. There's also a coffee house, called Home.
Pastors: Jim Partridge, Steve Cornford, Tim Goodenough, Kieran Dunne.
Telephone: 01444 244215
The King's Centre, 33-35 Victoria Road, Burgess Hill, RH15 9LR
Website: http://www.tkc.org.uk/
---
International Bible Training Institute
Set in the countryside just outside the town, The International Bible Training Institute is a residential Vocational Bible College offering the IBTI Diploma course in Applied Theology, as well as Missional Leadership courses.
Principal: Eliana Whyte
Location: Hook Place, Cuckfield Road, Burgess Hill, RH15 8RF
Telephone: 01444233173
Website: http://www.ibti.org.uk/