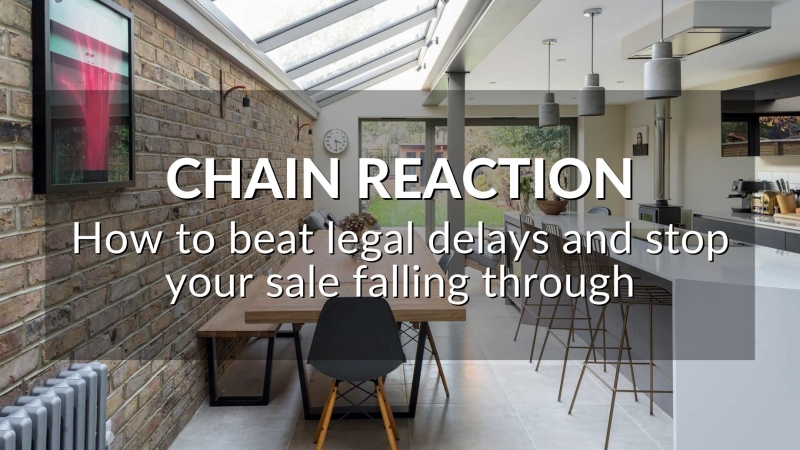 CHAIN REACTION – BEAT THE CURRENT LEGAL DELAYS AND STOP YOUR SALE FALLING THROUGH
We might be in the middle of July with the hottest temperatures on record, but did you know it's only 153 days until Christmas Day? If you think it's too soon to mention it, bear with us!
The average home sale is currently taking 171 days from offer to completion, with chains suffering from legal delays, overstretched conveyancers and expiring mortgage offers. Nonetheless, many sales can proceed much faster than they do, so you could still be decking the halls in your new home this year.
Chains are a normal and integral part of the moving process as people scale the property ladder toward their forever home. They're not to be feared, but chains are only as strong as their weakest link.
So whether you're planning to sell, already on the market or your sale is stuck on hold, this week's blog is full of solutions to setbacks to keep your move together.
HEAD OFF HITCHES WITH EARLY PAPERWORK PREP
One thing you have complete control over when selling your home is how quickly you appoint a solicitor and how soon you supply them with all the information they need.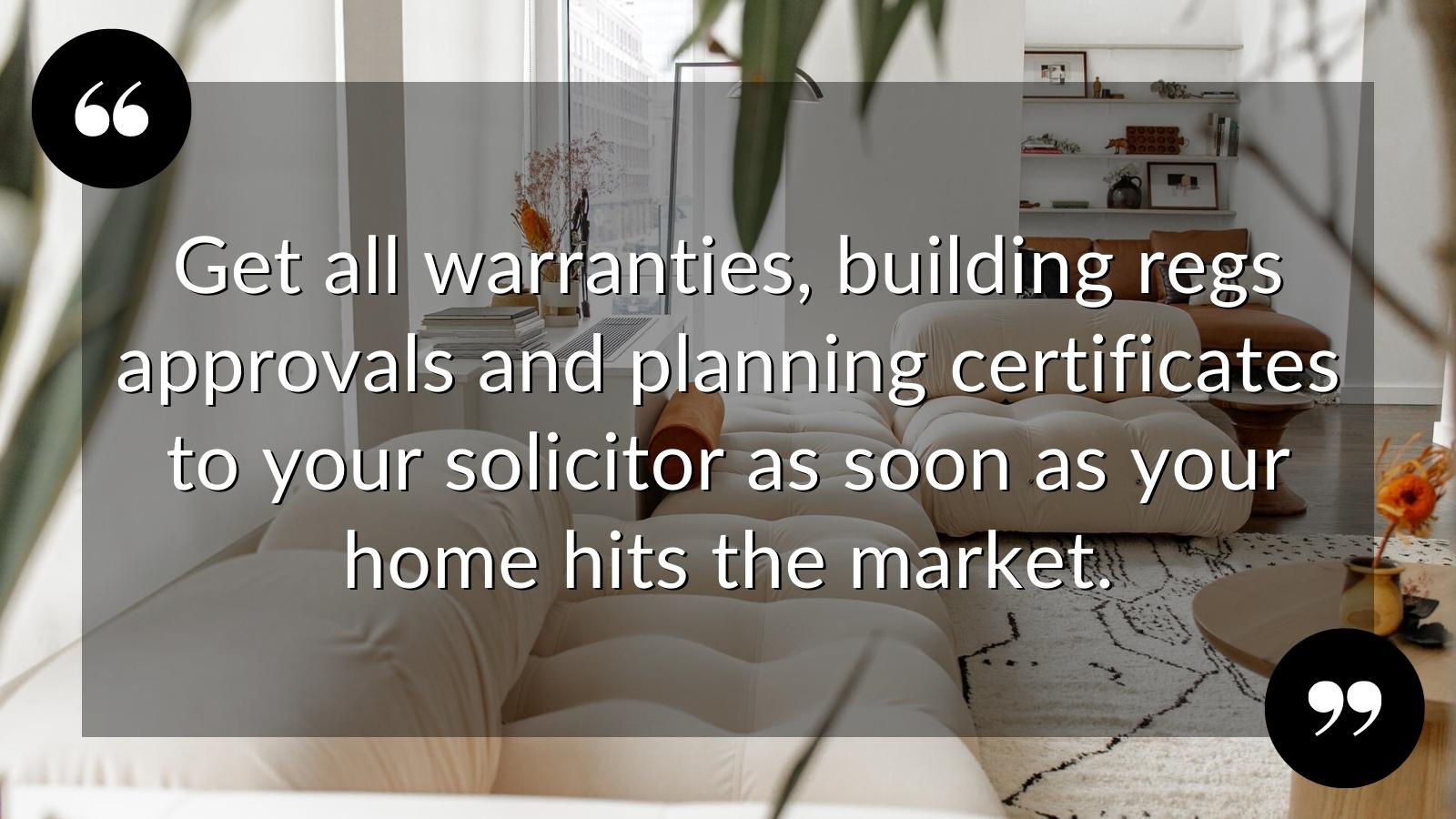 So, as soon as your home hits the market:
–  gather together any warranties, planning permissions, building regs approvals and service contracts
–  complete the Property Information Forms from your conveyancer that cover things like what's included in the sale, which boundaries are yours, what improvements you've made and who is currently living at the property
–  supply any photo ID and proof of address your solicitor requests so they can legally act for you.
By doing all this while your home is for sale, your solicitor should be ready to send out a draft contract pack as soon as you accept an offer, potentially shaving weeks off the conveyancing process. 
INVESTIGATE THE CHAIN ABOVE AND BELOW
Given the current logjam in conveyancing times, it's worth digging deeper into where things stand with each link in any chain you get involved with.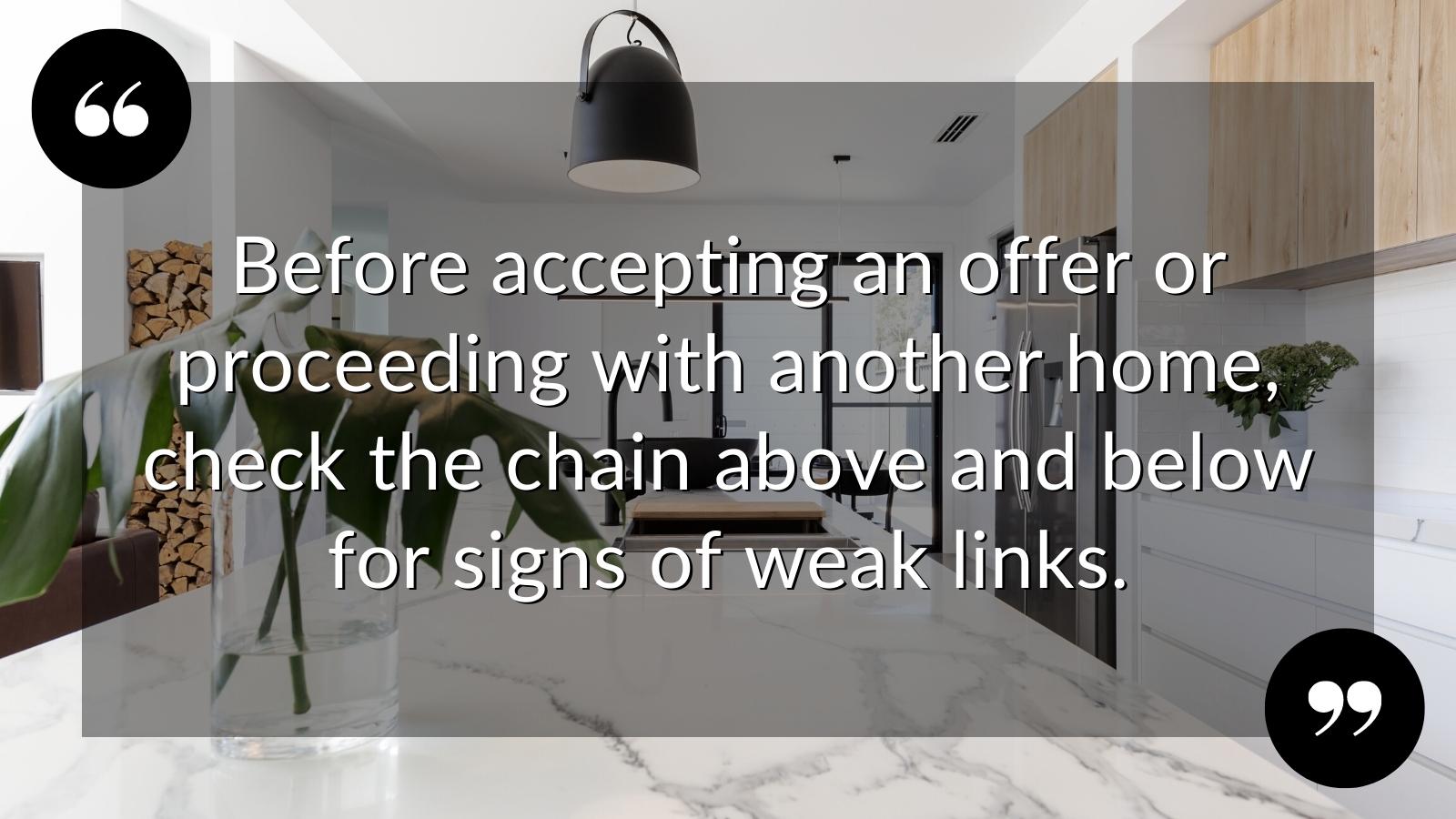 –  Remember that not every offer is equal: there's more to it than just the price and your buyer's finance.
–  Before agreeing a sale, get your agent to thoroughly check the chain to see how advanced each sale is and to identify potential delays.
–  Do the same for the property you want to buy (i.e. is someone buying a home that's under construction and behind schedule?)
Time is precious right now, and some extra investigation could help you avoid a sluggish chain and find a well-oiled one instead.
CHECK YOUR CONVEYANCER'S ABILITY TO PERFORM
Before you appoint a solicitor, it's worth checking a few things out to ensure you don't get lost in the crowd at an overworked firm.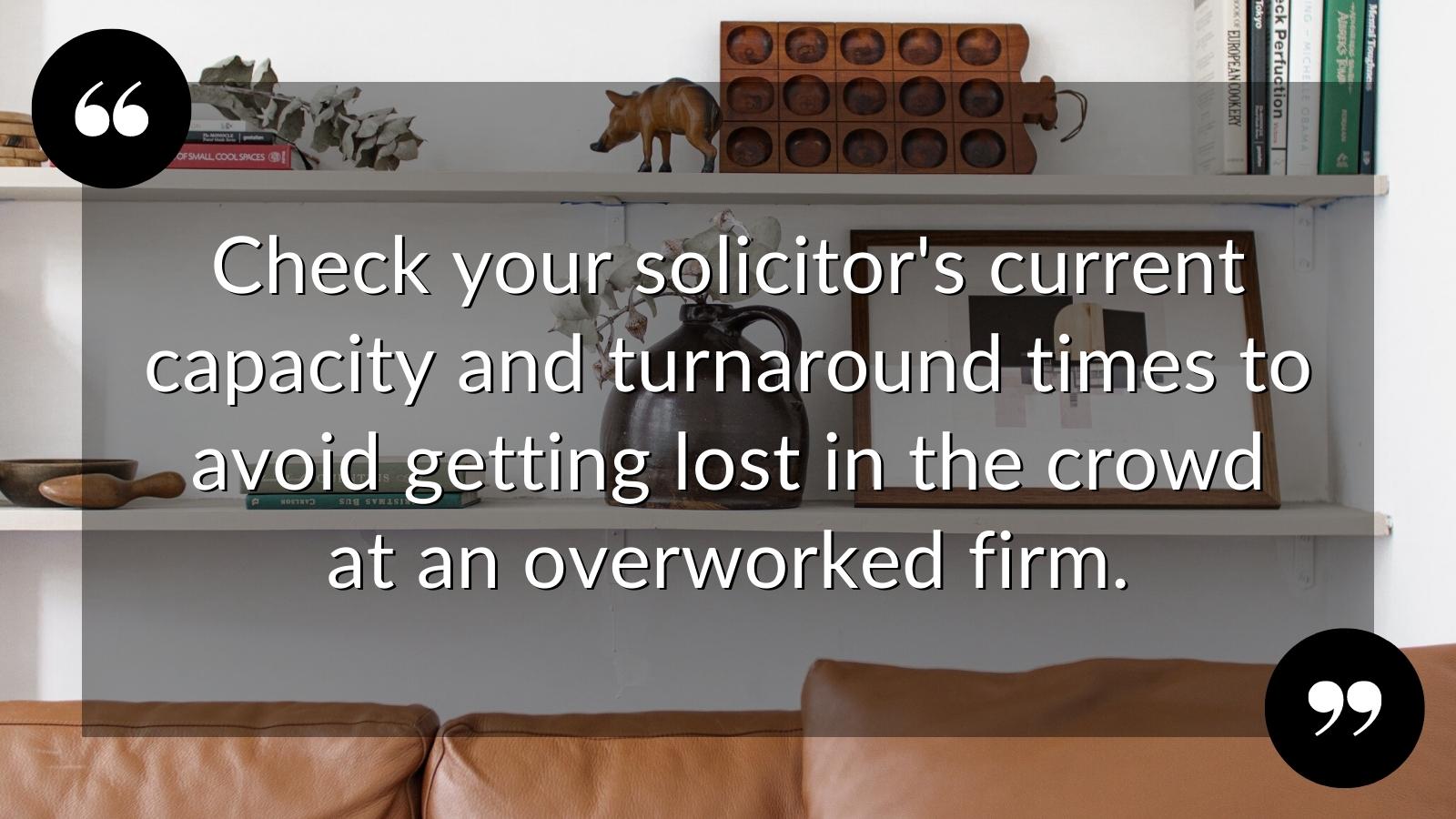 Even if they have a glowing recommendation from the past experience of friends, family or your agent, don't be shy to ask about: 
–  their existing workload and current capacity for new business – now isn't the time to fall into an overstuffed case of too many clients in return for a cheap fee
–  how they communicate and whether you have direct access to your conveyancer, or if there's a wall of assistants to get through
–  whether they have an online platform where you can log in, check progress and answer questions.
Having the right conveyancer by your side is an invaluable asset. They can add noticeable speed, efficiency and responsiveness to your sale, particularly when their business model gives them the time to stay on the case. 
LOCK IN A LONGER MORTGAGE DEAL
With the time to completion now the longest on record – yes, even higher than during the boom – some mortgage offers are expiring before sales are ready to exchange contracts.
With changing interest rates, it can be frustrating to lose your deal, so it's wise to explore the flexibility of lenders.
–  If you haven't yet submitted a mortgage application, look for longer expiry dates as well as competitive interest rates to see which loan could give you more leeway if you hit a delay.
–  If you already have a mortgage application going through or you've received your mortgage offer, see if you can get a written extension of the expiry date now to keep your interest rate deal.
–  Ask your agent to encourage everyone else in your chain to check the expiry date of their mortgage offers and to see if their lenders will extend.
Don't wait until your mortgage offer runs out to approach your lender – you're far more likely to get a positive response while your deal is still valid.
WHAT IF YOUR BUYER REDUCES THEIR OFFER?
Delays are the devil in moving home, and they can open the gates to people having second thoughts over their choice of property or the price they're paying.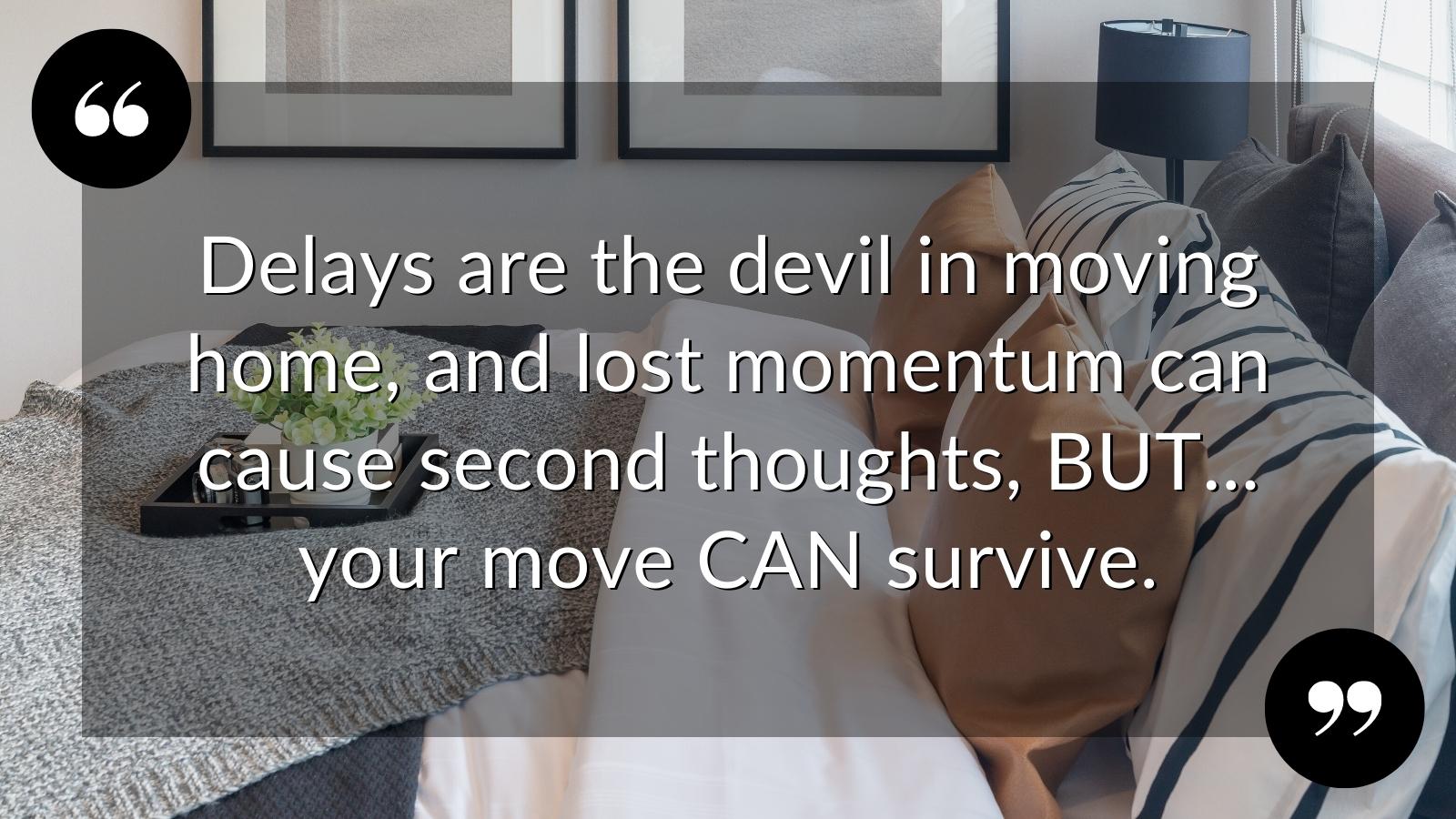 But… your move CAN survive, and a conversation can often help someone avoid a snap decision they'll later regret.
Among the many things your agent can talk to your buyer about are:
–  why they chose your property over anywhere else, and inviting them back for another viewing to experience the feeling they get from your home
–  the increase in property values since you accepted their offer. They could even quote Stuart Ducker, director at TwentyCi, who says the average property appreciates by about £20,000 during the buying process.
–  the cost to them if they're considering going back to renting, which could easily be more than a reduction in property values (assuming one comes)
–  that interest rates are still low – the current Bank of England base rate is just 1.25%
–  whether their reduced offer is their last word, or if there's some middle ground you can work with – perhaps a smaller reduction could be spread across the chain, so one person doesn't take the full hit.

There's usually a compromise to find somewhere, and here's where a great agent can truly save the day. And remember, if you do have to part ways with your buyer, there are many more waiting in the wings to get your move back on track before long.

What's your next step?
Do you have plans to move home before the end of the year? Identifying and removing possible obstacles is one of the most valuable qualities your estate agent can have, and we'd love to help you set your move up for the smoothest possible ride.
If you're thinking of selling your home in Burgess Hill or you'd like some tips to inject momentum back into your sale, call us on 01444 254 400 or send us a message to bh@hunters-group.co.uk – let's talk about your move!