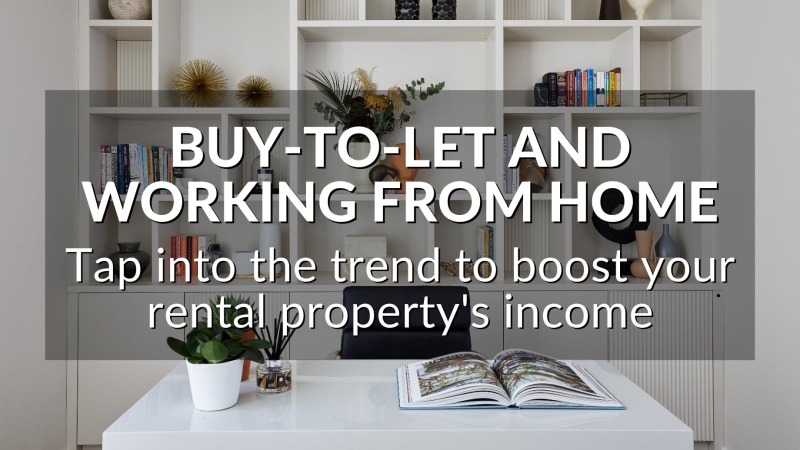 BUY-TO-LET AND WORKING FROM HOME: TAP INTO THE TREND TO BOOST YOUR RENTAL PROPERTY'S INCOME
Can you believe the average UK employee now spends just 1.5 days a week at the office? Unimaginable just a couple of years ago, it's now abundantly clear that the way we work has changed forever.
The new era of flexible working spells good news for landlords, with the chance to increase the income of your existing rental properties. Government figures confirm that hybrid workers are more likely to be high earners, which makes them an audience well worth targeting.
More people than ever are working remotely, including those looking at properties to rent in Burgess Hill. Everyone accepted makeshift arrangements during lockdown, from Zooms on the couch to laptops on the stairs, but tenants are now prioritising their health and wellbeing.
Today, homes are being scrutinised for how suited they are to double duties, with high demand for clearly defined workspaces. So whatever the size of your rental property, here's our guide to using what you've got to maximise the performance of your investment.
DESK THE HALLS
Before you start wondering which room might take a desk, have you thought about the entrance hall or landing? These can provide the perfect spot for a workspace that's physically separate from the living areas.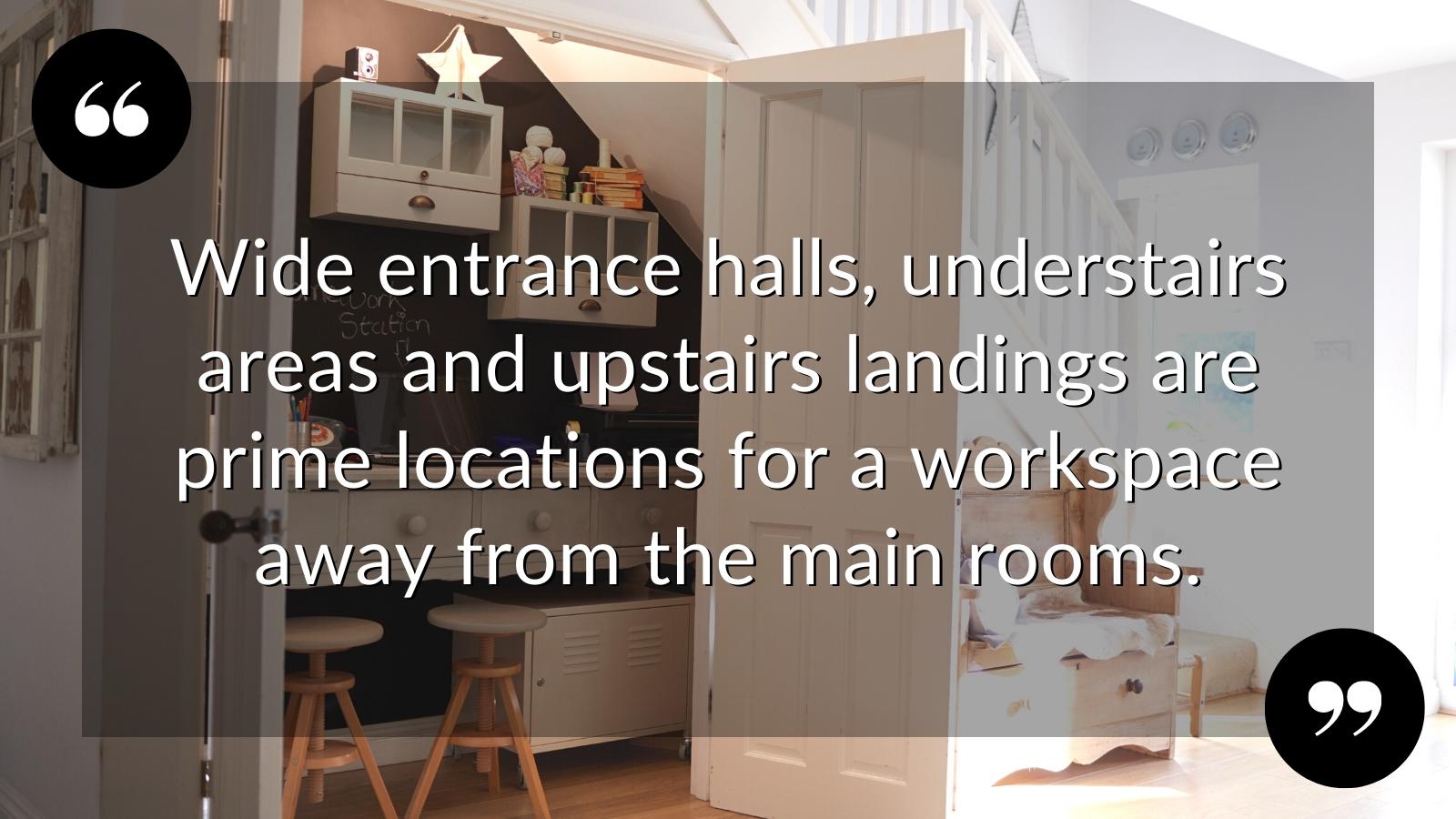 Does your rental property have any of the following spaces you could turn into – or advertise as – a space to work from home?
–  A wide or square entrance hall with enough room for a desk without blocking the way.
–  An understairs area like a cupboard or recess: these can be repurposed as a tucked-away workspace that can be closed off with a door or screen.
–  An upstairs landing: many have a space originally designed for a wardrobe that works equally well for a desk, often with a skylight above for natural daylight.
Don't forget the experience of working there. Nobody wants to spend their days crammed into a Harry Potter-style broom cupboard, so think about how you can create an enjoyable and productive space.
LEVERAGE THE LIVING ROOM
As the biggest spaces in most homes, living rooms have the most potential to host a desk. Sometimes, they're the only option.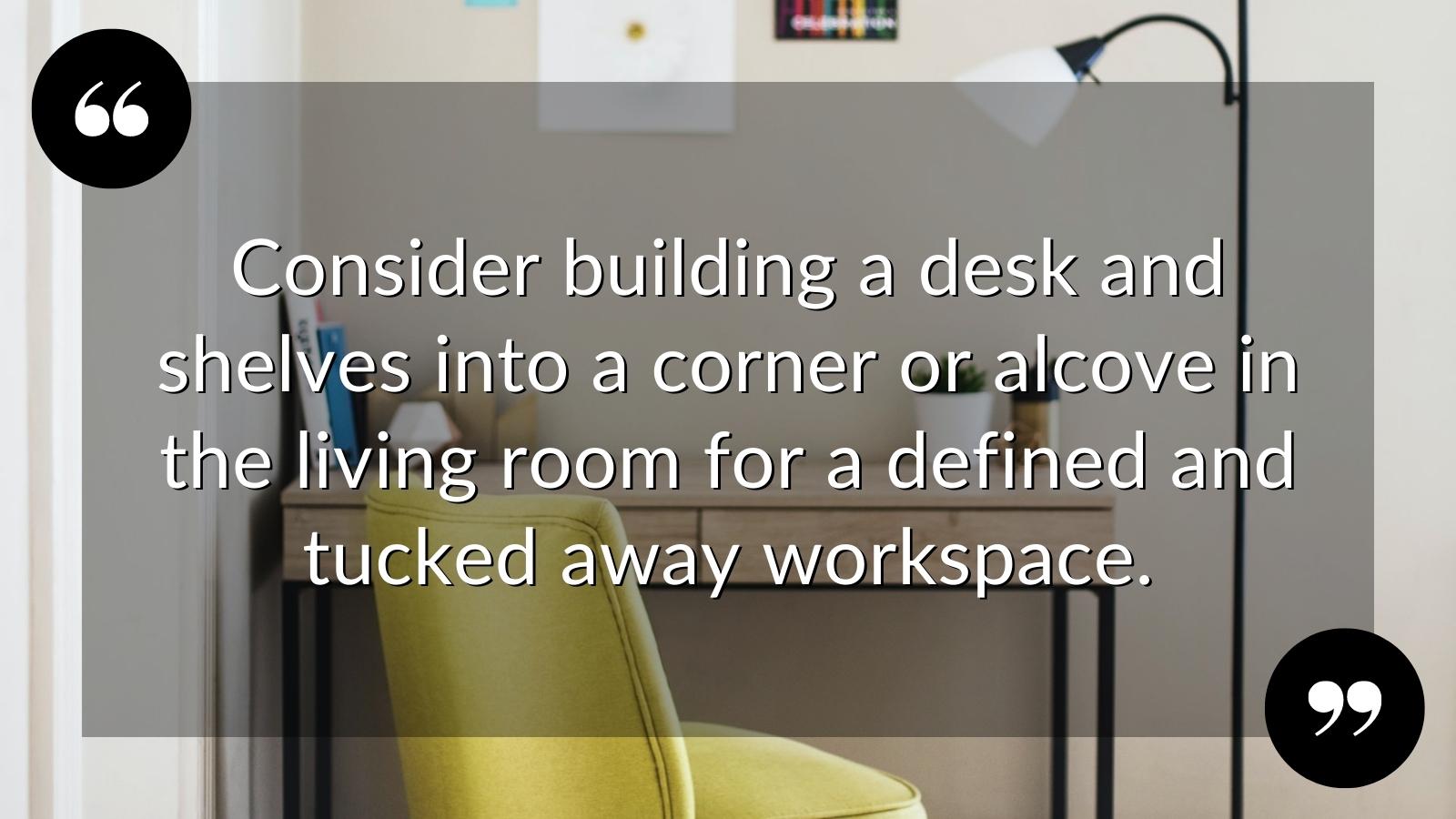 But living rooms are central to enjoying some domestic downtime, so we've put together a few guidelines for a workspace that takes a back seat when the working day is done.
–  Choose an alcove or corner where there's a power socket.
–  Look for a space behind where sofas or armchairs would face, so the desk is out of sight after work.
–  Paint the workspace wall a different colour to provide a visual separation between the living and working zones.
If you want to go one step further, install a drop-down desk in your chosen spot to show potential tenants just how easily it fades into the background when not in use.
COOK UP A KITCHEN OFFICE
Cooking, laundry, washing up, coffee…  kitchens are our most dynamic rooms and the place to get things done, which makes them a natural fit for working from home.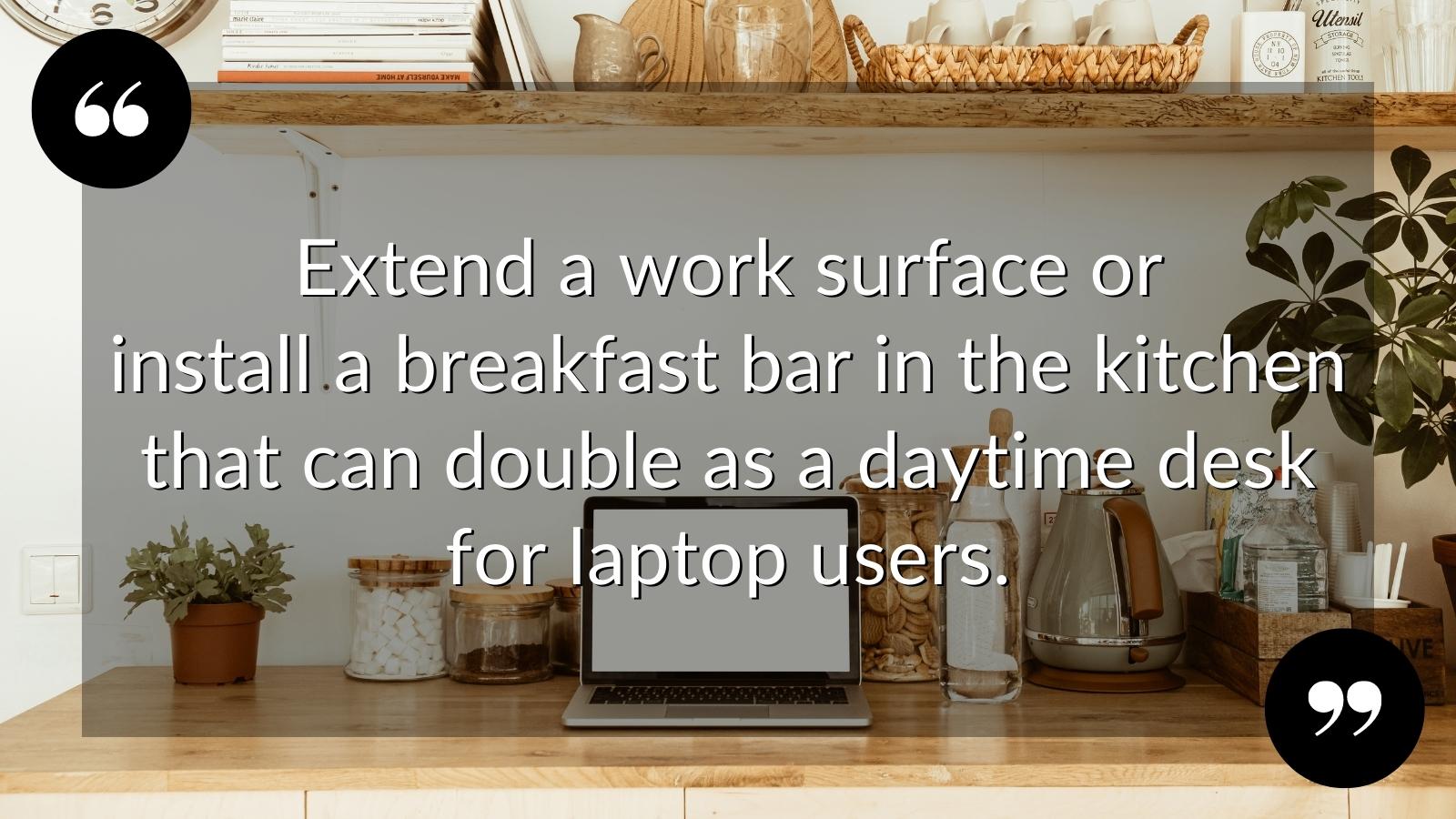 While dining tables have become a favourite for laptop users, smaller kitchens can also make the grade with tricks like:
–  extending an existing work surface
–  installing a breakfast bar (slimline 30cm deep options exist for narrow spaces)
–  adding a freestanding kitchen island in contrasting metal or timber.
Another natural advantage of kitchens is their collection of built-in cupboards. These give tenants the perfect hiding place for their printer, paperwork, stationery and laptop without having to find a clever storage solution or upsetting the design.
THINK INSIDE THE BOX ROOM
Not so long ago, plenty of landlords saw homes where one of the bedrooms was tiny as too much trouble. Single tenants and couples didn't want to pay the extra rent, while sharers would be forever replacing the housemate in the smallest room with a single bed.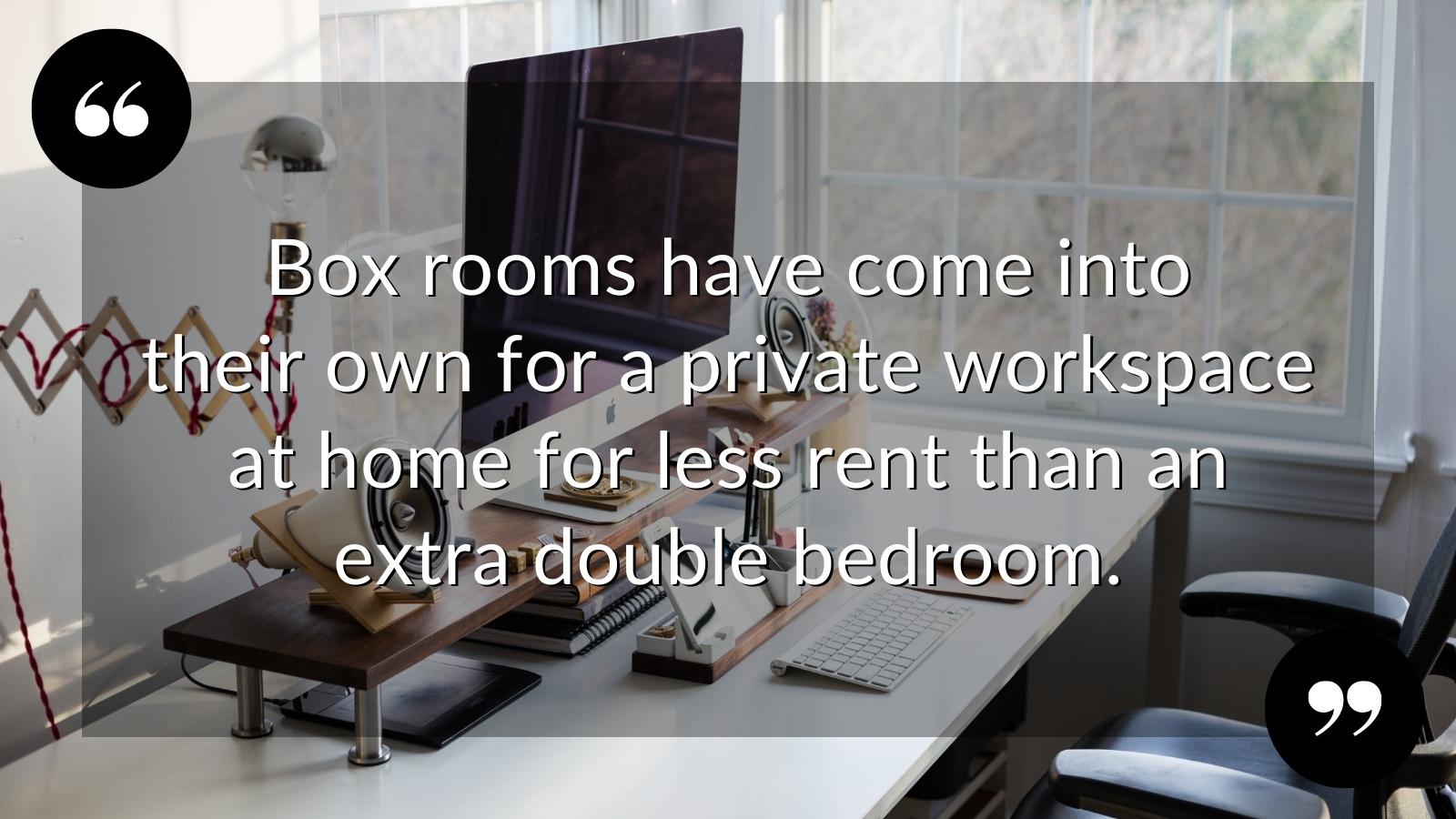 But now there's a new wave of tenants who specifically want a dedicated workspace, and who don't need an extra double bedroom. This gives box rooms multiple benefits that include:
–  Attracting wealthier tenants like consultants and practitioners who need a private room for their work, perhaps for visiting clients.
–  Removing the need for other rooms to double up on duties and preserving their intended purpose.
–  Keeping the office physically separate from home life, hidden away behind a door until it's time to work again.
Box rooms also cost much less to heat; a huge advantage with current energy prices. So if your rental property has a small single bedroom, make sure the description shouts about its suitability for a home workspace.
TAKE IT OUTSIDE
Given our less-than-tropical climate, and that tenants aren't always the most motivated pruners and mowers, a garden room can add a real wow factor that provides a luxury workspace and significantly increase the sales value of your property.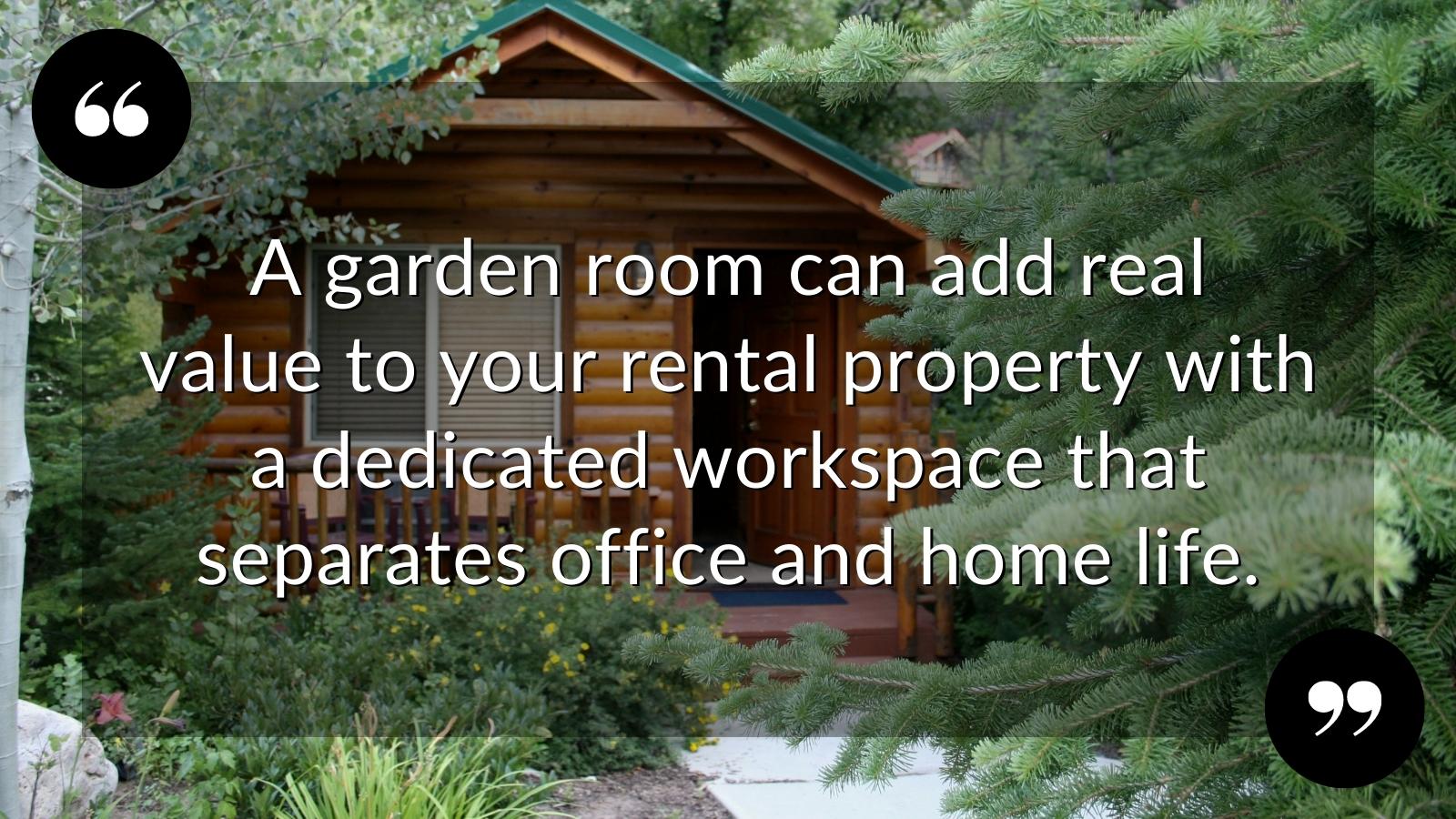 Most garden rooms are considered permitted development and don't require planning permission if they are less than 15m2 and not used as a bedroom. You can buy them at hardware stores like B&Q as well as many specialist dealers like Green Retreats.
–  Depending on the size and specification, expect to spend between £10,000 & £20,000
–  Garden rooms are estimated to add at least 1.5x their cost to your property, with higher estimates between 5 and 15% depending on how upscale you go.
–  You'll need to connect your main electricity supply and install heating so the garden room can be used all year round.
A cheaper option would be a large garden shed or summerhouse where you get the electricity run in by an expert and complete the final finishes and installations yourself. You'll save on costs, but remember that the added value to your property will also be lower.
Could your rental property be more profitable?
Don't miss out on high-earning consultants, practitioners and hybrid workers. If the tenancy at your rental property is coming to an end, or you've got your eye on another buy-to-let, get in touch today. We'd love to help you optimise its working-from-home potential.
Call us on 01444 254 400 or email us at info@hunters-group.co.uk for a friendly, expert chat about rental property in Burgess Hill and finding the perfect tenants.