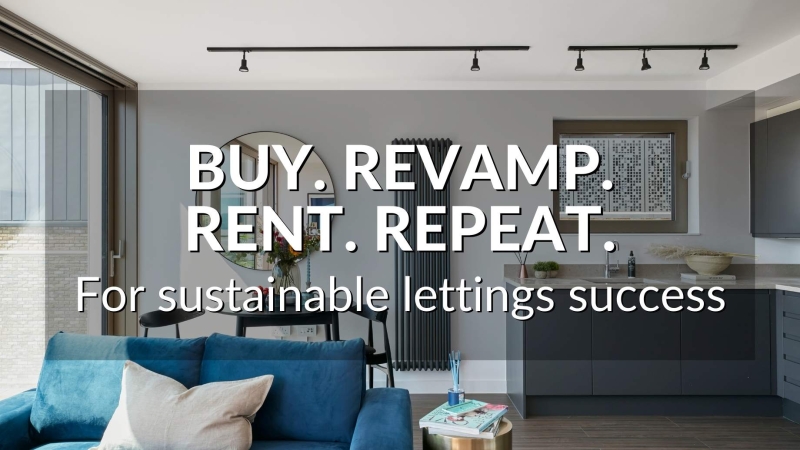 BUY. REVAMP. RENT. REPEAT: FOR SUSTAINABLE LETTINGS SUCCESS
There are many different models of buy-to-let, but a proven winning formula is buying a property in need of renovation, upgrading the specification, then releasing the increased equity to fund another buy-to-let project.
Homes in need of work cost less to buy, which immediately reduces the cost of stamp duty. And when you're not paying for somebody else's taste, you can add value by updating the interior and identifying untapped potential.
With tenancies getting longer and renting becoming a lifestyle choice, tenants are looking for high-quality homes to live in for longer. By meeting this continually growing demand, you'll achieve higher rents and grow a profitable long-term business.
Finding suitable homes to renovate, getting the specification right, and having the finance in place for the purchase and works are essential elements of any successful project. So here's our comprehensive guide to the "buy, revamp, rent, repeat" system used by many successful landlords.
BUY-TO-LET COSTS AND FINANCE
Before you go hunting for a buy-to-let project to renovate, your first step is to confirm your spending power and budget for the extra costs involved with buying and financing a rental property.
The first and most important thing is that buying a second or investment home attracts additional Stamp Duty, so make sure you factor the upfront expenditure into your plans.
Buy-to-let mortgages also work differently:
loans are usually capped at 75% of the property valuation
lenders require a monthly rental income of at least 125% of the mortgage payment
interest rates and fees are generally higher than residential loans
Most buy-to-let mortgages are fixed-rate and, just like residential loans, have a penalty for repaying the balance before the end of the fixed-rate period. Savvy landlords often take out a standard variable rate first, then switch to a competitive fixed-rate after renovations to avoid wasting thousands of pounds in charges.
Aside from dipping into your savings, options for funding the renovation works include:
rolling the costs of the works into your buy-to-let mortgage
short-term refurbishment bridging finance
releasing equity by remortgaging your own home
taking out a secured personal loan, also known as a second charge
Given all of the above, we recommend speaking to an independent financial adviser to clarify what you can borrow and which lenders and loans are right for you.
SOURCING HOMES TO RENOVATE
Once you've confirmed your budget and chosen location, it's time to start looking for a property with the right potential.
Trawl the property portals
To find potential renovation projects, select the type of property you want (a 3-bedroom house, a 2-bedroom apartment, etc.), then reduce the maximum price band by 10-20% of the typical market value. This will remove the already-perfect homes from your results, making it easier to find the ones that need work.
Approach local estate agents
The property portals tell you what's on the market, but local estate agents know about homes that are coming soon.
Many investment buyers approach agents, so make sure you have your funds in place and know exactly what you want. Be specific about the type of property you're looking for, the streets you're most interested in, and how much work you're willing to take on.
Be friendly and professional, then stay in touch with the ones who seem most promising.
Look for auctions
Because they attract investment buyers, auctions are a reliable source of unmodernised and neglected homes. A successful bid is a legal commitment and, because of the speed required to complete the purchase after the hammer falls – usually 28 days – most auction sales are to cash buyers.
It's not impossible to buy at auction with a mortgage, but you'll need to pay for a survey to be carried out before the auction and have a mortgage offer in place. Even then, if your bid is not the highest on the day, you'll lose any costs you've incurred.
Pound the pavement
Not everyone has the time or inclination to wander the streets in search of neglected homes, but it can create opportunities. If you're not comfortable knocking on doors, you could either leave a note with your contact details, or talk to the local agent you liked the most and ask them to follow up the lead.
THE RENOVATION GAME
When taking on a renovation project, your best bet is to start small and know your limits: don't buy a massive wreck with multiple structural problems if you're new to the game. Take the time to build your experience, grow your knowledge and gather a team of trusted contractors.
However complex or straightforward the works, it's vital to get the finish right. Too cheap and your buy-to-let will be difficult to rent with a disappointing income and a high turnover of tenants. Too expensive, and you'll be out of pocket with a low return on your spend.
If you're unsure of the correct specification for rental property in Burgess Hill, give us a call on 01444 254 400 or drop us a line at bh@hunters-group.co.uk for some guidance.
Meanwhile, let's look at different types of projects.
Complete refurbishment
This is for the confident expert and requires a building contractor and full team to gut a property and start from scratch.
Having everything new will generate the highest income and protect your property's value for many years, but refurbishments are expensive, and you should budget for surprises and delays.
Conversion
Many houses (particularly Victorian terraces) divide easily into apartments, and plenty of commercial spaces make excellent homes.
Although converting property can be highly profitable, it's also complex. You'll need specialist development finance, and you'll be dealing with local authorities, architects and construction firms. There's also extensive new-homes regulation to satisfy. In short, not for the novice.
Modernising
Mortgages are much easier to get on habitable properties: lenders mainly look for a working kitchen and bathroom, even if they're old. You may get lucky with simply replacing those, stripping off 70s wallpaper and replacing swirly carpets.
Watch out for wiring and heating. Boilers are easy enough to replace – you might even be able to retain existing pipework and radiators – but installing an entirely new heating system or rewiring can be more disruptive. If you need to channel into walls and ceilings, it'll mean more expense with repairs and replastering.
Remodelling
Changing a home's layout can release untapped value and income, usually by increasing the number of bedrooms. Examples include turning an unused loft into a master suite, or relocating the kitchen into the living room to gain an extra bedroom or study.
In freehold homes, you'll generally need simple building regs permission from the local authority. For leasehold, you'll also need approval from the freeholder, and you'll need to update the lease plan to reflect the new design.
Refreshing
Unlike unmodernised homes, those in need of redecoration are often up-to-date but poorly maintained. They can look a lot worse than they really are, which means they can sell for less than they're technically worth.
Look for superficial issues: scuffed and damaged walls, dirty floors, greasy kitchens and overgrown gardens are all simple enough to put right, but they can be off-putting to regular homebuyers.
RENTING OUT YOUR PROPERTY
As soon as you've completed your renovation project, it's time to find tenants who'll take good care of it.
You'll get the best income and the best tenants when your letting agent:
is local to your property
has a history of renting other similar homes nearby
uses high-quality photography in their marketing
writes enthusiastic descriptions
advertises on at least one of the major property portals
has a management department
has a thorough referencing procedure
Ask every letting agent you meet for examples of homes they've let that match the quality and location of your rental property, then check their reviews on Google for an idea of how successful, professional and helpful they are.
Finally, don't forget one last essential element: how does it feel to talk to them? Your letting agent should be someone you enjoy talking to and feel you can trust, so are you filled with confidence and the sense that you're in good hands?
Keep looking until it feels just right.
REPEAT THE PROCESS
After you've renovated, rented out and refinanced your buy-to-let, it's time to look for your next project.
Before you do anything else, take a moment to review your first venture. How did everything go?
Was it easier or harder than you expected?
What aspects of the project did you particularly enjoy?
Are you comfortable taking on the same amount of work again?
Is there a new or bigger challenge you'd like to take on?
Did you learn anything about dealing with suppliers and contractors?
With more experience, you'll find your perfect niche. You might be in the mood for more ambitious projects to flex your creative muscles, or you might prefer less work and faster turnarounds.
As you become known among local estate agents as a reliable buyer and a landlord with high-quality homes, you'll move to the top of their list of people-to-call when a suitable future project becomes available.
And with the right formula in place, you can recycle your initial deposit, then refinance your buy-to-lets to fund future projects, time and time again, leaving your savings free for enjoying life.
Final words
Buying, renovating, renting and refinancing buy-to-let property is a proven system that you can repeat to create ever-increasing returns. It's a solid way to build a portfolio of high-quality homes that tenants enjoy and love, all the while growing in value to create a secure financial future for you and your family.
To begin or expand your lettings portfolio, or to talk about the buy-to-let market in Burgess Hill, call us on 01444 254 400 or drop us a line at bh@hunters-group.co.uk – we're here to help you become and stay a successful landlord.