BROWN, BUT NOT OUT: KEEPING YOUR GARDEN LUSH FOR VIEWINGS IN A HOT SUMMER
As our parks and gardens bake to a crisp, luscious green lawns are starting to feel like a distant memory.
That can be a challenge when selling your home, given that gardens are deal-breakers for more homebuyers than ever. As well as stopping people in their tracks while scrolling through online listings, your garden can be the deciding factor in turning a viewing into a sale.
But traditional gardens are beginning to struggle with a changing climate. To keep them green, healthy and resilient through hotter summers and soggy winters, professional gardeners are digging around for alternative planting ideas and sustainable new techniques.
Regardless of hosepipe bans, conserving water is a responsible practice that can also cut your bills, but how can you stop your garden from withering in the heat without deserting your eco-friendly principles?
Well, you're in the right place! From watering wisdom to drought-resistant planting and clever design, this week's blog is packed with scorching hot tips to wow your viewers with a summer-hardy oasis.
GET WISE WITH WATERING
There's more to caring for plants than drenching the leaves with a watering can. In fact, that's the last thing you should do if you want your garden to beat the heat.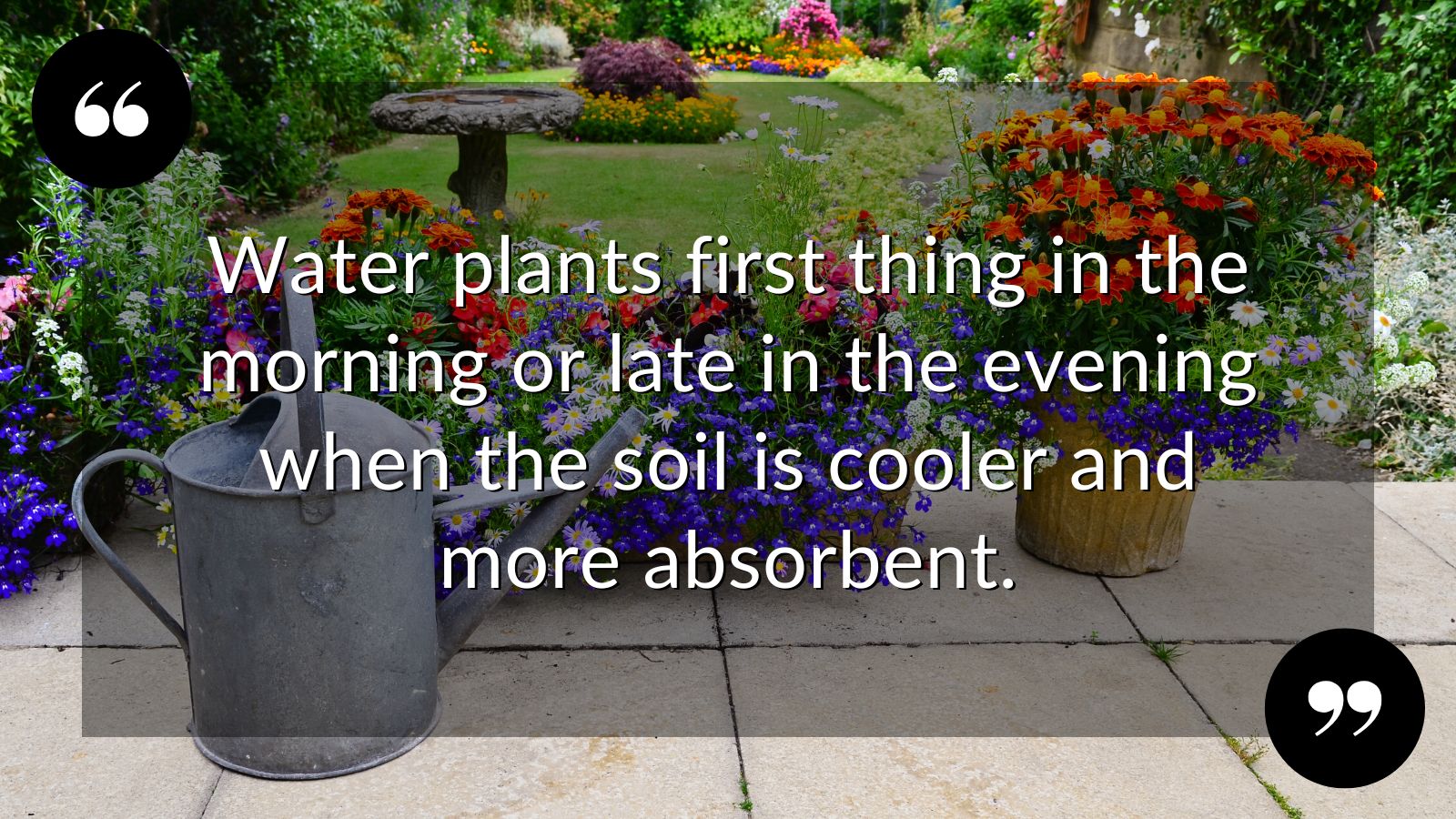 By being clever with the way you use water, you can save time and effort while helping your plants thrive when it's roasting hot.
– Check the soil first – if it's still moist, your plants may not need watering yet.
– Target the roots of plants by watering directly at the base rather than overhead.
–  Water first thing in the morning or late evening when the soil is cooler and more absorbent.
–  Stay on top of weeds – they steal water from your plants.
If your schedule doesn't allow daily watering duties, look at drip irrigation systems. By directing water straight to the root zone, they're one of the most efficient gardening hacks for conserving water.

MULCH IT OVER
As well as watering your plants, taking care of the soil is essential. By covering the earth with mulch, you insulate the ground against summer heat and winter frost, protecting roots from drying or freezing.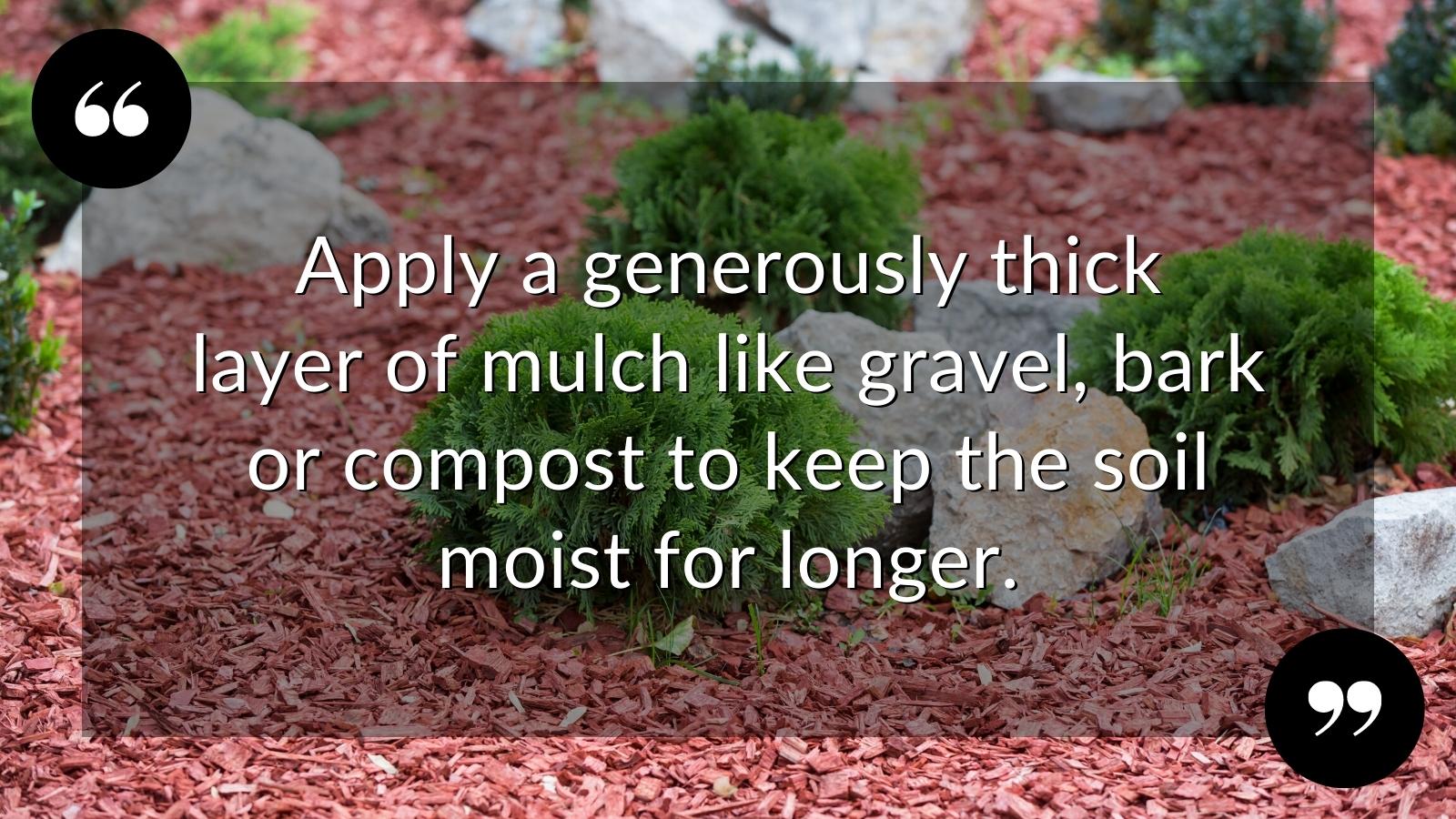 But what exactly is mulch, and how do you use it effectively?
–  Mulch comes in many guises, including gravel, bark, compost, grass clippings, leaves and straw.
–  Spread a thick layer about 2 inches deep over wet soil.
–  Water directly onto the mulch at the base of plants to go straight to the roots.
–  Re-apply your mulch layer every six months – ideally in spring and autumn.
As well as being supremely practical and reducing how often your plants need watering, mulch can also be beautiful and elevate the look of your garden with a dash of thoughtful design and natural materials.
REPURPOSE YOUR HOUSEHOLD WATER
As long as there's nothing too toxic in the water (soap and detergent are generally ok, bleach is definitely not), using grey water from washing is perfectly fine for plants, flowers and grass. This can mitigate the effects of hosepipe bans, save water and reduce your bill.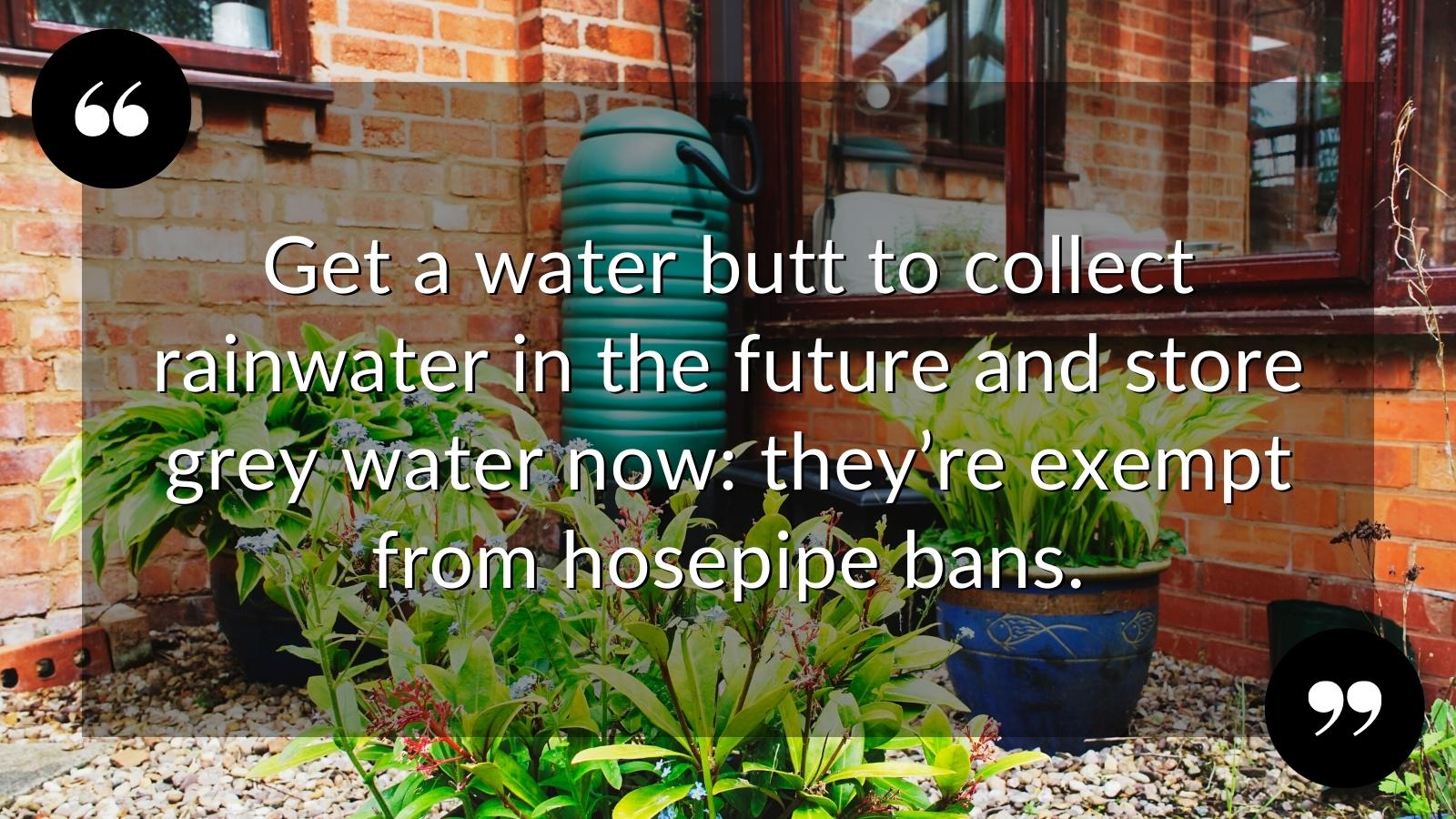 –  Collect shower water with a well-placed washing-up bowl or bucket.
–  Scoop out water from baths or wash basins.
–  Let washing machines and dishwashers drain into a bucket.
–  Buy a water butt to collect rainwater in the future and store grey water now. They're exempt from hosepipe bans, and you can find designer alternatives to the standard plastic monsters.
If you want to get really radical, take a look at the TikTok video by fortyfab0 where a husband-and-wife team syphon 150 litres of used bath water with a hosepipe – highly effective but not for the squeamish!
PLANT FOR HOTTER WEATHER
If your garden or balcony has wilted in the heat or never truly blossomed, there are several things you can do for an instant revival and a sustainable future.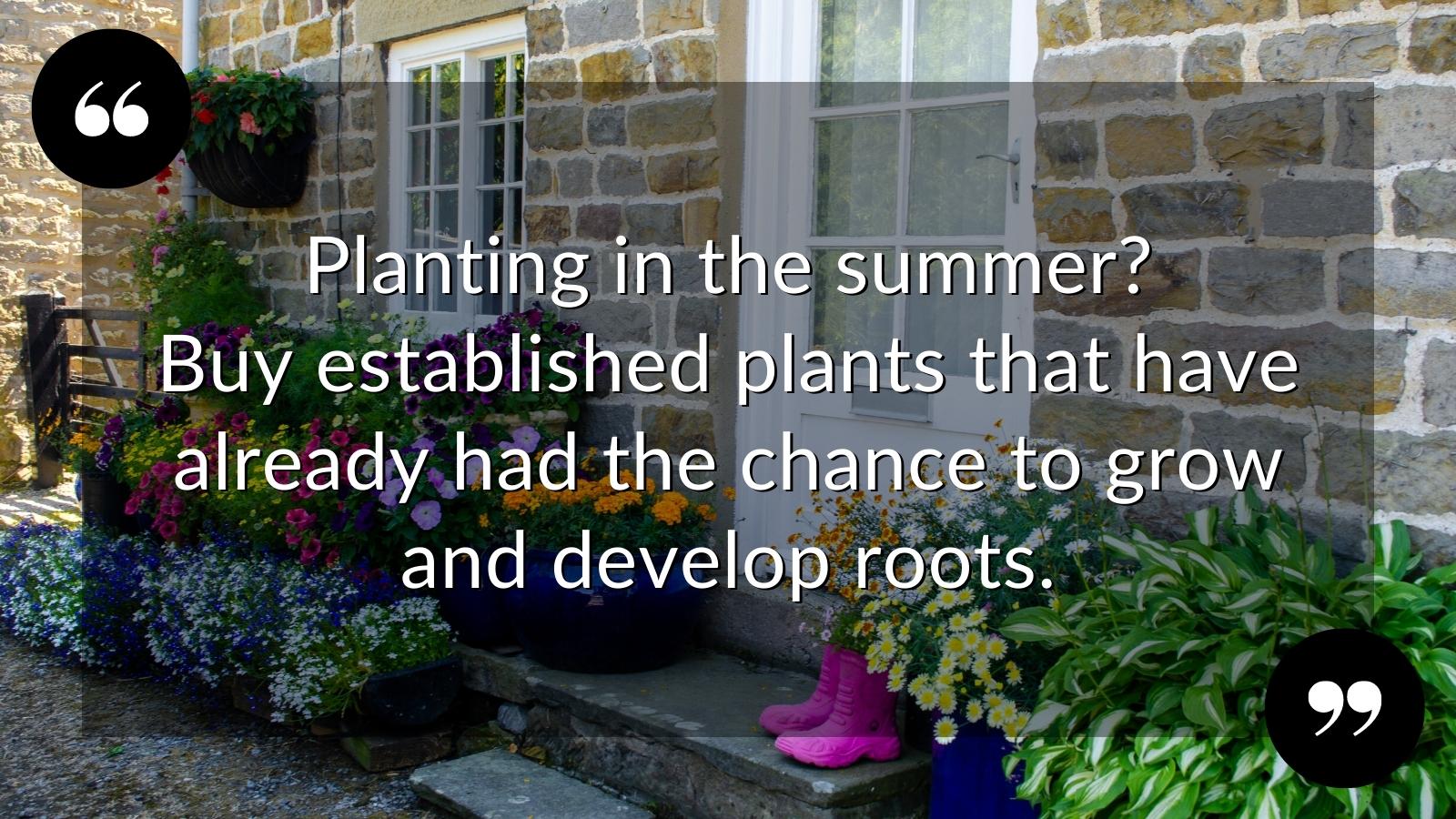 –  Many drought-tolerant plants are suitable for UK gardens, including gorgeous Purple Tops, the spiny flowers of Blue Eryngo, and South African geraniums.
–  If you're planting in the summer, buy established plants that have already had the chance to grow and develop roots.
–  Trees, climbers and shrubs will weather every season – some stay evergreen, and some are perennial.
If you're up for a whole new look for your outside space, the Royal Horticultural Society has some excellent and detailed advice on drought-resistant gardening.
DIVERT ATTENTION FROM YOUR LAWN
Lawns have an unquenchable thirst in scorching summers, and it's simply not realistic to keep them as green as Centre Court at Wimbledon.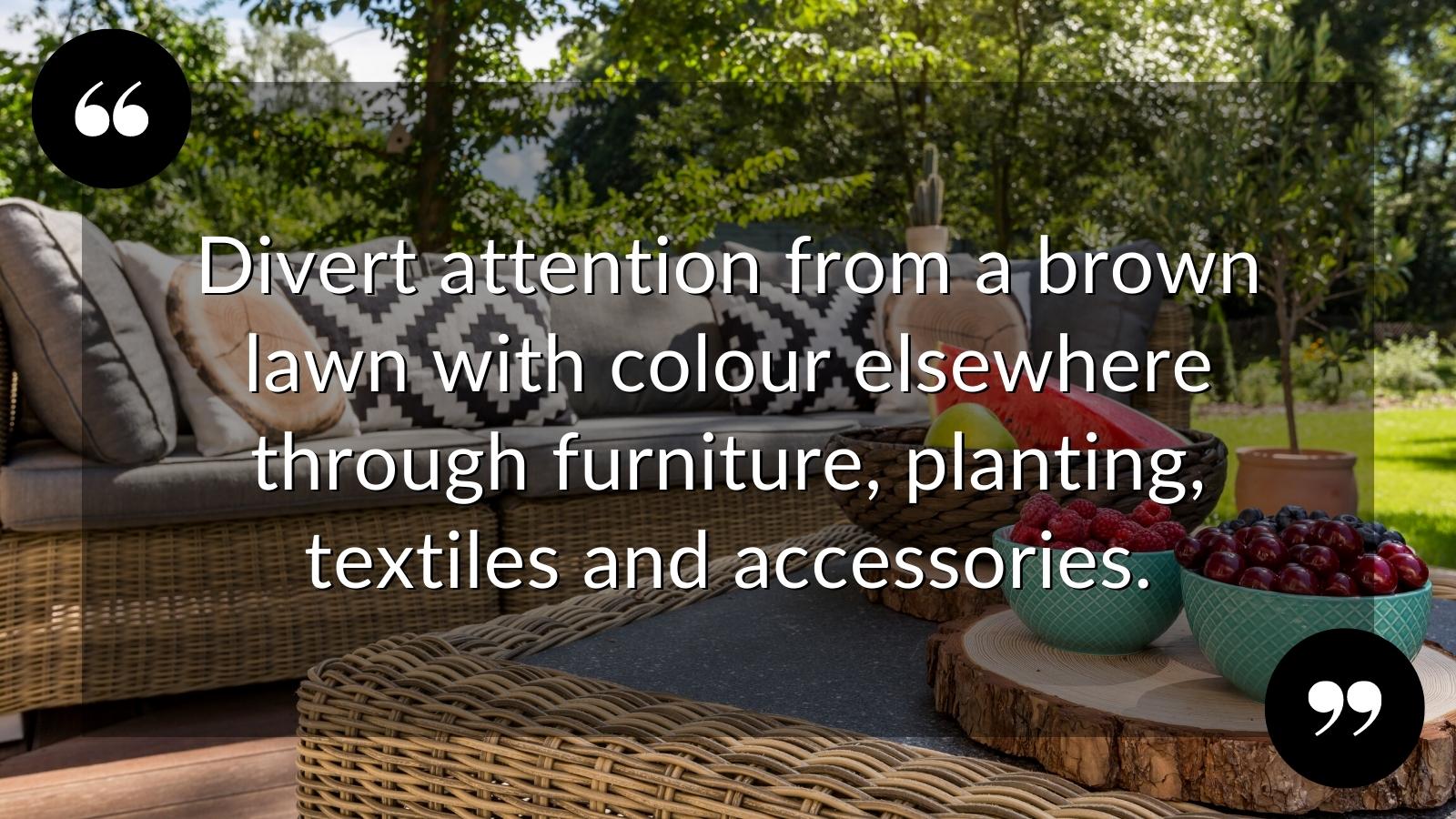 But fear not: healthy lawns can happily manage 3-4 weeks without water, and grass usually turns green again when the rains return. So rather than fight against nature, go with the flow and divert attention with colour elsewhere.
–  Plant summer blooms that are already flowering in beds and containers.
–  Jazz up your garden furniture with vibrant cushions, garden rugs and throws.
–  Use paint to add a cheerful summer vibe to a plain wall, shed, fence or pots.
–  Introduce colourful accessories like ceramics, lanterns and sculptures.
Prefer to tone it down? No problem! Go the other way with stylish Scandi neutrals to embrace your lawn's beige beauty: hay and grey are a perfect match for muted summer hygge!
What's your next step?
Do you own a property in Burgess Hill? Would you like to talk about the best ways to add value, either right now or in the future?
There's nothing we love more than helping my neighbours to make the most of their homes, so call us on 01444 254 400 or email us at bh@hunters-group.co.uk for a friendly chat and top expert tips.