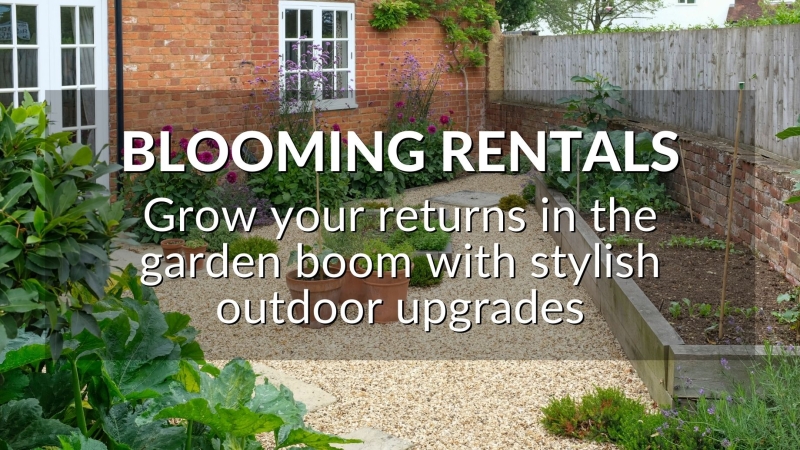 BLOOMING RENTALS : GROW YOUR RETURNS IN THE GARDEN BOOM WITH STYLISH OUTDOOR UPGRADES
Not so long ago, many landlords saw gardens as a bit of a liability. Tenants weren't exactly clamouring for them, and landlords were convinced they'd be handed back an overgrown jungle of weeds.
But the pandemic produced a revolution in the demand and appreciation for outside space across the country. It's a trend that's never gone away, with gardens and balconies firmly on the non-negotiable lists for many tenants in Burgess Hill. More than that, they're willing to pay extra for the privilege.
So how can you reap the greatest reward from the outside space at your buy-to-let? And how do you match your garden or balcony to the right kind of tenant?
This week's blog digs deep, from tiny patios to family lawns and stylish luxury upgrades. Use our design and planting tips for an in-demand garden to maximise your rent and improve the value of your investment.
SOWING THE SEEDS OF A BUY-TO-LET GARDEN
The perfect buy-to-let garden is beautiful and easy to care for. This magic combination comes from using plants and materials that you can easily replace or refresh.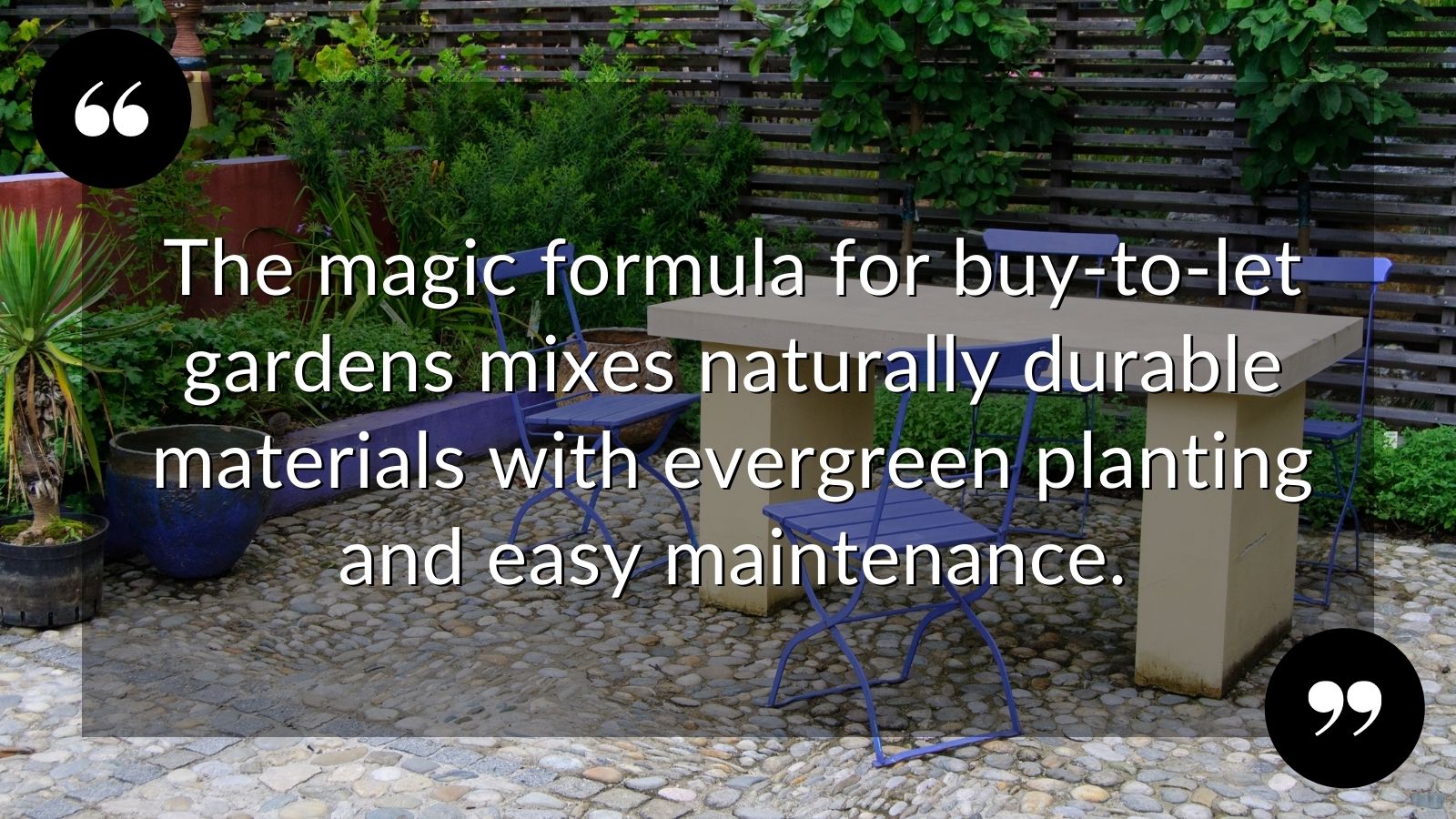 – Plant native perennials and evergreens for year-after-year blooms. See more in the 'Sunny Sizzle and Shady Chic' section.

– Hedging and climbers give weathered walls and fences an instant facelift. Planting them in containers requires minimal maintenance and keeps them under control.
– Buy spare materials like paving slabs, tiles, decking and paint for easy replacing and refreshing in case they're discontinued or out of stock later.
– Give fences and walls a unifying makeover with a contemporary paint job in a single colour.
– Install exterior lighting so tenants can use their outside space in the evenings. If wiring into the mains isn't practical, try solar-powered fence lights that can also be fixed to walls.
By reducing the ongoing tasks of planting, painting, weeding and trimming, you make it easy and enjoyable for your tenants to look after your outside space.
PETIT PATIOS AND BIJOU BALCONIES
You don't need a massive garden to give it a big personality – stylish small spaces can pack a lot of punch and be a hit with tenants.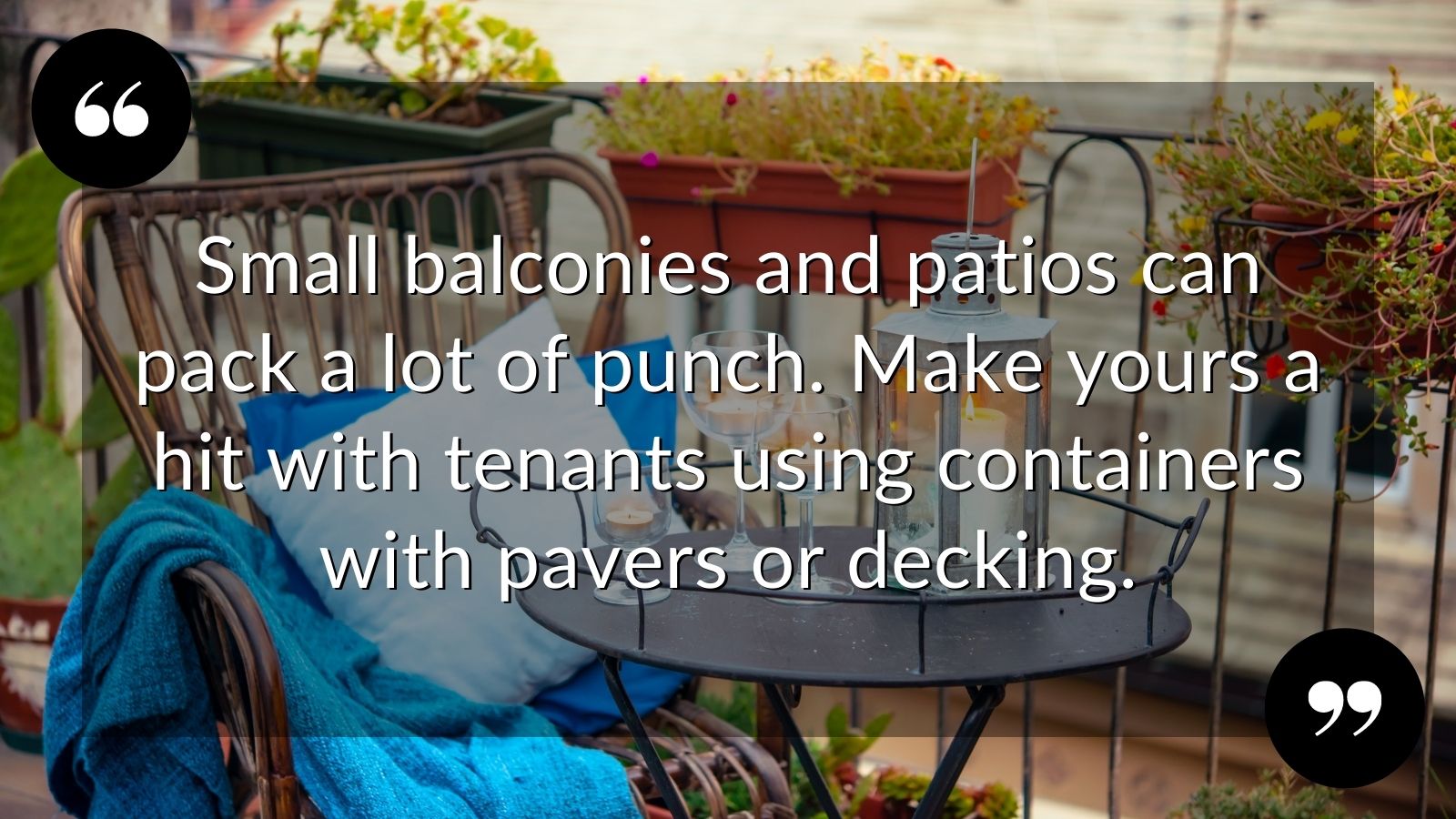 –  Fill a few containers with hardy perennial flowers, then cover the soil with mulch to discourage weeds.
–  Jazz up a concrete patio with paving, from classic sandy coloured slabs to the modernity of striking black stone.
–  For balconies, try lightweight external tiles and decking – IKEA has a brilliant range this year, including stunning geometric designs.
The wonderful thing about patios and balconies is how quickly you can create something truly memorable. You could have an Instagrammable space in a matter of hours!

FAMILY-FRIENDLY GARDENS
Families want a garden that's a real multi-tasker. A safe place where children can play or hang out with friends, and somewhere for parents to relax and unwind.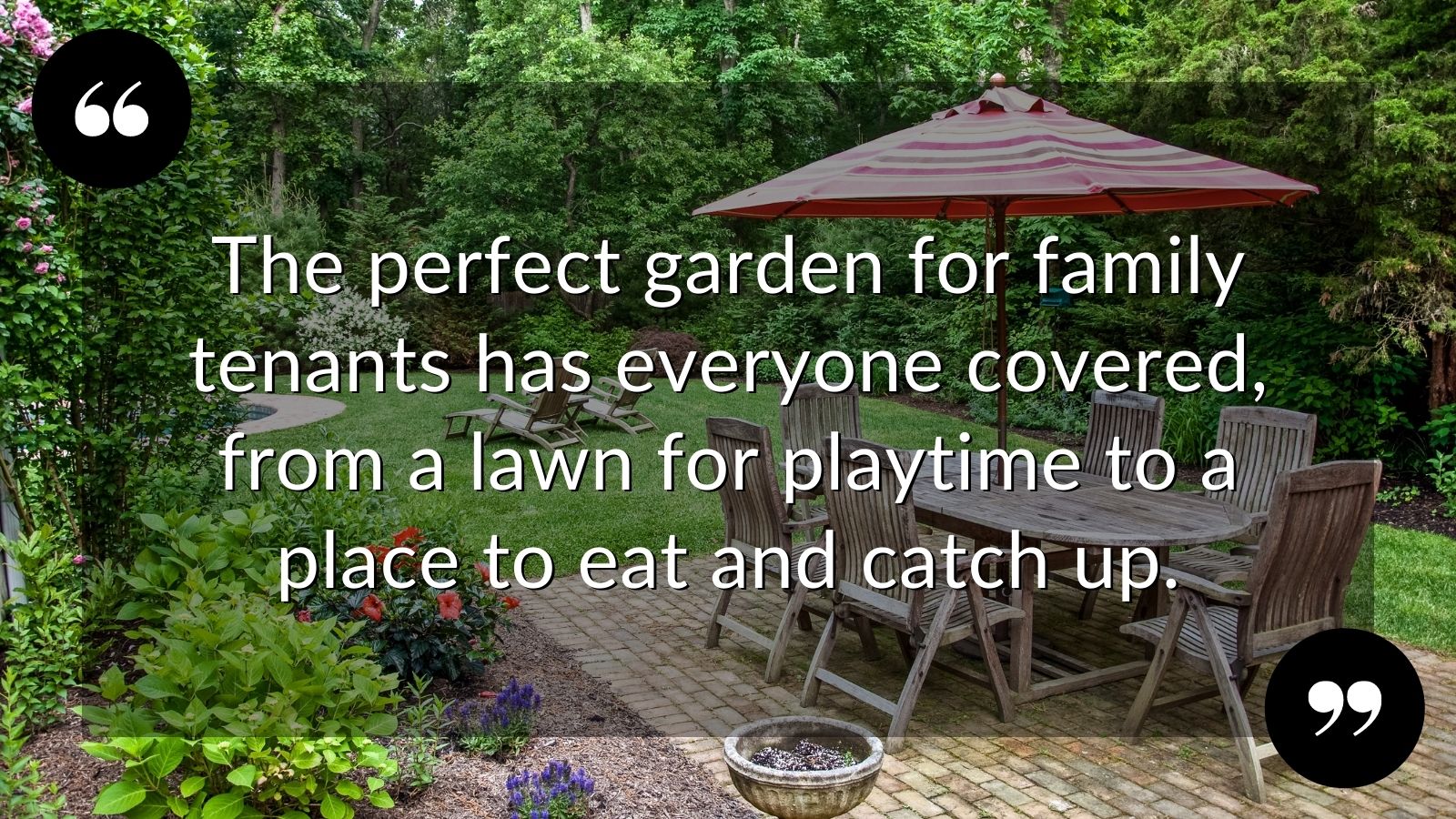 –  Lawns are essential for football, gymnastics, camping and running around with soft landings.
–  Include a lounge or dining space for the family to come together – to eat, play games or simply catch up.
–  A shed is useful for tools, toys, bikes, sports equipment and sun loungers, or as a den for kids (and parents!) to hide.
–  Secure all fencing and add a lock to any gates.
A family garden that fulfils the needs of the whole household can really seal the deal for parents.
HIGH STYLE FOR HIGH EARNERS
There's so much more to gardens than plants, lawns and patios. If you want to attract affluent, professional tenants with the promise of a luxury lifestyle, there any many ways to elevate the garden experience to a whole new level.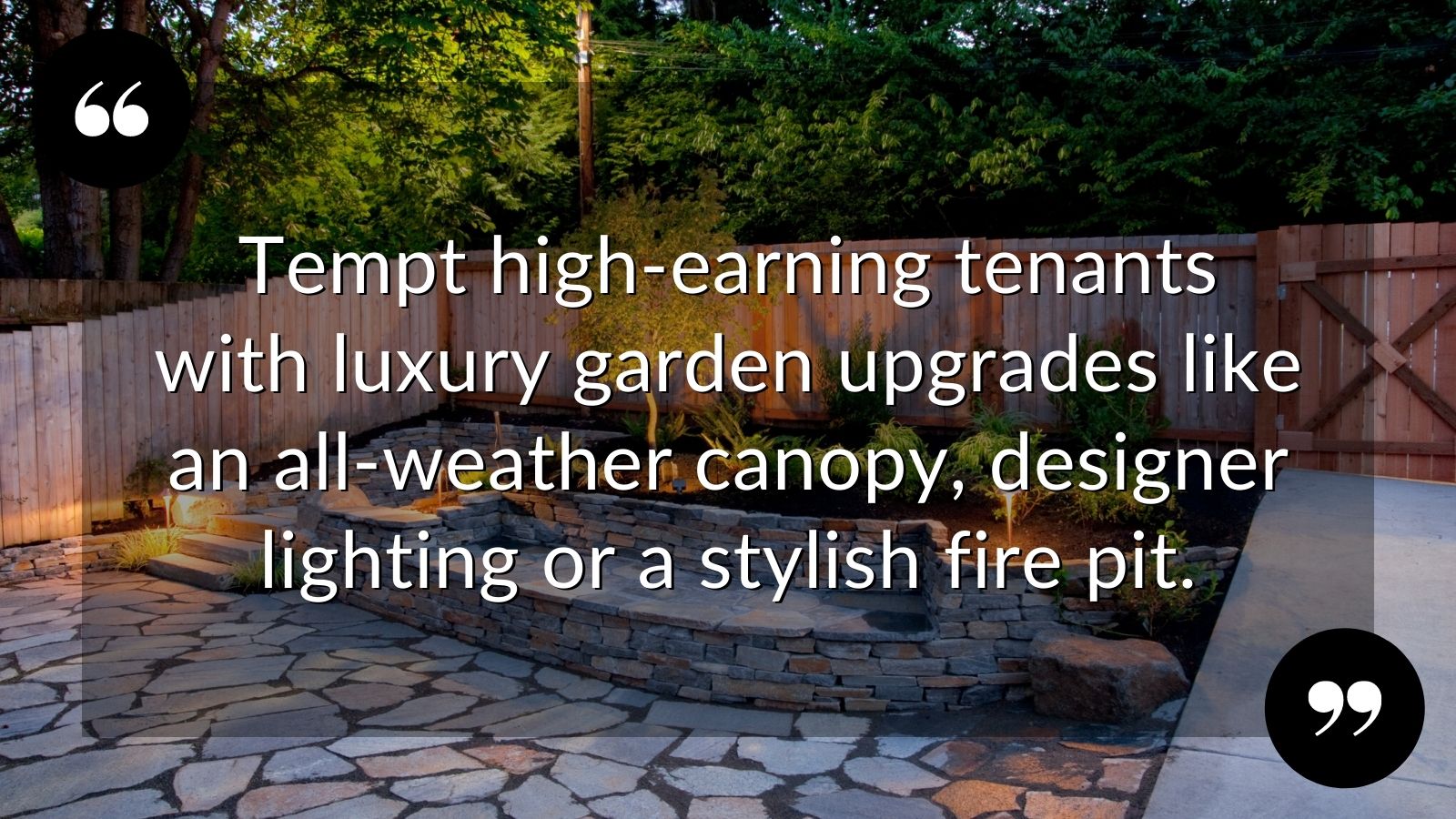 –  Create an all-year garden with a retractable canopy that provides shade in the summer and protection in the rain.
–  Install a permanent firepit or infra-red heating for warmth on chilly evenings.
–  Upgrade the lighting with different zones and moods.
–  Inject a touch of Love Island's luxury villa with designer screens.
–  Build a bar, barbecue or seating area from brick or stone for minimal maintenance.
Drop us a line at info@hunters-group.co.uk  for some guidance on the right level of luxury for your buy-to-let.
SUNNY SIZZLE AND SHADY CHIC
Any outside space can look fabulous, and by working with the natural levels of light, you can perfect your design with the right low-maintenance materials and plants.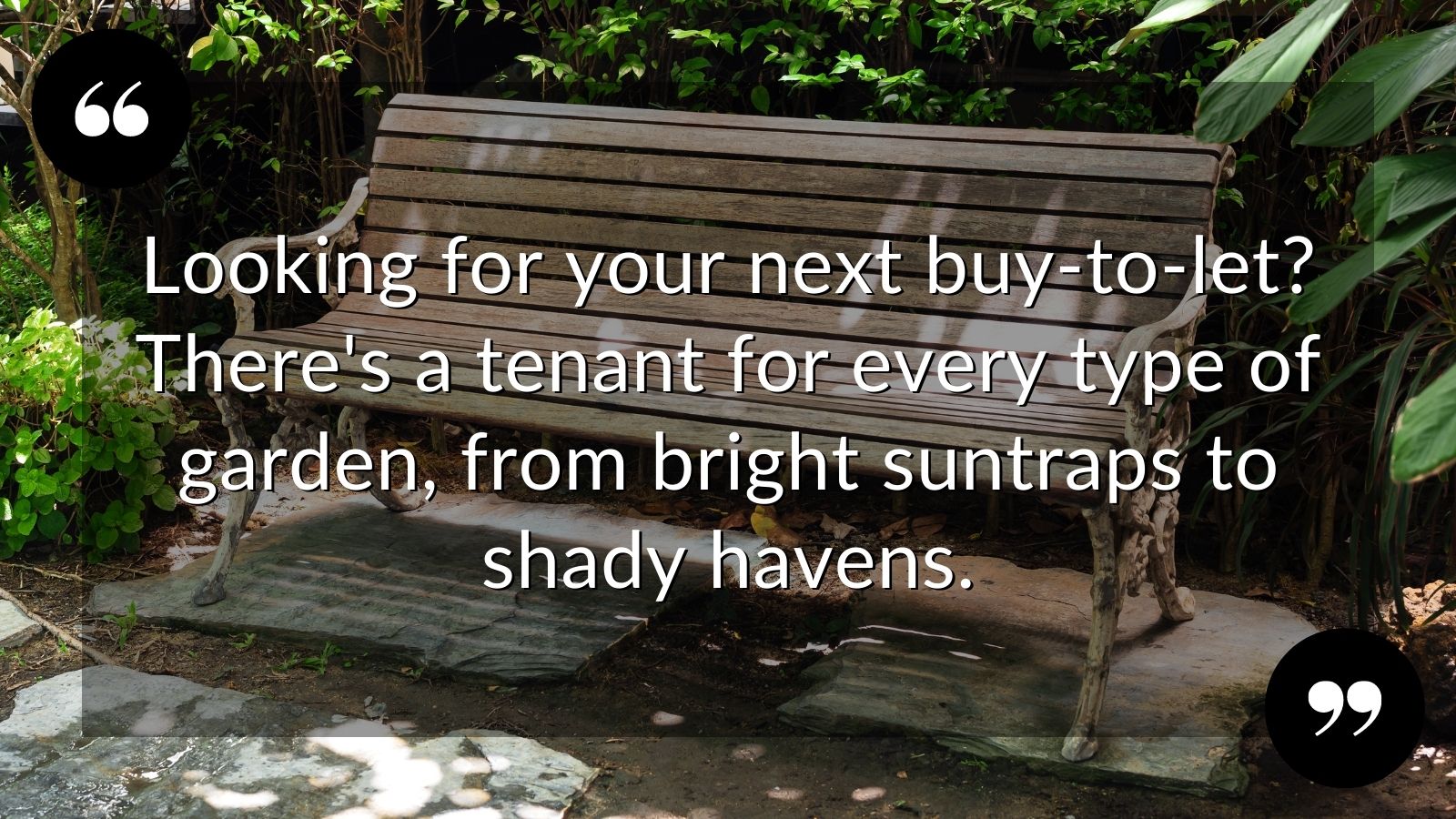 –  Colourful flowers love the sun, so have fun with random planting for a magical stylised meadow. Check the RHS website for their top 10 wildflowers.
–  Shady gardens don't have to be dull – just look at a rainforest floor! Create a dazzling display of gorgeous greens with a mix of ferns.
–  Natural finishes like stone, terracotta and brick are timeless and perfect for maintenance-free planters, seating and boundaries. Avoid plastic containers as they're rarely sustainable and tend to discolour or fade, potentially spoiling the look of a garden and needing replacements.
–  For painting or treating fences and walls, use the best-quality outdoor products and use their recommended primers to ensure a long life of protection against the elements.
Finally, not everyone wants to roast in the sun, so if you're looking for your next buy-to-let, don't discount shady gardens or balconies – plenty of tenants will see that as an advantage.
What's your next step?
There's so much potential in the outside space at your buy-to-let. Humans a hardwired for nature, and the pandemic has given tenants a valuable appreciation of having a place at home to get outdoors.
If you're a landlord in Burgess Hill, we'd love to help you grow your returns with a garden or balcony that's easy for tenants to love and look after. Call us on 01444 254 400 or email us at info@hunters-group.co.uk  for a chat about what's best for your rental property.