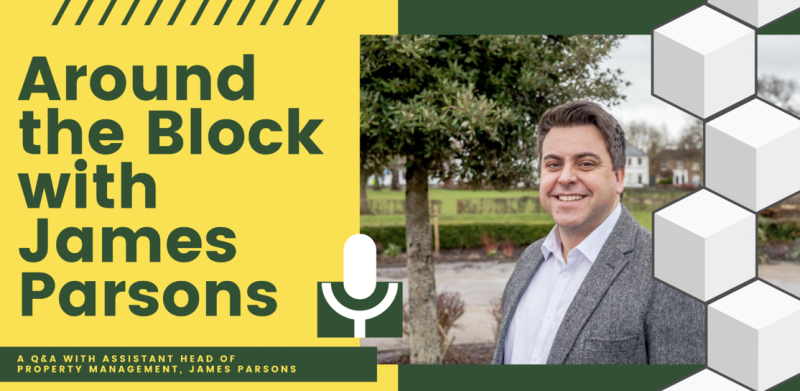 Around the Block with James Parsons
It's October. The nights are drawing in and it's super COLD. Why not pour yourself a cup of tea, sit back and enjoy the next edition of Hunters Estate Agents Q&A?
This edition takes us on a pitstop tour of property management at Hunters Group and the new opportunities the department has to offer! See for yourself, it might just tickle your fancy!
Lauren: Hello James!
James: Hello Lauren!
Lauren: Thank you so much for your time today. I am really looking forward to this chat. Could you please give me an overview about you and your role here at Hunters Group?
James: I am the Assistant Head of Property Management here at Hunters Group so I currently head up our Estate and Block Management department. We have a portfolio which consists of a range of properties from freehold – new developments, to leasehold flats, established housing estates and to a combination of both on the same sites. Our portfolio is approximately at 125 properties (at the moment), but we are looking to expand on the new business.
Lauren: That's really interesting – quite a big portfolio there. How are you looking to expand as a department? How do you see the block department evolving over the next few years?
James: We regularly receive enquiries for new business and we currently have four Property Managers with appropriate administration and accounts support. Each Property Manager looks after a portfolio of 32 properties, and this is a manageable amount of properties to carry out the management of the building, and to fulfil their role to their full potential. If we add an additional 5 properties to each Managers portfolio, we are definitely looking at acquiring more staff!
Lauren: Talking about new staff, are you currently recruiting?
James: Yes, we are, we currently have a vacancy for an experienced Property Manager. Ideally, we would like a candidate with an AIRPM qualification, but at least 3 years' experience would be most appropriate and beneficial to help our team out. The specification can be found on LinkedIn and Facebook, including recruitment websites – so keep an eye out! We are hoping to recruit by the end of this year so we can keep progressing/evolving as a department in 2022.
Lauren: What benefits are there of joining your team?
James: One of the key elements of Hunters Group is the family feel. It is the communication and the approachability to a leaseholder, to a Director, to a tenant. We understand the issues in Property Management and we always try assist and resolve all enquiries as much as possible.
Lauren: Brilliant, thank you so much for your time James!
James: Thank you!
We're here to guide you to your next property
We are passionate about developing long-term relationships with our clients. We utilise our expert tenant law and health and safety regulation knowledge alongside a host of professional lettings skills to advise you to the best degree. Hunters Group aim to inspire you from the offset!
For more information, please don't hesitate to speak to our property management department today. We would love to speak with you!
The Hunters Group block management department is determined to add value and help you reach your goals.
Call us on +44 1444 254 400 (option 3) or alternatively send us an email on block@hunters-group.co.uk