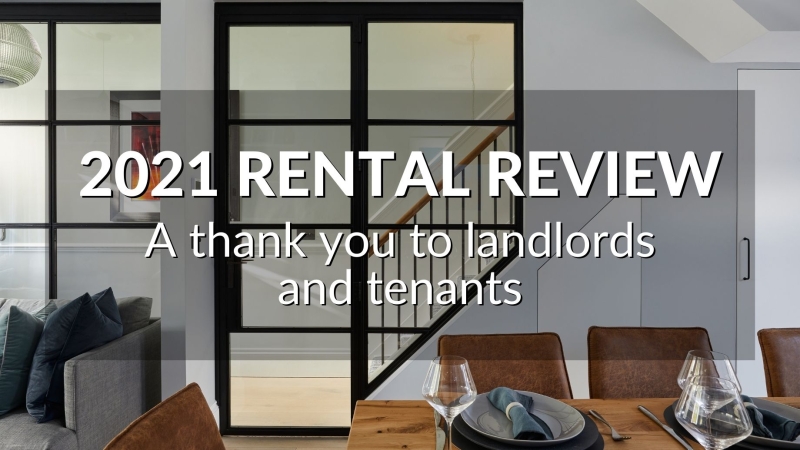 2021 RENTAL REVIEW: A THANK YOU TO LANDLORDS & TENANTS
As we approached the beginning of 2021, hopes were high of a return to normal, with Covid and Brexit seemingly in the rear-view mirror. But the year turned out very differently, and both have continued to feature strongly in everyone's life.
With supply shortages, lockdowns, the end of furlough, tax changes and a whole heap of uncertainty, we think it's fair to say that 2021 has been a bit of a jungle!
From our perspective, the year also showed how relations between landlords and tenants in the private rental sector are not a scene of constant combat. In fact, the market is more friendly, open and communicative than we're sometimes led to believe.
So, to end 2021 on a high note, let's acknowledge the challenges landlords and tenants have faced, along with how they've met them and what the future may hold.
LESSONS OF THE LETTINGS MARKET
Just as in 2020, the property market was allowed to remain open through the lockdowns of 2021, with the Government recognising the importance of people's lives at home.
It's so much more than an economic decision, with our emotional well-being heavily improved by living somewhere that meets our needs and reflects our lifestyle. In particular, as working from home remained the norm for so many people, there was no shortage of tenants hunting for extra space both inside and out.
Virtual viewings, social distancing at face-to-face appointments, managing PPE and hygiene – we've all mastered all sorts of skills to keep each other safe while finding a place to live. And we've mostly managed it with a smile.
More than anything, 2021 proved that absolutely nothing gets in the way of our national obsession with making a new home.
LANDLORD & TENANT CHALLENGES
Perhaps the biggest challenge for private landlords in 2021 was the final phasing out of mortgage interest relief on buy-to-let homes.
Already hit with extra Stamp Duty/LBTT that increased the costs of buying an investment property, many existing landlords decided to sell up and exit the rental market altogether.
Meanwhile, tenants faced uncertainty with the end of furlough and concerns over the pandemic's effect on the economy and employment. This made it essential for letting and managing agents to provide a listening ear for any tenant who thought they might run into difficulty.
Our experience was that tenants prioritised their rent over other costs, finding savings where necessary to avoid arrears building up. Our landlords were also flexible wherever possible, meaning we saw very few problems among the homes we let and manage.
SHORTAGE OF RENTAL HOMES
We've always had more tenants looking for a home in Burgess Hil than properties available, but 2021 saw a huge drop in landlords and rental stock.
As landlords sold, their properties were snapped up by eager buyers who took advantage of the Stamp Duty/LBTT holiday. This removed rental homes from the market and increased competition for those that remained.
While many tenants became homeowners, the lack of rental stock hasn't gone away, so the competition for homes is almost certain to continue throughout 2022. A survey of 500 landlords by Simply Business found that only 7% had plans to expand their portfolio, while Zoopla recorded the supply of rental homes in Q3 at 43% below its five-year average.
When the housing shortage is most acute and the potential for rental income so high, it's ironic that the increase in upfront purchase costs and ongoing taxation has created a financial barrier for private landlords to invest.
OPPORTUNITIES FOR THE FUTURE
As with all difficulties and obstacles, opportunity is never far behind. Many landlords see buy-to-let as key to their financial future and are exploring new ways to grow a sustainable portfolio.
Anything that makes tenants' lives easier and more enjoyable, particularly the busy professionals that many landlords want to attract, will always be met with enthusiasm.
As renting becomes a longer-term lifestyle choice, tenants are actively seeking comfort and permanence: there's a genuine market and real desire for better-quality places to live. Whether it's a single occupancy or a multi-let, tenants are happy to pay a premium for a higher specification and a focus on modern design in empty and furnished homes.
Building to rent also shows a lot of promise, where landlords partner with construction firms to buy land and build on it. It's a model that reduces acquisition costs and slashes the Stamp Duty/LBTT liability, thus removing two major obstacles for buy-to-let investors.
THANK YOU TO EVERYONE
Landlords, tenants and letting agents have a symbiotic relationship that forms an essential part of the property market.
Most landlords are regular people who take real pride in offering homes that are comfortable and enjoyable places to live.
Tenants, meanwhile, are generally easy to deal with, look after their homes, pay their rent on time and live as responsible residents and neighbours.
Of course, problems sometimes arise, and that's where managing agents come in to provide perspective, guidance and solutions. The vast majority of tenancies are amicable from beginning to end, and that's down to the people involved.
Perhaps this doesn't get aired enough, so we'd like to say thank you to all our landlords and tenants for weathering the storm – it's been quite a year for everyone!
Final words
That just about completes our roundup of the lettings market for 2021. Wherever you're spending the festive season this year, we hope you'll have a very merry Christmas that leaves you refreshed and ready for 2022.
And if you're thinking of becoming a landlord or expanding your portfolio next year, we'd love to help. Call us on 01444 254 400 or send us a message at bh@hunters-group.co.u for a friendly chat about property in Burgess Hil and the local buy-to-let market.